The Florida International University Board of Trustees (BOT) named Albert E. Dotson, Sr. chairman emeritus in honor of his years of leadership and service to the university.
Dotson's service to FIU spans three decades, most recently as chairman of the Board of Trustees from 2009 to 2011. In approving Dotson's emeritus status at the Nov. 22 meeting, current BOT Chairman Albert Maury described him as one of FIU's most enthusiastic advocates who "bleeds blue and gold."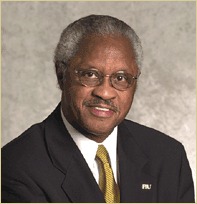 "I am humbled that trustees elected to honor me in this fashion," Dotson said. "I will always be a Panther at heart, and I will continue working to help the Finest Institution in the Universe reach its fullest potential."
The former chairman and CEO of several business enterprises, Dotson, now a business consultant, began his service on the BOT in 2001. Previous to his appointment, he served on the FIU Foundation Board from 1983 to 2001. Dotson was a member of the BOT Presidential Search Committee that appointed Mark B. Rosenberg the fifth president of FIU and served on the presidential search committee in 1986 that selected President Emeritus Modesto A. Maidique.
An engaged member of the community, Dotson now serves as chairman of the FIU Athletics Finance Corporation Board of Directors as well as on the boards of the Miami-Dade County Fair and Exposition, the Orange Bowl Committee, SantaFe HealthCare and the Salvation Army. His past service has included participation on the Greater Miami Chamber of Commerce Board of Governors, Baptist Health and the board of Barry University. He received a PhD from Trinity Southern University in Dallas and an honorary doctorate from Barry University.
Dotson and his wife Earlene live in Palmetto Bay. The couple has five grown children and 13 grandchildren.
Media Contact: 
Jean-Paul
Renaud
 at 305-348-2716.
If you're new here, you may want to subscribe to our
newsletter
. Thanks for visiting!