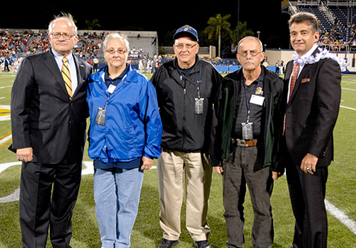 The Michael Felsberg Scholarship Endowment
The phrase "Go Golden Panthers" reflects the spirit of fallen hero Michael Felsberg '03, a former cross country/track & field athlete. Michael, a 27-year-old second lieutenant with the U.S. Marine Corps, was killed in October 2004 from injuries sustained in combat in Ramadi, Iraq. A weapons platoon commander, he volunteered for duty in Iraq after hearing that a replacement was needed for an officer who was killed in combat. A true Panther, Michael was known and loved by both staff and student-athletes throughout his four years at FIU as he enthusiastically cheered on every team.
"Michael was a very personable guy. When he got to FIU he was older and more mature than most of the other students so he became a big brother to many of the guys and girls on the track and cross country teams. I believe that the other athletes looked at him as a leader, a friend, an athletic soul mate who always would be there when they needed him," said Michael's father, Paul Felsberg.
Michael graduated with a 3.9 GPA and received the Athletics President's Award in 2003 as the athlete with the highest GPA. A three-time winner of the Athletic Spirit Award, now named after him, Michael earned Dean's List status in all eight semesters at FIU and was a four-time member of the Sun Belt Conference Commissioner's List. As a senior, Michael earned all-conference honors with a third-place finish in the 5,000 meters at the Sun Belt Conference Indoor Championships.
Honoring Michael's Wishes

In 2005, Michael's parents, Paul and Arlene, donated $100,000 to FIU's Athletics department, which established the Michael Felsberg Scholarship Endowment to benefit the FIU track & field program. Last year, the Felsbergs pledged $750,000 in additional support for the endowment through their combined estate plan.
The establishment of the endowment was inspired by an email Michael sent to his father the night before he left for Iraq about what to do in the event that he was killed. "He requested that I give any remaining monetary assets to the track team at FIU. His mother and I decided that establishing a scholarship endowment at FIU would be the thing to do," said Paul.
John Webster, retired teacher and close friend of the Felsbergs, decided that since he had no heirs, he would also give half of his estate to the endowment in honor of Michael. "Michael loved FIU so much. It had great meaning to him, and the University has also been good to the Felsberg family. This is my way of helping out those who otherwise could not afford a quality education."
The University is grateful to the Felsbergs and Webster for their continuing support of FIU Athletics through their generous contributions.
"Michael would say that he was proud to be able to help a track [athlete] with their education," said Paul. "Since we have very few close relatives and no other children, we have made a commitment to FIU to leave all our worldly possessions to the [FIU] Foundation as we would have left them to Michael in order to help those deserving of a scholarship when they needed it to complete their education, and in doing so make a better for life for them, and through their work in the community help make South Florida a better place for all."