The Education Effect
Supported by a three-year $1 million dollar grant from the JPMorgan Chase Foundation, The Education Effect is a university-community partnership between FIU and Miami-Dade County Public Schools (MDCPS) to support educational achievement in Liberty City. The ongoing initiative is engaging stakeholders throughout the underserved community, advancing FIU's vision to serve as a catalyst for transformational change.
Aligning university expertise and resources, the partnership addresses the pressing educational and social needs of students at Miami Northwestern Senior High School (MNW). According to College Summit, one of every four Miami Northwestern students does not graduate high school. Moreover, only 38 percent of those who graduate go on to college.
Improving Graduation Rates
Thanks to the philanthropic investment of JPMorgan Chase, The Education Effect seeks to improve the graduation rate of MNW students, increasing students' college preparedness and ability to enroll and succeed in post-secondary education. Through the power of higher education, the partnership aims to transform the Liberty City community as MNW students receive the knowledge, skills and support needed to pursue their academic goals.
Working with FIU students and faculty, Miami Northwestern will implement a variety of academic projects, including an aquaponics garden, financial literacy classes for students and parents, and initiatives designed to increase exposure to the FIU community. The complete program will offer 22 dual enrollment courses on-site at Miami Northwestern throughout the year – more than double the number offered by any other MDCPS high school.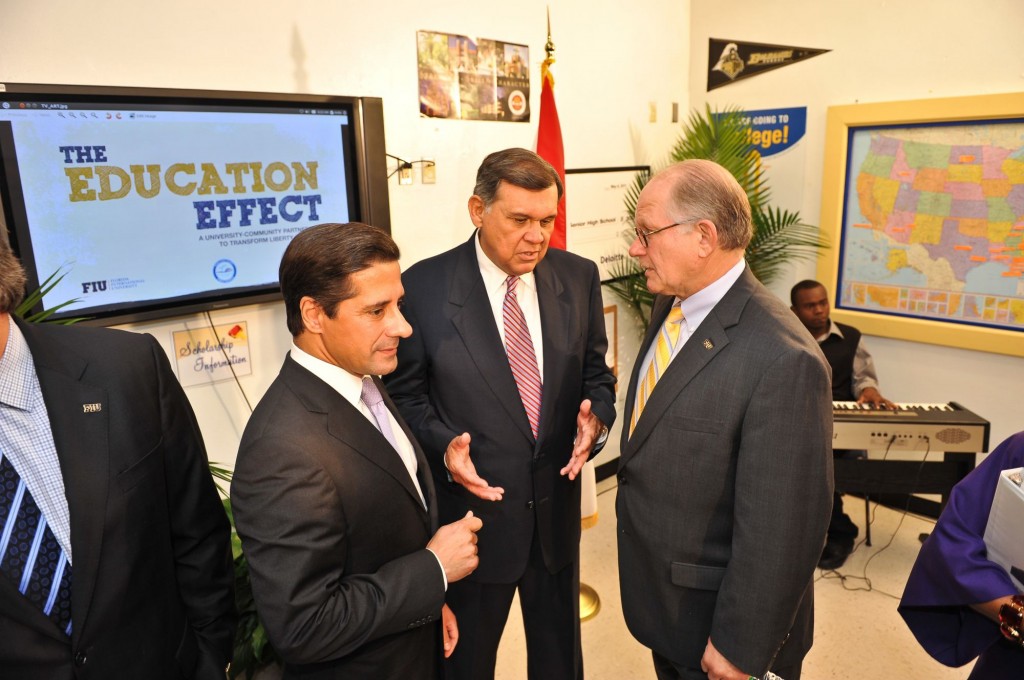 Changing Futures
A senior at MNW and an aspiring financial engineer, Rene Maurice exemplifies the transformative impact of The Education Effect. Rene is one of 49 MNW students selected to participate in FIU's State Farm Financial Literacy Lab in the College of Business Administration (CBA) – a key program of the initiative.
In Rene's words, "This experience with the financial literacy program had a major impact on me and my future. As a young adult from the inner city, I was never exposed to the resources that FIU has to offer."
Rene is confident that his experience in FIU's financial literacy program will enable him to beat the odds. "I plan on being a financial engineer, but I would sometimes question my knowledge dealing with stocks, bonds, where to invest my money and for what purposes to make those investments….Charlie [an FIU student intern at the Lab] and the others…helped me sharpen the knife of my knowledge so I can cut the barrier of the stereotypical statistic."
Generously supported by State Farm with a $200,000 commitment in 2010, CBA's financial literacy program introduces MNW students to finance, credit, savings and investment principles, increasing financial competency and instilling confidence in the students' ability to understand market activities.
Students such as Rene demonstrate FIU's continued impact on both the academic goals of MNW students and the future of the greater Liberty City community.
Thanks to the support of philanthropic partners such as JPMorgan Chase and State Farm, FIU looks forward to continue engaging the community of Liberty City for years to come – empowering students such as Rene to realize their academic and professional dreams.
To read the cover story on The Education Effect in the FIU Magazine:
http://news.fiu.edu/2012/01/the-education-effect/34635
For Miami Herald coverage of The Education Effect:
http://www.miamiherald.com/2011/09/07/2394752_liberty-city-high-school-gets.html
To learn more about collaboration between FIU and MNW students:
http://news.fiu.edu/2011/09/miami-northwestern-students-visit-organic-garden/31147