The Scripps Howard Foundation and the
FIU School of Journalism and Mass Communication
Thanks to the generous support of the Scripps Howard Foundation, students in the FIU School of Journalism and Mass Communication are empowered with the tools necessary for a successful career.
In alignment with SJMC's mission, the Scripps Howard Foundation pledged $400,000 to support two state-of-the-art multimedia labs and a writing center at the Biscayne Bay Campus. Dedicated in February 2007, the Scripps Howard Writing Center fosters writing skills through mentors and tutors who assist students on a one-to-one basis. Both Scripps Howard Multimedia Labs serve as think tanks and innovative teaching facilities for new media and the future of digital journalism and mass communication.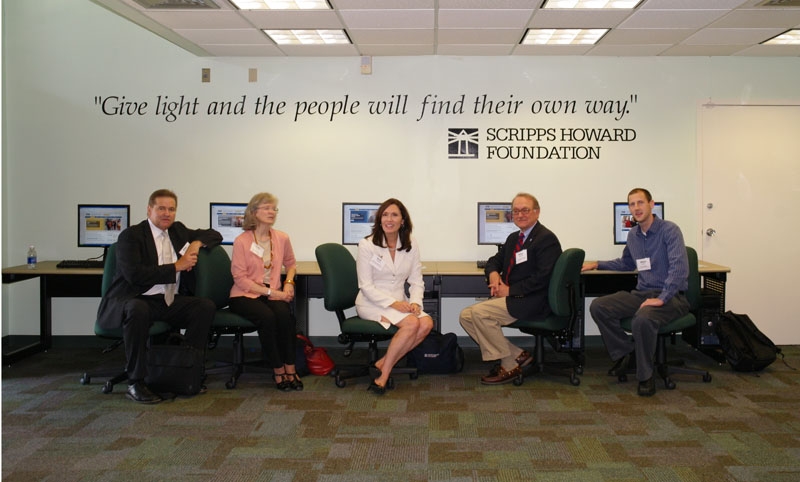 A Competitive Edge
Dean of the SJMC, Raul Reis, understands that due to decreased funding from the State of Florida, it is essential for the School to strengthen its partnership with the Foundation. "They've been so supportive of the work that is done by our students and faculty, and we really want to bring this into the future as we think about the kind of education that we need to provide for the 21st century [to] make our students competitive."
"The help of donors such as Scripps Howard is really instrumental for the work we're doing… for the development and growth of the School. We try to…be [on] the cutting edge of what's new and important in media and the help of a foundation like this really allows us to build," Dean Reis added.
"The Very Best People We Can Get"
Among the nation's top three journalism schools that award undergraduate degrees to Hispanics, the School is poised for significant growth. Mike Philipps, president and CEO of the Foundation, strongly supports the School's role as a leading producer of Hispanic professionals. "We wanted to find a school somewhere that had a large Hispanic population because, frankly, we believe that…the future of the country is going to…rest in the hands of the Hispanic population, and we want to make sure they're well represented in our newsrooms."
The transformative impact of the Foundation has empowered the School to emerge to the forefront of pioneering programs and innovative curriculum. In alignment with the Foundation's mission to advance the cause of a free press through support of excellence in journalism, quality journalism education, and professional development, the School is committed to fostering a culture of journalistic distinction.
"Nothing is more important to us than the young people that we're trying to educate and bring into the industry. We want the very best people we can get and so we came to FIU," said Philipps.
To learn more about the SJMC's Scripps Day: http://news.fiu.edu/2010/10/boundless-events-opportunities-delivered-at-the-sjmcs-scripps-day-2010/18656