The Marriott Tianjin China Program
Selected by the Chinese government from a group of elite international hospitality schools, the Marriott Tianjin China Program of the FIU Chaplin School of Hospitality and Tourism Management is China's first United States-based hospitality education initiative granting hotel management degrees.
"It was for sure a life turning point for me. The program opened my mind and connected me to a different culture. I learned appreciation. I learned to be strong. I learned to fight for myself…. I had a very unique college life and came out with more confidence. Looking back, I can still remember each single day as it was yesterday. Thanks to the education I got in the program, I decided to come to the USA and get a master's degree in Hospitality Management. With my confidence and knowledge, I have been interning with top companies," said graduate student Xuefei Fan, who will earn her degree in December 2012.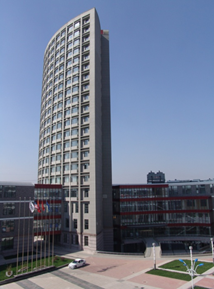 Supported by an investment of $1,875,000 from the J. Willard and Alice S. Marriott Foundation, with a total impact of $3,075,000 including state matching funds, the program remains FIU's largest off-campus program and China's most prestigious undergraduate hospitality program. The facility, fully funded by the Chinese government, sits on 80 acres on the grounds of the Tianjin University of Commerce (TUC) and contains more than 450,000 square feet of air conditioned space, including a dormitory tower 20 stories high.
The transformative support of the Marriott Foundation reflects the long-standing relationship between Marriott and the Chaplin School.
"The purpose of the gift was to promote interest and education in Hospitality Management in China. The gift allows us to offer scholarships to students and also provide funding for faculty travel and development. Thanks to the relationship with Marriott, our students also have access to internships and job opportunities at various Marriott properties in China," said Mohammad Qureshi, assistant dean of the Chaplin School.
Pioneering Partnerships
Developed in 2006 with the Municipal Government of the City of Tianjin and TUC, the program has experienced unprecedented success, graduating 241 students with a bachelor's degree in Hospitality Management in Spring 2012.
"There is no doubt that US hotel companies like Marriott are leading the global hospitality business; consequently, hospitality management degrees earned from an American university are highly regarded internationally. FIU is a pioneer in developing a full-degree program in China. Its success is imperative for future growth and recognition of our program internationally. We are now approached by other countries to launch hospitality management degree programs that model our China program, and have partnerships under development in Italy and the Republic of Georgia," Qureshi said.
A League Above the Rest
The Marriott Tianjin China Program serves as the hospitality program of choice for some of the most promising hospitality students in China.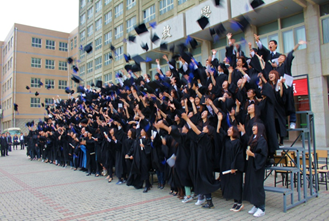 Wenbo Huang, Ph.D., TUC-FIU professor in Management and Marketing, is a strong advocate of the program. "The characteristics that make this program unique are the excellent reputation of FIU's hospitality program on a global scale, government commitment, high-caliber faculty, strong leadership, strict student evaluation criteria and a strong tie between academia and industry practices."
Thanks to the support of the Marriott Foundation, the vision for the Marriott Tianjin China Program is to solidify its position as one of the finest hospitality and tourism management programs in the world, strengthening and expanding the successful partnership with Marriott.
"Marriott's bold vision for the future of collaborative business in China prompted their interest in aligning with one of the top hospitality programs in the US in order to establish a pipeline for cultivating talent in the region. The partnership with Marriott creates a strategic approach to educating students from China and the US to better serve the long-term needs for managers and executives in the world's fastest growing hotel development market," said Mike Hampton, Ed.D., dean of the Chaplin School. "In only eight years, the FIU Marriott Tianjin China Program has grown from 39 students to more than 1,100, with graduates serving in key roles throughout all sectors of hospitality business."