Norman Uriarte
Graduate of the FIU Honors College with a degree in International Business/International Relations and Lifetime Alumni Association member of the College of Business Administration Chapter, Norman Uriarte has found a way to give back to his alma mater after establishing a booming business catering to global service projects for colleges and universities.
"My educational experience at FIU has equipped me with the knowledge and skills to help those who were once in my shoes," he said.
As president of Panorama Service Expeditions (a division of Panorama Travel), Uriarte works with his staff to implement sustainable service projects focused on promoting environmental, social and economic justice, in partnership with Alternative Break directors, project leaders, participants and communities.
"It's such a great feeling to know that all the hard work my team and I have put forth is paying off," said Uriarte. "Collaborating with FIU is just the tip of the iceberg."
Inspired to Give Back
Born in Nicaragua and raised in Miami, Uriarte participated in several of FIU's Alternative Break-Global Leadership and Training Projects (AB-GLTP) and study abroad programs. As an FIU student, he participated in and helped coordinate the first two AB-GLTP projects in Thailand. Additionally, he developed the 2005 AB-GLTP December BreakAway to Nicaragua.

"FIU has given me numerous opportunities to develop as a person while assisting others who need better resources to improve their lives. That's what it's all about," he explained. "That's how FIU is Worlds Ahead, and the Alternative Breaks program provided that channel for me."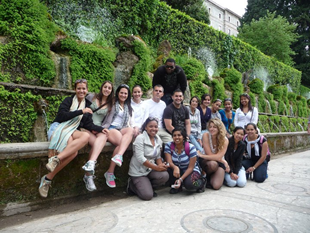 After reaping the benefits of his company's success, Uriarte has given FIU a generous gift of $125,000 to establish the Panorama Travel Global Leadership Scholarship Fund and the Panorama Travel Honors College First Generation Scholarship Fund, building upon previous investments in The Honors College. The first fund will annually provide up to 20 Honors College students with scholarships, in support of their participation in innovative study abroad programs offered by the College. The second fund, eligible for state match, will be allocated to the university's First Generation Scholarship Matching Grant Program with preference given to first generation Honors College students who will receive scholarships of $1,000 each. Including state match, the funds will annually support 10 students.
A Brighter Future
Uriarte's philanthropic investments will impact students beyond the classroom. "I wanted to give these students a brighter future and what better way than through scholarships to help them to pursue their dreams," he said.
In addition to FIU, his studies include American Foreign Policy and International Business at Harvard University. He is a seasoned traveler and has visited 29 countries on five continents.
During the last several years, Uriarte has been intensely involved with FIU's Alternative Breaks program, helping through sponsorship, fundraising and international program development. Panorama, under his stewardship and carrying forth his family tradition, has established a record of giving back to higher education, to Nicaragua and to the Nicaraguan community in Miami.