Stephen M. Fain, Ed.D. and the Faculty & Staff Campaign
In the words of founding FIU professor Stephen M. Fain, Ed.D., "The great appeal to come to FIU was a result of two primary factors: the idea that this was a new place and an opportunity to work in shaping a new institution."
An enthusiastic Panther who has committed more than four decades of service to FIU, Fain is still passionate about supporting the mission of the university. He currently serves as the chair of the FIU Faculty & Staff Campaign (Ignite), launched by the Office of Annual Giving in February 2012 – the first campaign of its kind in FIU's history.
"The most impressive thing about this campaign is that large numbers of people (faculty and staff) that nobody really ever looked to before to participate have come forward and … stepped up," said Fain. "I would hope … this campaign is that springboard to a larger and more successful outreach campaign for raising money for the university."
Fostering a Vision
Fain's long-term goal is to create a culture of giving back to FIU that will strengthen the university's financial foundation. From meeting regularly with the campaign committee to signing hundreds of acknowledgement letters to presenting at numerous events and helping create marketing materials, his enthusiasm and dedication to the campaign has never been more evident.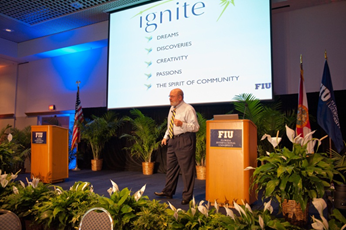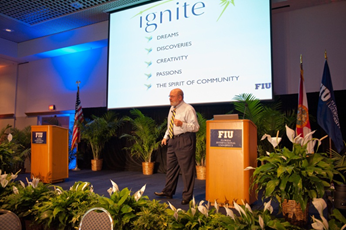 "I'm not a professional fundraiser, but I can ask people to support this cause because I understand it, I believe in it and I trust it. I believe in the institution. People ask me why I stay at the university after theoretically being retired. And the answer is, I don't focus on the things that went wrong. I focus on the things that we did together that went right and that were good," Fain expressed.
To date, under his leadership, the unprecedented, donor-directed giving campaign has raised over $2.1 million for FIU – igniting dreams, creativity, discovery and innovation for the thousands of current and future students of FIU.
Fain reflected on the recent achievement of the campaign. "I think most people are very impressed with the success of our campaign in a short period of time. We've involved a lot of people, probably as many as most established universities do in terms of percentages."
A Longstanding Record of Service

Fain has been a member of the FIU faculty since 1971, one year before the opening of the university. Professor Emeritus in the FIU College of Education, he served in various roles including associate dean, chair of the Department of Educational Leadership and Policy Studies and director of the Ed.D. program in Curriculum & Instruction. He is a recipient of the 2004 Distinguished Service Award and the 2005 Outstanding Faculty Torch Award.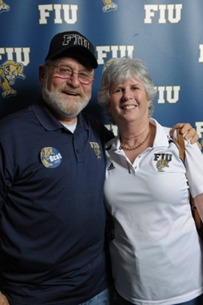 Currently Fain is a Fellow in the FIU Honors College where he conducts a third-year seminar focused on the evolution of the American character.
"I came for two years. I've stayed for over 40!" he exclaimed.
Impact Across Campus

Leading by example, Fain has contributed to several FIU funds, including the Honors College, the Berta D. Villares Book Scholarship Award, the First Generation Scholarship Fund, the Athletics Association and the Green Library. In recognition of his generosity, the Faculty Room at the Library will be named for him and his wife, Judy.
"Sustaining the institution is, in my opinion, a civic obligation…. It's understanding that an appropriate commitment to service is always a good thing and part of what I hope will happen is that because of this campaign, people will begin to recognize that giving is important," said Fain.