Robert Stempel College of Public Health and Social Work
Long before the Robert Stempel College of Public Health and Social Work bore his name, Robert R. Stempel, Ph.D. worked relentlessly to foster excellence in his students and the research community. "Bob was a dear friend and a wonderful colleague," said Professor William Darrow.  "He was loved by his students from the first moment they met because he was concerned about them personally and professionally," he said. Dr. Stempel joined the College in 1991 after earning a doctorate in public health from the University of California at Berkley.
Having served as a volunteer in the Peace Corps, for which he worked with the Tuberculosis Program in the Federation of Malaysia; a foreign reserve officer in Vietnam; and a disease control specialist in New York City and San Francisco, Dr. Stempel drew from his experiences to help develop several of FIU's courses in the epidemiology track. At the time, the College, formerly known as the College of Health and Urban Affairs, was one of only two schools of public health in Florida. Dr. Stempel labored tirelessly to keep FIU at the forefront of academics and research in public health, leading courses and research on AIDS Epidemiology, Behavioral Epidemiology and International Public Health.
"Bob planted a seed in his students and all who were fortunate enough to work with him. His contributions to the profession and his inspiration to teach and train the next generation of researchers and front-line professionals at FIU still resonate and impact those of us who worked with him to this day. We are so fortunate to have called him a colleague," said Michele Ciccazzo, dean of the Robert Stempel College of Public Health and Social Work.
Committed Supporters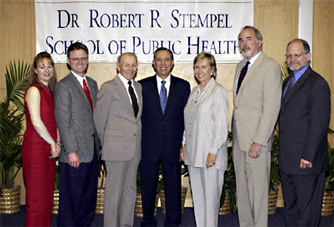 After Dr. Stempel's premature death in 2002, his family took on his mantle of promoting and advancing public health research and education at FIU. A landmark gift from the Ernest E. Stempel Foundation—led by Dr. Stempel's father and siblings—and a matching gift from the Starr Foundation named and established the Robert Stempel School of Public Health, or as it is presently known, the Robert Stempel College of Public Health and Social Work. The Stempel family remains a committed supporter of the College, providing generous support for research, scholarships and the online public health master's program.
At the groundbreaking ceremony for the College's new building, Calvin Stempel, Dr. Stempel's brother and trustee of the Ernest E. Stempel Foundation remarked, "My late brother Robert, (or Bobby as we knew him) the namesake of the college, thoroughly cherished his time teaching and learning at FIU. His love of public health could only be paralleled by his desire for students to grow and fulfill, if not exceed, their potential." This legacy to help students excel and be their best continues to be upheld by the Stempel family. Two public health graduate students, Ashley Desamours and Suzette Pierre St. Rose, received scholarships this fall thanks to the generosity of the Stempel family.