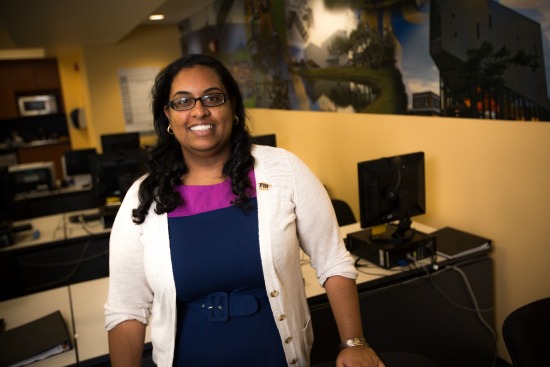 Joanndra F. Ramdass in FIU's on-campus Annual Giving Call Center, from which students reach out to FIU alumni, current FIU parents and friends of the university in request of contributions.
Name: Joanndra F. Ramdass
Hometown: Siparia, Trinidad
Job Title/Department: Coordinator, Phone & Parent Programs, Office of Annual Giving, University Advancement
Location/Campus: MARC 237, Modesto A. Maidique Campus
In a nutshell: As a coordinator in the Office of Annual Giving, I work with our annual fundraising campaigns, which are carried out via phone, direct mail and email. Our office reaches out to our FIU community, alumni, friends of FIU, parents and our very own faculty and staff to raise funds for the areas of greatest need at FIU. My specific focus has always been with the phone program, and in the past two years I have spearheaded the launch of the annual Parent Campaign, which is a new initiative for our office.
Number of years at FIU: 8 years – four years as a student/student employee and four years as a full-time employee
What do you enjoy most about your job? Our office has the opportunity to work with all of the university's academic units and divisions through our different campaigns. As a result, I get the chance hear about all the great accomplishments across campus and, if I'm lucky, even get insight into new and innovative projects before they are publicized. It feels like I have an insider's pass to FIU's upcoming successes, which keeps me energized and excited about coming to work every day. But more importantly, through our campaigns, I get to share these achievements with our alumni, parents and faculty and staff and, hopefully, this keeps our community excited about FIU.
What do you think students and your fellow faculty/staff should know about your area? The Office of Annual Giving is a resource and a voice for your success. Our office coordinates annual phone, mail and email campaigns geared towards raising funds for the areas of greatest need throughout FIU from our alumni, parents and fellow employees. So, for example, if there is something you are passionate about as a member of our faculty and staff, reach out to us via our Ignite campaign and we will help you to set up a project to make your vision a reality.
Where is your favorite spot on campus? Why? The outdoor patio behind the Frost Art Museum. It is the perfect place to have lunch. Quiet and cool.
What is one thing you wish everyone knew about FIU? FIU is dynamic! At FIU, the people, the programs, the vibe are full of energy, enthusiasm and a sense of purpose. The FIU mindset is to get things going and to get things done. This is a great energy to be a part of, and it is gratifying to be a witness to the successes that come from this dynamic atmosphere.
Family snapshot: My immediate family, my mom and my brother, both live in Trinidad. My dad passed away three years ago. I try to get back a couple times for the year. My cousin Theo just started at FIU after being in the Marines for almost 10 years, so it is nice to have family close by. Other than that, my uncle and his family live in Orlando. Both my aunt and uncle are great cooks, so whenever I want a taste of home and family, I head up to Orlando and I feel like I'm home.
Word that best describes you: Considerate
First paying job: A substitute teacher at my old high school.
Favorite TV show: Bones, Veep, Graceland, Shark Men, Everybody Loves Raymond and The Big Bang Theory… I could go on and on.
What is playing on your iPod? Don't have one, but my daily playlist on Spotify: Paul Simon, Maroon 5, James Taylor, DMB, Bob Marley, Shakira, Fleetwood Mac, Zac Brown Band…
Favorite off-campus dining spot: Special Tea! It takes a bit of planning because you have to get there at 11:55am to avoid the rush & get a table. It's great food, an insane selection of teas and coffee… not to mention fun board games. We have a Parcheesi battle simmering in our office.
Your proudest accomplishment: Learning to drive/ getting my driver's license. I know this seems pretty mundane but I have… had a very intense fear of driving. With the help of a very kind, patient driving instructor called Jim and months and months of practice I finally got my license and a car last year. I'm still alive—and so are you—so I think I'm doing well.
What do you do when you are not working at FIU?  I'm currently pursuing a master's degree in public administration so I spend most of my free time doing homework or reading for class. There is SO much reading. Outside of that, I like to go to the movies or head down to the Fruit and Spice Park or Robert Is Here in Homestead.
If you're new here, you may want to subscribe to our
newsletter
. Thanks for visiting!