Theodore "Ted" Spak is such a fan of the
FIU College of Law
 that he gave the college a gift before it welcomed its first class. More recently, he and his wife Rosalind Spak made history again with a $1.2 million planned gift — the College of Law's largest endowment to date.
"The Spaks are an integral part of the FIU fabric and two of our most enthusiastic supporters," said FIU President Mark B. Rosenberg. "Ted had a vision for FIU very early on. The Spaks' many contributions of time and treasure have helped us advance and improve our students' educational experience."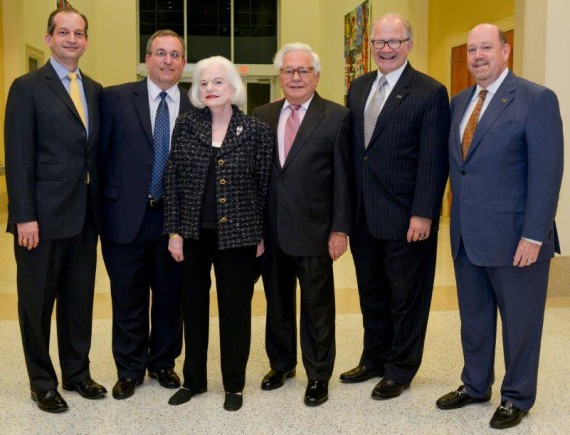 From left to right: College of Law Dean R. Alexander Acosta; Robert Spak; Rosalind Spak; Ted Spak; FIU President Mark Rosenberg; and Howard Lipman, senior vice president of FIU advancement

Their most recent gift will significantly expand the Theodore and Rosalind Spak Scholarship Endowment, established in 1997, to provide scholarships to students who are seeking a career in law. In recognition of the Spaks' generosity, the first floor of the Law Library has been named the Theodore and Rosalind Spak Information Commons.
The Spaks have a long history of leadership and generosity with FIU. Their contributions have been many and range from donating an art collection to the Frost Art Museum to helping establish the Albert Morrison Jr. Scholarship Endowment which supports students in the School of Accounting. Ted Spak served on the FIU Foundation from 1984 to 2009.
"On behalf of the College of Law, I want to thank the Spak family for their generous contribution that will benefit both our current and future students," said R. Alexander Acosta, dean of the College of Law at FIU. "They believed in the College of Law before its doors were opened and their continued support is testament to the quality legal education we provide here at FIU."
For the Spaks, this gift is an extension of their decades-long commitment to their hometown public university.
"Rosalind and I have always admired the spirit and potential FIU students bring," said Ted Spak, a retired lawyer and businessman. "It is our pleasure and privilege to contribute to the success of some very deserving law students. We can't wait to see what is ahead for the FIU College of Law and its alumni!"
If you're new here, you may want to subscribe to our
newsletter
. Thanks for visiting!