A combined fishing tournament and rockin' dock party that netted nearly $28,000 for scholarships is one of several creative endeavors that recently won recognition for the university. The fundraiser took top honors in its category in the Council for Advancement and Support of Education (CASE) annual regional competition. The contest is a forum for educational institutions within the Southeast to enter programs and projects for review by their peers. In all, FIU walked away with awards in seven categories.
In addition to its fishing event, the Office of Alumni Relations, part of the Division of University Advancement, also won for a strategic campaign to increase alumni engagement through social media. The team's yearlong efforts—which focused on getting out news that would inspire pride—led to an average increase in engagement of 40 percent on Facebook, Twitter and LinkedIn.
"To be acknowledged by your colleagues within the industry is truly a testament to all the great work we are doing at FIU," Alumni Relations Director Duane Wiles said. "We strive each and every day to provide quality programming that's meaningful to our alumni so that they will feel inspired to give back to their alma mater."

FIU Magazine, Summer '13
FIU Magazine, published by the Division of External Relations, walked away with three prizes, including the top spot for graphic design of a periodical, a nod to the talents of art director Aileen Sola. With this award, FIU Magazine is recognized as the best designed magazine in the Southeastern United States.
The spring 2013 feature spread on alumna/2013 Torch Award recipient Beth Davalos, who founded a program to assist homeless families in Central Florida, earned double honors: a feature writing award for Sissi Aguila and an individual photograph award for Douglas Garland. The pair of FIU employees spent a day chronicling the interaction between their subject and the individuals whom she helps.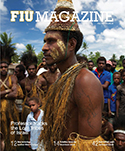 FIU Magazine, Fall '13
The recent awards bring FIU Magazine's accolades to a total of seven in the past two years. The publication was named overall best university magazine in the Southeast region last year and has been honored for cover design, illustration and news and feature writing.
"It's gratifying to be recognized by our peers for how we tell the FIU story," said editor Deborah O'Neil. "These awards highlight the talent of the magazine team and they also speak to what a special place FIU is. The great stories of this university inspire us to do our best work."
Also within External Relations, the Office of Media Relations won for its campaign to disseminate the results of an FIU Hispanic Poll, which came out just weeks before the 2012 presidential election. Led by Director Maydel Santana-Bravo, the team worked with Professor Eduardo Gamarra and The Miami Herald to conduct a poll focused on Hispanic voters in Florida and nationally. The results received national and international coverage and reached an audience of more than 119 million.
"I believe this is one of the first times we designed a poll with the intention of making news," Santana-Bravo said. "We saw the need for a more textured understanding of the Hispanic vote and put together a strategy, together with a news partner, to fill that void."
University Advancement's annual foundation report—a four-color magazine-style publication chockfull of interesting stories and beautiful photographs of FIU's generous donors—also earned an award.