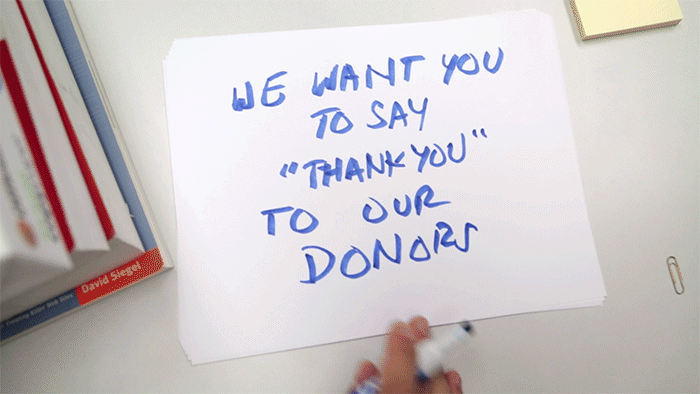 Thanks Day is one of the biggest days of the year because it gives students and the FIU community a chance to say "Thank You" to our incredible donors. This year, Thanks Day falls on Nov. 12 and 13, and our digital team wants to take the gratitude to social media.
To show your appreciation on social media, this is what you do: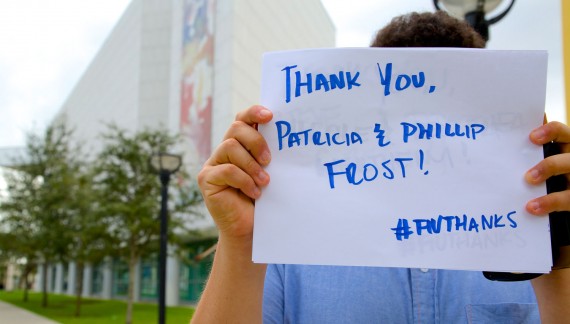 1. Take a sheet of paper.
2. Write "Thank you, ____"
Write a thank-you note to the donor with whom you feel the biggest connection. Do you study in the library a lot? Thank Steven and Dorothea Green! Or if you like to visit the Frost Art Museum, thank Patricia and Phillip Frost!
3. Take a selfie or photo with your note
Take a photo or video of your note and then upload it to Instagram, Twitter or Vine with the hashtag #FIUThanks.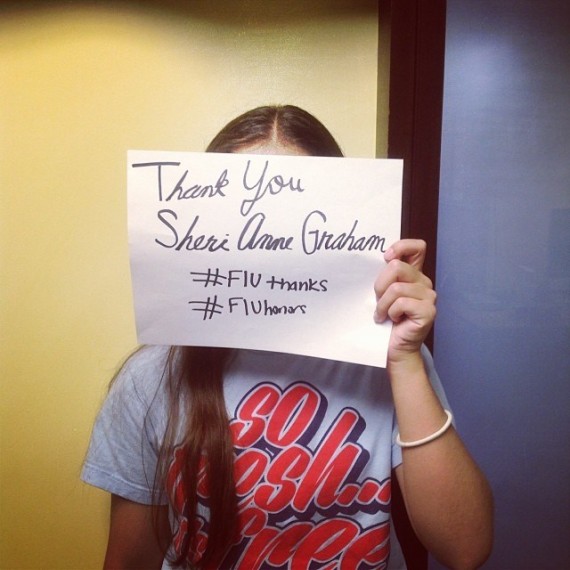 Grateful to Dr. Stocker for donating to the new observatory! I look forward to using the new "toys"! #FIUThanks @FIU pic.twitter.com/r1tCVlMQjf
— Dani (@aJesusDancer) November 14, 2013
4. In the caption, write why exactly you're thanking your donor.
"My favorite class of the semester is at the Ryder Business Building."
"I like to people-watch outside in the Green Library breezeway."
5. Post it. That simple!
We'll be collecting your thank you notes on our Storify so our donors can see all the Panther appreciation.
And don't forget to stop by Nov. 12 and 13 for Thanks Day events at BBC, MMC and the Engineering Center.
MMC
Wednesday, Nov. 12
10 a.m. – 3 p.m.
Betty Chapman Plaza
Engineering Center
Thursday, Nov. 12
10 a.m. – 3 p.m.
Main Lobby
BBC
Thursday, Nov. 13
10 a.m. – 3 p.m.
In front of Academic Centers 1 & 2
Check out highlights from last year's Thanks Day!
https://storify.com/fiu/fiuthanks
If you're new here, you may want to subscribe to our newsletter. Thanks for visiting!