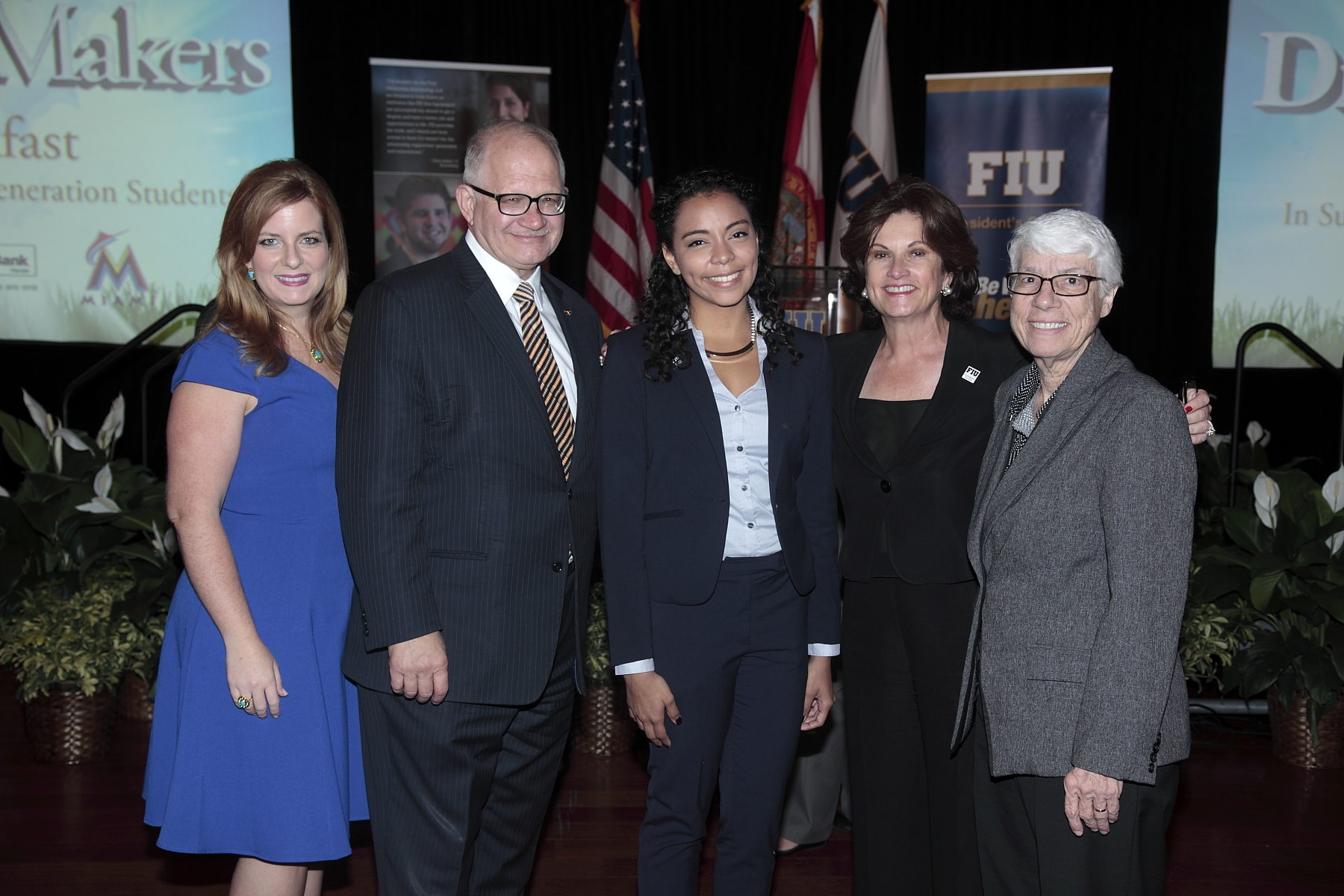 Over 200 guests attended this year, including Lourdes "Luly" Balepogi, chair-elect of the President's Council and chair of the First Generation Task Force, who said that for her the most powerful part of the DreamMakers event is always the student testimonials.
"When we hear the story of our speaker and of the students we share tables with, we see how our contributions truly impact their lives," said Balepogi, the fundraiser's mistress of ceremonies.
"They are forging their own path. That takes courage and determination, and the President's Council is proud to support them."
Twenty-seven students attended, many from FIU's Honors College. This year's main student speaker, Bianca Ordoñez, is triple majoring in journalism, political science and international relations.
"I am very grateful for the help first generation students receive here," she said. "I cannot wait to be able to give back in the future. FIU and the First Generation Scholarship mean opportunity to me."
Additional speakers included FIU President Mark B. Rosenberg and Thomas M. Cornish '85, chairperson of the FIU Foundation Board of Directors, who shared his story as a first generation FIU student.
"My fondest memory at FIU was the educational awakening. This gave me great hope for my future," Cornish said.
First generation students represent 53 percent of undergraduate students at FIU, and nearly 56 percent of FIU's financial aid recipients come from families with annual household incomes less than $30,000.
At this fall's DreamMakers Breakfast, donors had the opportunity to share their pledges toward the scholarship fund. Rick Beasley, executive director of the South Florida Workforce, led the way with a pledge of $135,000; Jorge Villacampa, regional bank area president of Wells Fargo, gave $50,000; and FirstBank Florida gave $10,000.
Others who announced their donations also included President's Council member Manny Miranda who pledged $6,000 (with State Farm's company match, it will be a $12,000 total contribution); President Rosenberg who pledged $6,000; and President's Council member Victor Balestra who gave $5,000. Top FIU donors Ralph and Mercedes Fernandez gave $5,000; FIU alumna Carmen M. Perez gave $2,000 (with FPL's company match, it will be a $4,000 total
contribution); and FIU alumni Luis C. Brignoni and Luis G. Brignoni Sr. from Wynwood Brewing Company pledged $3,000.
The First Generation Matching Grant Program is the only one of its kind in the state of Florida to match private donations for first generation scholarships 100 percent, providing donors an exceptional opportunity to leverage the impact of their gift.
To date, FIU has awarded more than $6.6 million to nearly 8,830 FIU students through its First Generation Scholarship Fund, which provides financial support to qualified undergraduate FIU students who are the first generation in their families to attain a college degree.
For more information, or to donate to FIU's First Generation Scholarship Fund, click here.
This post "DreamMakers Breakfast raises more than $250,000 for First Gen scholarships" was originally published on FIU News.