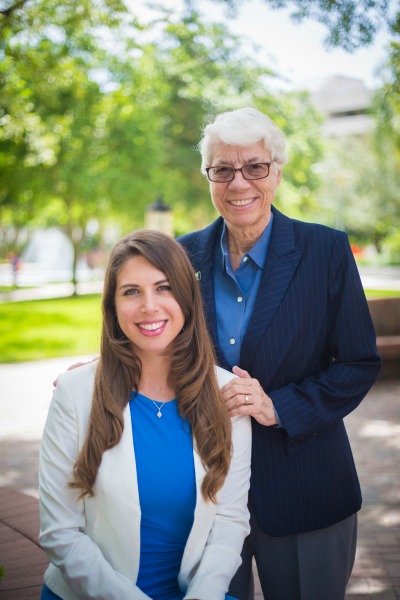 Honors College Dean Lesley Northup and her daughter Evan made history recently by making a joint planned gift to the Honors College – the largest such gift in the college's history. Their hope is that others will follow their lead.
"I believe in what we're doing," Dean Northup said, "so I have to put my money where my mouth is."
Their $250,000 gift will become part of the Honors College Endowment. In the short-term, the Honors College is seeking to acquire an academic and administrative building and student housing on the MMC campus, and also to increase student scholarships. The efforts are all aimed at ensuring the future of the university's elite academic program, home to 1,500 undergraduates who receive a unique, multidisciplinary education infused with community service and study abroad opportunities.
"The Honors College must provide the transformative experiences that bring together and magnify the effects of the rest of the students' university education. This gift will help to send students abroad, house them on campus, and create meaningful internships," said Northup. "Planned gifts also have the critically important advantage of helping to secure the future of the College down the road."
The Northups were also inspired by members of the Honors College Advisory Board, 18 graduates and community leaders who are actively involved in fundraising, friend-raising, and planning for the college. The board, which has proven to be a model for other units, includes 11 FIU alumni, of whom six are Honors College alums.
While board members donate annually through dues — they voted voluntarily this year to raise the dues — they also contribute by sponsoring tables at the College's Food for Talk annual event and providing professional mentoring and training for Honors students.  Of the 18 current members, 11 have also made substantial additional gifts after joining the board, including the largest single donation to the college's endowment.
Recently, Alex Mantecon donated both a scholarship and the 30-foot by 60-foot front of his new East Coast building, which is being adorned by a mural designed by a group of Honors students.
In 2014, alumnus Jonathan Cameron made a planned gift of $100,000, saying he wanted to be sure that the Honors College "community within a community" would be there for prospective students, as it was for him. Cameron's gift sparked a wave of planned giving to the college.
Honors alumna Rachelle Metcalfe, assistant director of Enrollment Services for the college, also gave a $100,000 gift, and board chair Tina Vidal donated another $150,000 planned gift.  The Northups join the board in leading by example.
"I hope more of our alums will consider planned giving," the Dean said. "It is an excellent option, especially for younger folks, who can turn a small investment into a substantial future payoff."
She approached her daughter, who is the Major Gifts Officer for the FIU Libraries and an associate instructor in the Honors College, about the gift. Evan feels she practically grew up on FIU's campus after her mother joined the Department of Religious Studies in 1993. Today, in addition to her development and teaching commitments, she also contributes to FIU in such leadership roles as head of this year's university-wide Homecoming Committee.
"We've been part of this community for over 20-plus years," Evan said. "It has shaped our lives and given us friends, opportunities, and priceless learning. This is one way for us to give back."
For more information about FIU's Honors College Planned Giving options, please contact Steven L. Schwartz, FIU's Executive Director of Estate and Planned Giving, at 305-348-2448 or slschwar@fiu.edu.
If you're new here, you may want to subscribe to our
newsletter
. Thanks for visiting!