With over 800 people in attendance this year, the 14th Annual Torch Awards Gala broke a university record.
"We know you could've been at Ultra, but you're here. This is our Ultra," President Mark B. Rosenberg told alumni and guests during his keynote address at dinner.
The Torch Awards, hosted by the Alumni Association and held at the Fontainebleau hotel for the first time, recognized alumni and faculty who stand out in the community and who have made successful careers in their field of study.
"It's important to recognize alumni because we wouldn't be where we are without our supporters," said Vice President for Student Affairs Larry Lunsford. "This is a young university with young alumni. As you age, you begin to rely on alumni to support the university."
The theme of this year's gala, "From the Ground Up," commemorated the 50th anniversary of the university's founding in 1965. The Fontainebleau's Crystal Ballrooms were made up to look like an airline, "Flight 1965," complete with "boarding pass" programs and FIU's Golden Dazzlers dancers dressed up as flight attendants.
The gala is also an opportunity to raise money for the First Generation Scholarship and Alumni Center building funds. Last year, the event raised $10,000 for each, with 600 people in attendance. Final numbers for this year are not yet available.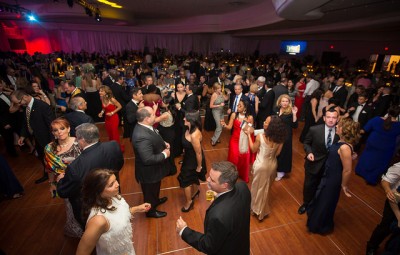 Alumnus of the Year awardee Humberto Cabanas '76 said he believes it is FIU graduates' duty to give back to the university throughout their lives. What graduates learned "should be taken forward and help other students in the future experience the same things that you experienced."
Cabanas, who chaired the Advisory Council for the Chaplin School of Hospitality & Tourism Management for five years and is now on the university's Foundation Board, created a scholarship in honor of the School of Hospitality and Tourism Management's founding dean, the late Gerald Lattin.
Cabanas got his start in hospitality at age 15 cleaning pools at the Shelborne Wyndom Grand hotel in Miami Beach and is now the chairman and founder of Benchmark Hospitality International, which oversees hotels and resorts all over the country.
The Alumni Association also awarded physics professor and director of the STEM Transformation Institute Laird Kramer the Outstanding Faculty Award.
Kramer teaches the Learning Assistant Program seminar, which trains undergraduates to aid their peers' learning and assist professors in university classrooms and labs. He said the students are what keep him coming back to FIU every day.
"I was trying to find ways to support our students, because they're really fantastic," said Kramer about the LA program.
The Alumni Association encourages involvement in both the FIU and South Florida communities, and recognized Alex Rodriguez-Roig '99, president of the Boys & Girls Club of Miami-Dade, with the Community Leadership Award.
"I started volunteering there 18 years ago and it felt so good to be able to help kids in the community that don't have a lot of opportunities," said Rodriguez-Roig. "And once you start helping them, it kind of grows on you, and you want to stay there."
Rodriguez-Roig, who studied education at FIU and is now part of the College of Education Dean's Advisory Board, said the Community Leadership Award is the highest honor he's ever received.
"I'm humbled," he said. "I cherish it with my heart because of the respect I have for the university, and it's great to be acknowledged for putting my little grain of sand into the community."
For a complete list of awardees, click here.
Tags: Alumni Association × Chaplin School of Hospitality and Tourism Management × College of Arts & Sciences × College of Education × FIU at 50 × Laird Kramer × Physics × School of Integrated Science and Humanity (SISH) × STEM Transformation Institute × Torch Awards
This post "14th Annual Torch Awards Gala breaks attendance record" was originally published on FIU News.