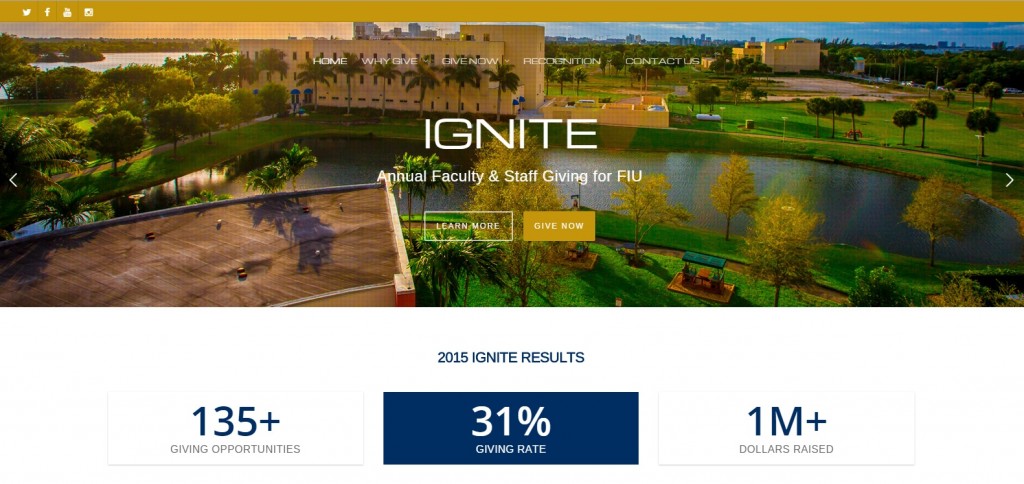 The FIU Foundation is pleased to announce the newly revamped website for Ignite: the Annual Faculty & Staff Giving campaign for FIU. The website address remains the same: ignite.fiu.edu.
Key features of this upgrade include increased security, a mobile responsive format, and easier access for all faculty and staff to find and give to the projects they have created and care about.
"We are excited about the launch of our new site and look forward to working with the university community as we celebrate FIU @ FIFTY with our 50/50 Challenge," said Dr. Stephen Fain, Ignite chair.
Ignite's 50/50 Challenge encourages faculty and staff to do the following:
Give to an area or program that you care about. If you have already given, consider increasing your gift by 50 percent for this special anniversary.
Become an active force within our FIU community by encouraging your colleagues and friends to make a gift each year, ultimately raising the participation level of your unit to at least 50 percent.
Identify a project of your choice and take a leadership role in advancing the project – become an Igniter!
With the upgraded features, this new website helps make the 50/50 Challenge even easier for FIU's faculty and staff.
If you are an Ignite project stakeholder and would like to update content or address any concerns about the new site, please direct your questions to ignite@fiu.edu or contact us at 305-348-4931.