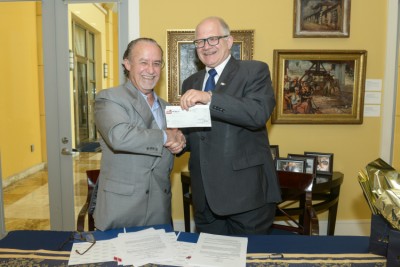 The advanced food production laboratory at
FIU's Chaplin School of Hospitality & Tourism Management
has a new name, thanks to a $500,000 gift from Badia Spices, Inc.
Renamed the Badia Spices Food Production Laboratory, the space provides state-of-the art instructional technology in over 2,200 square feet of space. Students receive hands-on learning in food production and innovation with access to a specialized area where they can develop, test and taste new product ideas and solutions for the industry.
"I am humbled by the opportunity to continue to build a legacy for my company and my family. This contribution will ensure that students with aspirations in the hospitality industry have the support they need to succeed. Above all, I am absolutely thrilled that this contribution will allow students and faculty to expand their research and development capabilities," said Joseph Badia, president of Badia Spices, Inc.
Badia's history with FIU spans more than a decade, and this is Badia's largest gift to date. Both Badia and his company established two scholarship funds at the university in 2004 and 2006, which have generated 10 scholarships annually. Two years ago, Badia Spices established a spice competition in which Chaplin students were challenged to create an original spice blend. While all finalists receive a Badia scholarship, the Chaplin School benefits from a percentage of global sales of the winning blends in perpetuity.
"We are grateful to Joseph Badia for his continuous support of our students. This endowment will provide the impetus for the Chaplin School to realize its vision for the food and beverage science initiative," said Mike Hampton, dean of FIU's Chaplin School of Hospitality & Tourism Management. "More importantly, we are honored to continue our partnership with Mr. Badia, an ever-inspiring community leader."
The gift also provides scholarship support in perpetuity for teaching and research assistants working in the lab, as well as continuous maintenance of the facility through equipment updates and technology upgrades. In addition, Badia Spices' full product line will be available for use in the lab.
For students like John Kett, who is expected to graduate in May 2016 with a Bachelor of Science in Hospitality Management, the Badia Spices Food Production Laboratory is a revolutionary learning space.
"The lab allows me to use technology to enhance production efficiency in a real-world setting," Kett said. "When I graduate, I plan to build my career as a restaurant consultant, creating new restaurant concepts from the ground up while applying and implementing operational systems to ensure their success and longevity."
If you're new here, you may want to subscribe to our newsletter. Thanks for visiting!