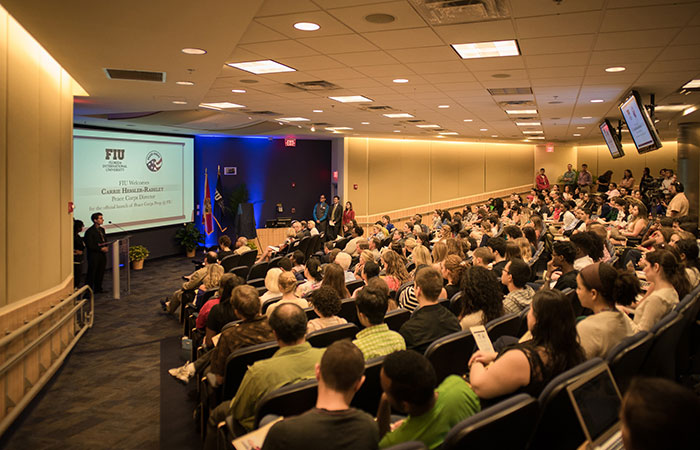 FIU preserved its top 10 national ranking among Hispanic-Serving Institutions (HSIs) who contribute volunteers to the Peace Corps, the agency announced recently.
The university tied for No. 8 this year with 16 alumni currently serving overseas in the Peace Corps. It marks the fourth consecutive year FIU was named to the list of high-performing HSIs by contributing a large number of volunteers.
"Hispanic-Serving Institutions are sending a growing number of graduates to the Peace Corps to share their cultural experiences and knowledge with communities abroad," Peace Corps Director Carrie Hessler-Radelet said in a news release. "A diverse volunteer force shows people across all corners of the world what it means to be an American."
Earlier in the year, the Peace Corps recognized FIU for achieving at 45 percent increase in the number of alumni who sign up for the two-year volunteer effort.
Those numbers are expected to grow even more since a partnership with the Peace Corps established the Peace Corps Prep program in the Fall of 2014. Since then, more than 190 students have enrolled to bolster the skills they will need to become successful volunteers overseas.
"I plan on working with underserved communities," said Funmilayo Ikunika, 20, an international relations major who joined the Peace Corps Prep program. "I feel like serving in the Peace Corps will give me extensive ways to earn experience for my future career."
As part of the program, Ikunika networked with returned Peace Corps volunteers such as Sebastian Rivera, who served in the African nation of Togo. During his two years of service, Rivera led a program to help educate residents of Gbadhahe in animal husbandry and helped with the birth of 15 babies.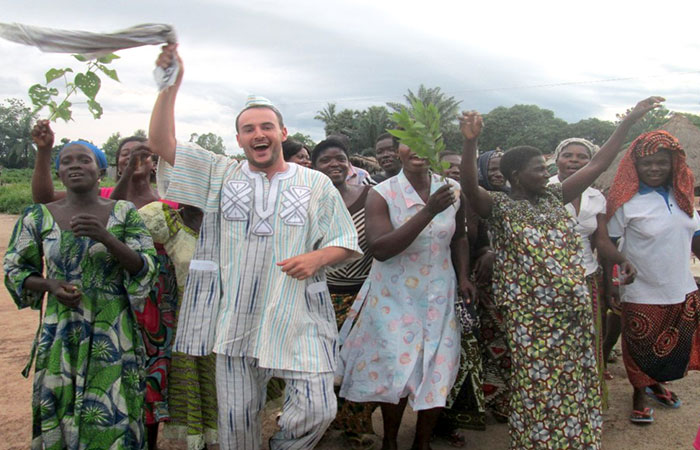 "Sebastian was telling me about how his community welcomed him," Ikunika said. "He was able to get a real sense of the community and that's what I'm looking for."
Recently, the Office of Global Learning Initiatives also held the inaugural Transformation Contest, which sent two contest winners on a two-night trip to Washington, D.C. to visit Peace Corps headquarters, the U.S. State Department and nationally recognized non-profits.
One of the winners, international business major Semira Sanchez, 21, was most excited by the chance to visit with FIU alumni and other staffers working at the Peace Corps.
Just a few days after the Transformation Contest trip concluded, she was back in Washington, D.C. where she began a summer internship at Peace Corps headquarters.
She is working in the acquisition and contract management department and will shadow Peace Corps employees to learn more about the work they do.
"I accepted an internship with the Peace Corps to see if this is something I want to pursue in the future," Sanchez said. "I definitely want to work abroad when I graduate."
To learn more about the Peace Corps Prep program, click here or email pcprep@fiu.edu.
To read the full Peace Corps announcement, click here.
Tags: Global Learning × Office of Engagement × Peace Corps × Student Affairs
This post "FIU keeps top 10 Peace Corps ranking" was originally published on FIU News.