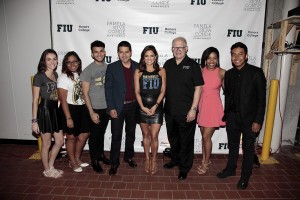 Pamela Silva Conde '03, MBA '12, a two-time FIU alumna and co-host of Univision's "Primer Impacto" (First Impact) daily news show, recently asked local philanthropists to "show their school spirit" while supporting a great cause – scholarships for First Generation FIU students.
She initially established her namesake scholarship program to help first generation, underserved journalism students at her alma mater, and hosted the first Pamela Silva Conde Scholarship fundraising event last spring.
Thanks to her dedication, generosity and an outpouring of support, Silva Conde has since then expanded the program's reach to include scholarships for first generation business students in FIU's Honors College. She also hosted the second annual school-spirit themed Pamela Silva Conde Scholarship fundraiser on April 25, at the Biscayne Bay Brewing Company.
"Pamela's philanthropy will cause a positive ripple effect not only for the students she helps, but for their families, and ultimately our whole community," said Howard R. Lipman, CEO of the FIU Foundation and senior vice president for University Advancement at FIU.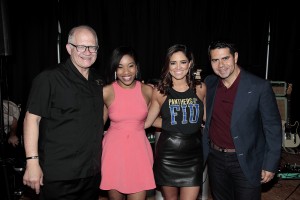 Silva Conde's passion for the program is apparent. "It breaks the cycle. It only takes one person in your family to attend college, and you really have improved the quality of life, not only for that individual, but also for the rest of their family," she said.
Since FIU's first generation scholarships are eligible for state matching funds, all funds raised by Silva Conde's efforts will have an even greater impact. And for first generation students like senior Leyanis Diaz, the Pamela Silva Conde Scholarship is more than just an award; it's helping the broadcast media major from Cuba to fulfill her dreams.
"Coming from a low-income, single-parent home, it's been difficult for my family to afford my college education," said Diaz, who hopes to become a talk show host, philanthropist, activist and lawyer.
"The financial assistance I've received from the Pamela Silva Conde Scholarship has already been of great help in paying for my education expenses, alleviating financial stress and allowing me to concentrate on my studies, so that one day I can also be a person of influence within our community," she said.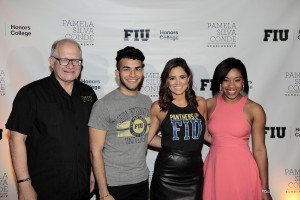 Through the scholarship, Silva Conde also wants to help students like Diaz pave a pathway to career success – a topic she knows well as a graduate of FIU's School of Journalism & Mass Communication and FIU's College of Business, a six-time Emmy Award-winning journalist, and co-host of one of the highest-rated programs in the U.S. and in 12 Latin-American countries.
Ultimately, she hopes the program will create a pay-it-forward movement.
"It doesn't matter if you mentor, volunteer or provide financial assistance," Silva Conde said, "the key is to do something."
Several students will be selected each academic year to benefit from the scholarship. These Pamela Silva Conde First Generation Honors College Scholars will be annually recognized at the scholarship ceremony for the Honors College.
To view more photos from the Pamela Silva Conde Scholarship fundraiser, please click here.