All three share the last name Rodriguez, though none are related. But now, thanks to a generous scholarship, New York Yankees 14-time All-Star Alex Rodriguez has the chance to forever change the lives of FIU first generation students Samantha Rodriguez, Ana Rodriguez and eight of their peers.
That's because these students and their families will no longer have to worry about the burden of tuition, books and technology – and each of the 10 scholarship recipients will now be the first in their family to achieve the dream of graduating with a college degree.
"This scholarship made me believe in myself. It gave me a chance to focus only on my studies and not on the impending costs that were already challenging me," said Samantha Rodriguez, an FIU freshman studying biological sciences.
Samantha hopes to go to medical school and become a dermatologist. Although the Florida native works on campus as a student assistant, both her parents are unemployed due to a recent layoff and health issues. The scholarship is what enabled her to continue her studies. "This scholarship means just about everything to me," she said.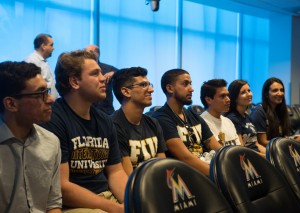 Alex Rodriguez's 2014 gift of $210,000 will be matched by the state of Florida, allowing for a total impact of more than $420,000 to provide scholarships. His additional gift of $30,000 will also provide internship stipends and other opportunities for the 10 FIU students who will be known as Alex Rodriguez All-Stars in Education Scholars have just concluded their first year of studies: Mathieu Allouch, Andres Calderon, Christian Echevarria, Jose Gil, Douglas Gramajo, Wisdom Offor, Ana Rodriguez, Samantha Rodriguez, Danna Samhan and Anthony Wint.
For Cuban-born Ana Rodriguez, this designation is an honor she doesn't take lightly.
"Receiving this scholarship has motivated me to work harder towards my future," said the freshman Honors College and Dean's List student. Ana, who is studying biology and pursuing a teaching certification as part of FIUteach, hopes to become a physician's assistant, tutor students and help the elderly enhance their health through exercise.
To Alex Rodriguez, she recently wrote, "I hope one day I will be able to help students achieve their goals just as you have helped me."
First generation students like Samantha and Ana represent 53 percent of undergraduate students at FIU. To date, FIU has awarded critical financial support to nearly 10,000 first generation students. The need, however, is far greater than available resources – currently, less than one in seven eligible students receives a First Generation Scholarship, said FIU President Mark B. Rosenberg.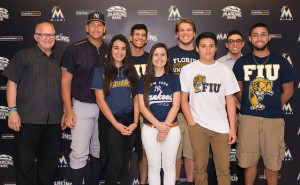 "Many talented and highly motivated students with limited resources are forced to attend only part time or postpone their education altogether," Rosenberg said. "Donors like Alex Rodriguez have the power and the passion to change this. Alex is a dream maker who through this gift will create a positive ripple effect for each student and their family for generations to come."
Many first generation students also miss out on opportunities like internships, even though graduates who enter the workforce with at least one internship under their belt earn about $11,400 more on average than those who don't, according to the National Association of Colleges and Employers. Additionally, 60 percent of paid interns receive job offers, versus only 40 percent of graduates without internships.
That's why including an internship stipend as a part of the scholarship was crucial for Alex Rodriguez. Although Alex went straight to the Seattle Mariners after graduating high school, he has been a supporter of higher education for years, creating scholarship programs and other opportunities for students since 2004.
"Education is a game-changer for these students," said Alex Rodriguez, who ranks fourth on the all-time home run list, but who never graduated from college. "I'm committed to helping them succeed and cannot wait to see what great accomplishments each student achieves."
To view more photos of the A-Rod scholarship recipients, please click here.