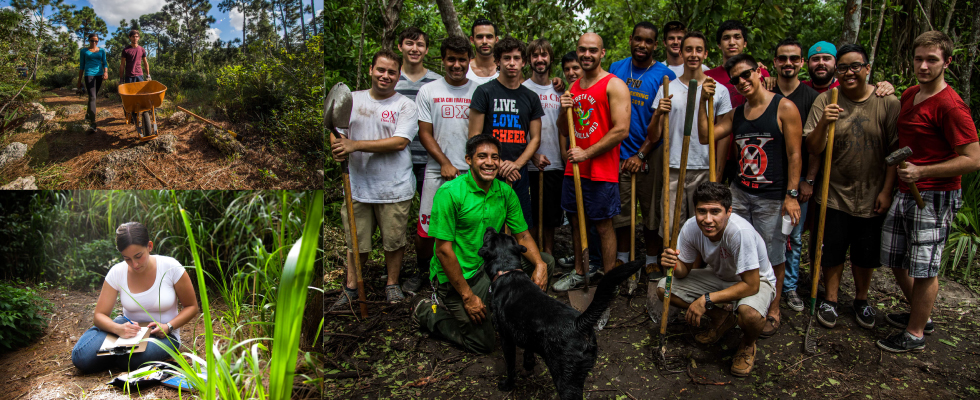 Campuswide effort transforms MMC's 16-acre habitat into a green oasis
Take a look at an aerial image from South Beach to the Everglades and consider the terrain. Notice the shades of gray, orange and blue of the roads, roofs and lakes. Attempting to find patches of undeveloped land in this city can be a daunting task. In fact, less than 3 percent of Miami's native pine rockland habitat still remains. But within this chaotic tapestry of concrete and palms that we call home, the FIU Nature Preserve stands out like an emerald in the sand.
More than 6,000 years old, the 16-acre preserve at the Modesto A. Maidique Campus has never been more alive. Boasting about 10,000 visitors a year, it is home to more than 450 plant and animal species, including many that are endangered. It serves as a living laboratory for more than 25 different FIU courses, as well as an outdoor classroom/park for local schoolchildren and residents. In a relatively small space, the preserve contains three distinct ecosystems – tropical hardwood hammocks, freshwater wetlands and one of the most endangered habitats in the world, the pine rocklands.
As rare and valuable as these ecosystems are, if they are not functional and accessible, their true value is lost. For many years the future of this urban oasis was uncertain, but a recent revival effort, initiated in 2010, has solidified the preserve's place on an already-dense university campus.
"Pre-2010 – when there were narrow trails, no lighting, no signage and no staff – this was a pretty scary place to be. People didn't like coming out here because it was not safe," says program coordinator for the Office of University Sustainability Ryan Vogel '12, '14, who has championed the revitalization of the preserve for the last four years as its official caretaker.
In 1978, professor John Parker, along with other faculty members, founded the FIU Nature Preserve with the idea that if this small piece of land was left untouched, it would eventually develop into a thriving ecosystem for plants, wildlife and, most importantly, students. For more than 30 years, Parker and other volunteers protected the valuable land from development. Yet during that time, the Nature Preserve was more an unrealized vision than valued space. Relying only on student volunteers to maintain it proved insufficient, and eventually the preserve developed its share of problems: stray dogs, garbage, overgrown trails,  invasive exotic species and the occasional homeless resident.
With every new building constructed at FIU, the preserve seemed to move closer to the center of MMC. As the campus grew around it, the preserve seemed doomed for development. Much like the rest of Miami, land at FIU is a scarce commodity. The urban forest could no longer be ignored. A case for protecting it had to be made. To many, it was obvious that the busier university life became, the more the community needed just what the Nature Preserve has to offer.
"Preserving natural spaces is like preserving art,"said art Professor Gretchen Scharnagl, who has been using the preserve to inspire student artwork for many years. Her students have spent countless hours under its canopy with pencil and sketchbook in hand, tapping into an endless source of creative inspiration.
"It is often hard to justify with dollar values," she said, "but I would argue the dollar value is priceless."
In 2010, Vogel, along with faculty, staff and more than 2,500 student volunteers, began bringing renewed purpose to the preserve. The process of clearing out invasive species and garbage, relocating stray dogs and setting up proper signage took four years of manual labor and smart spending during an era of statewide budget cuts.
Professor Joel Heinen of the Department of Earth and Environment has served as faculty advisor for the preserve since 2005 and raised $100,000 for an endowment through the support of the Martin Foundation, from FIU faculty and staff who contributed to the Ignite campaign and through annual benefit concerts. In addition Vogel created the FIU Urban Forestry Internship Program through support from the Florida Forest Service, the FIU Department of Biological Sciences and the FIU Department of Earth and Environment. Paid interns made the revitalization possible. Soon a once-hidden lake at the north end was revealed to the public, and today it has become a popular backdrop for the hosting of martial arts and yoga classes. Heinen says, "For all those years many people worked very hard at it without an overall plan. It's difficult to get things done when relying only on volunteers. But now that all of that has been done, I think it's very, very good."
Perhaps the most significant addition to the preserve is the half-mile jogging path and exercise equipment that now border it. The popular workout circuit was created with leftover construction funds from the preserve's newest next-door neighbor, Parkview Student Housing.
From the outset of the massive construction project that became Parkview, Director for Facilities Planning Jim Wassenaar understood the danger of building so close to the preserve.
"When the president selected the building site for Parkview, it created some concern as to how the two would coexist," Wassenaar says. "The reality is, the preserve has become a part of the university fabric. We see joggers out there day and night. We see people engaged with this space in a way that we had always dreamed of."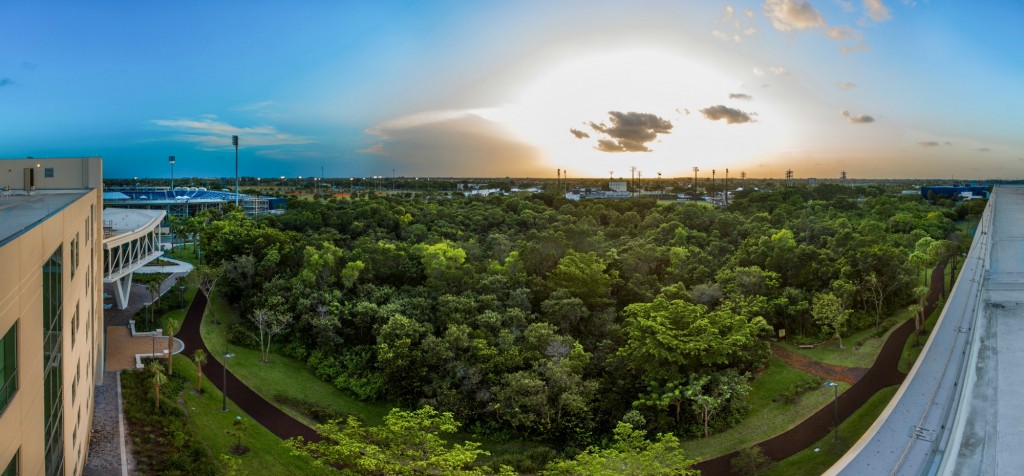 In its new role, the preserve is more accessible than ever to the local community. It has become a training facility for many university sports teams and local high school track teams, as well as hosted environmental education workshops, concerts, yoga and martial arts classes and even several 5k runs.
Ian Wogan '10 practiced yoga in the preserve as a student. "It's much better than doing yoga in a classroom. The fresh air, the trees – it really is nice to have all this on an urban campus." Since graduating, Wogan has been able to give back to the preserve, donating time to clear paths and trim trees through his landscaping company, True Tree Service.
Connie Amram, a staff member in the Division of External Relations, makes use of the preserve's walking trail several nights a week. "I love walking out from my office at the end of the day and getting some exercise around the perimeter. The rubber walking trail is great on my knees, and it feels safe to walk at night with all of the additional lighting."
Today, the FIU Nature Preserve's beauty doesn't just come from the lush vegetation and musical wildlife, it comes from its functionality and accessibility. No longer is it only a place to study or admire from afar but a place for the community to enjoy and utilize daily.
Tags: Biological Sciences × College of Arts & Sciences × Earth and Environment × FIU Magazine × Jim Wassenaar × Nature Preserve × Office of University Sustainability × Parkview Residence Hall × School of Environment Arts and Society (SEAS) × Sustainability
This post "The revival of FIU's Nature Preserve" was originally published on FIU News.