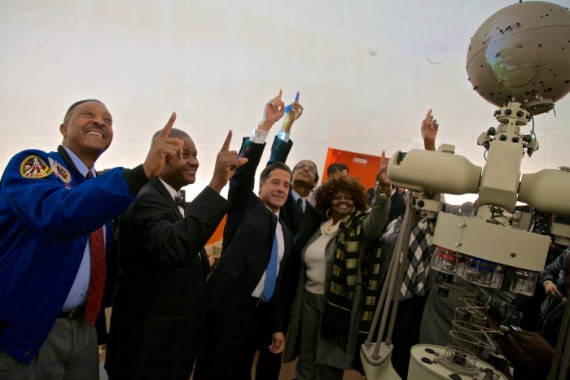 Visitors to Booker T. Washington Senior High School probably did not realize they would be going on a journey 250 miles above the Earth.
Or that they'd hopscotch from the surface of the sun to the rings of Saturn and on to the International Space Station.
But that is just what Shakira Hardy had in mind when she presented the school's newly refurbished planetarium, a state-of-the-art facility with a 40-foot dome, high definition imagery and surround sound.
"It's one thing for students to read it in a book," said Hardy, the planetarium director. "But it's nothing like seeing it visually."
FIU President Mark Rosenberg joined Miami-Dade County Schools Superintendent Alberto Carvalho, Principal William Aristide, school board members, teachers and students for the grand re-opening of the planetarium – the only one of its kind in Miami-Dade.
"We aimed for the stars and we landed right here at Booker T. Washington,'' Carvalho said. "This is an important zip code in Miami-Dade and rather than ship out our best talent to other schools we are going to incentivize them with great programs to stay right here.''
More than two decades old, the planetarium was renovated by the school district at a cost of more than $400,000. Once used as a storage facility, the planetarium is the centerpiece of the school's astronomy academy, an initiative supported by FIU's Education Effect.
Carvalho noted that the success of the planetarium – and the astronomy  program – is tied to The Education Effect, the university community school partnership with FIU that started at Miami Northwestern Senior High School in Liberty City. The initiative expanded to Booker T. Washington last year with a $1 million investment by the Lennar Foundation.
"Dr. Rosenberg never says no to anything we ask of him whether it's support for dual enrollment courses or the creation of an engineering academy here at Booker T.," Carvalho said. "He is there, he is here and he is everywhere in our community.''
Another special guest joined the celebration at the request of students, who named their new astronomy club after him.
Former NASA astronaut Winston Scott grew up in Miami during segregation and was one of the first African-Americans to travel into space. He logged nine days aboard the Space Shuttle Endeavour during its first mission in 1997, including two spacewalks to evaluate techniques to be used in building the space station.
"I can remember seeing Mercury, Venus and Earth lined up beneath me,'' Scott said. "We don't yet have the means to send students up into orbit but this planetarium will give students the same experience here at Booker T.''
With digital technology that will allow students to travel from the surface of Mars to the bottom of the ocean, the planetarium will be the focal point for several courses in Science, Technology, Engineering and Math (STEM) and enable students to earn college credit through FIU while still in high school.
James Webb, FIU's resident astronomer, is spearheading an astronomy outreach program at Booker T. that will engage students throughout the district, as well as residents of Overtown and other communities, to experience the planetarium through "star parties," discussions with astronomers and lectures on topics ranging from black holes to cosmology.
"Booker T. Washington has had its up and downs, as has this community,'' said School Board member Dorothy Bendross-Mindingall. "But we will not stand down and we will not give up. We will reignite in our students a greater interest in STEM."
Angelo Fasardo, a senior and president of the astronomy club at Booker T., said the planetarium will give students the kind of hands-on, real-world experience they need to understand the career possibilities in STEM.
He said students invited Scott to attend – and named their club for him – because they were inspired by the path he had traveled.
"He is an excellent example of the determination that it takes to make it, particularly for someone who is a minority in an urban, underserved community like ours,'' he said. "There may have been obstacles in his way but he made it."
Jewly Fleuristil, also a senior, said the planetarium will help students overcome fears of math and science courses.
"They believe they have to be geniuses to do math and science,'' she said. "But together, Booker T., M-DCPS and FIU are giving students the resources and tools they need to succeed in STEM fields.''
Tags: Astronomy × Booker T. Washington Senior High × College of Arts & Sciences × Education Effect × James Webb × Mark B. Rosenberg × Miami-Dade County Public Schools × Office of Engagement × Physics × School of Integrated Science and Humanity (SISH) × STEM
This post "FIU joins Booker T. Washington High in reopening of 25-year-old planetarium" was originally published on FIU News.