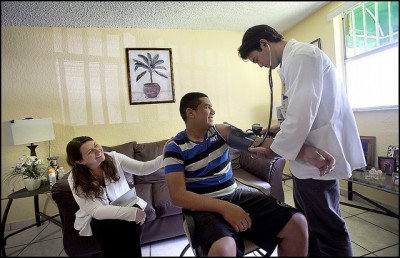 The Herbert Wertheim College of Medicine has been ranked 20th nationwide among the Top Medical Schools for Education Quality, and number 4 for Top Medical Schools for Career Support in a survey of more than 100 medical schools nationwide.
GraduatePrograms.com, the popular online resource for prospective graduate students that bills itself as "The Graduate School Guide for students, created by students," announced the Spring 2015 program rankings which define education quality as: "access to relevant, interesting, challenging courses by qualified professors."
The list of top medical schools for education quality includes the oldest (1765) and most respected medical schools in the United States. Founded in 2006, the FIU HWCOM is the newest medical school cited in the top 25.
"We are extremely proud that our young college of medicine has again been recognized on a national level," said John A. Rock, M.D., founding dean and vice president for health affairs, FIU Herbert Wertheim College of Medicine.
According to GraduatePrograms.com, it compiled the rankings using data gathered between Sept. 1, 2012 and March 31, 2015 and included reviews posted by more than 3,000 medical students from more than 120 medical schools nationwide.
See the full lists of top medical schools here: go.fiu.edu/med20
This post "College of Medicine makes the nation's 'Dean's List'" was originally published on FIU News.