As part of FIU's commitment to improving STEM education, the Department of Physics is training South Florida teachers to implement active learning techniques in their classrooms.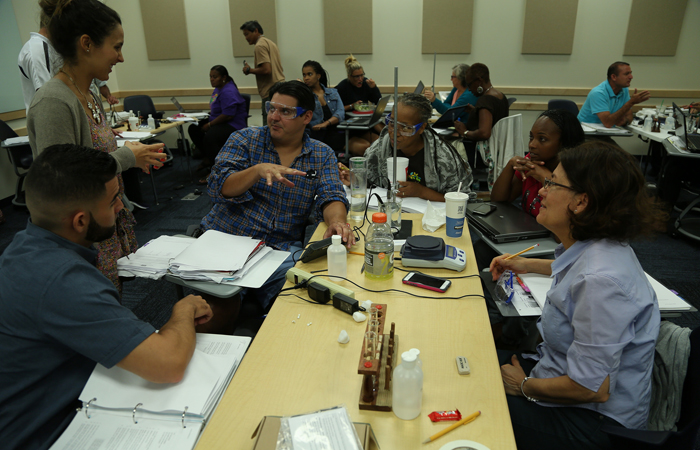 In preparation for the upcoming school year, more than 30 high school and middle school teachers from Miami-Dade and Broward convened at FIU for a two-week intensive physical science institute. The program's active-learning environment is designed to enhance teacher content knowledge, encourage practice and build confidence in their abilities to teach physical science through modeling instruction.
Physics professor Robert Laird is the lead facilitator of the 8-hour daily sessions.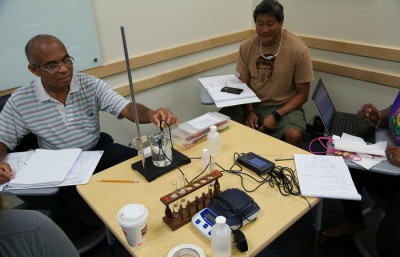 "My role is to develop and present physics educational resources including demonstrations, classroom material and laboratory experiments to middle and high school science teachers," Laird said. "For the second time in three years, FIU is hosting these workshops by providing classroom space, physics demonstrations and laboratory equipment."
Research shows students learn more and have better attitudes toward the science they are learning when teachers use a hands-on or modeling approach. This program implements activities that promote problem-solving, analysis, experimentation and discussion as well as other effective instructional techniques for the classroom.
"I received an email about the program and signed up to strengthen my skills and be able to do more labs in my classroom," said FIU alumna and biology teacher Denise White '04. "I feel more comfortable, more secure. It was comforting to see the exercises were easier than I thought."
FIU is leading the transformation of STEM education in South Florida. More than one-third of participants share FIU as their alma mater. They will be implementing the active learning models they learned through this institute into their curriculum in the upcoming school year. Participant Michael Bravo is pursuing his master's in physics at FIU and teaches physical science in New World School of the Arts. The program provides valuable tools he can implement in his classroom.
"This will improve my teaching skills in science," Bravo said. "The way to teach science is usually generalized, but this program has inspired me to transform my approach."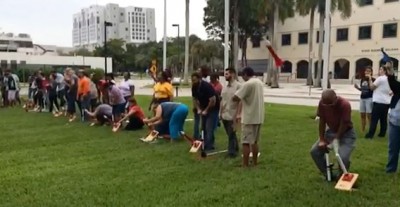 After completing the program, teachers will receive class sets of all materials used in their experiments over the course of the program, including tools created using 3D printers and access to an online portal where they can collaborate and exchange best practices with other teachers nationwide.
The physical science institute is part of a series of workshops spearheaded by the Florida Center for Research in Science, Technology, Engineering and Mathematics (FCR-STEM) targeting key STEM disciplines including biology, algebra, physics and ecology. Under the FCR-STEMLearn name, the program is a collaboration of state universities and approximately 40 school districts in Florida. The current FCR-STEMLearn program is funded by the U.S. Department of Education's Mathematics and Science Partnership program through the Florida Department of Education.
Tags: College of Arts & Sciences × Engagement × Physics × School of Integrated Science and Humanity (SISH) × STEM × Training local STEM teachers
This post "Training program inspires local STEM teachers through active learning" was originally published on FIU News.