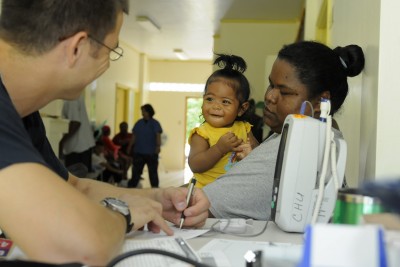 FIU's Nicole Wertheim College of Nursing & Health Sciences (NWCNHS) has received a $1.45 million grant from the U.S. Department of Health and Human Services, Health Resources and Services Administration to fund a school-based, primary health care clinic at Miami Northwestern Senior High School (MNW) in Liberty City.
"We see ourselves as a solutions center for our community,'' said President Mark B. Rosenberg. "This new partnership will enable significant improvement in community health. We could not be more proud to be a part of this tremendous collaboration.''
Scheduled to open in November 2015, the clinic will serve as a health care "hub" for children and families in Liberty City, an area affected by high rates of acute and chronic health conditions, including obesity, diabetes, HIV/AIDS, teen pregnancy and infant mortality.
Miami-Dade County Public Schools Superintendent Alberto M. Carvalho said reopening the clinic is a major step forward in ensuring the future success of MNW students.
"A school clinic provides our students with a chance to get treated for afflictions that may keep them from concentrating on their classwork," he said. "These facilities also offer a means of spotting potentially serious conditions before they develop into larger problems. We are extremely grateful for this new addition that will maintain and safeguard our students' health."
MNW once had a fully operational clinic, the John H. Peavy Health Center, but it has been underutilized for years due to budget cuts. Since 2011, university officials with the Nicole Wertheim College of Nursing and Health Sciences and The Education Effect partnership have been working with the leadership at MNW to reopen the clinic.
"When the Peavy Clinic first opened in the mid-90s, it was one of the first of its kind,'' said MNW Principal Wallace Aristide. "It served students during the day and community folks at the end of the school day. Reopening the clinic will give us the opportunity to enhance the health of our students and their families."
FIU will provide a team of certified nurse practitioners who will offer comprehensive health services to children and their families, including preventive care, vaccines, flu shots and health screenings, as well as physical therapy, occupational therapy and speech therapy.
The clinic will be operated in collaboration with the Jessie Trice Community Health Center in Liberty City. Services will be offered to students and families from MNW, as well as its feeder elementary and middle schools and the entire Liberty City community.
"The needs in this community are so great we feel certain we will be very busy from the start,'' said Dean Ora Strickland of the College of Nursing and Health Sciences. "Liberty City not only has one of the highest poverty levels in the country, it is also one of the most medically underserved areas in the country."
The federal government scores communities on levels of health care need on a scale of 1 to 20 with 20 being the highest need. Liberty City has a score of 18, Strickland said.
"Once we realized the school had a clinic that was just sitting there idle, we knew we had to do something," she said.
An advisory board of parents, teachers and community members will help oversee the clinic. FIU nursing students will participate in clinical internships at the school, including students in athletic training programs who will work with the school's coaches to prevent and treat injuries.
Tags: Miami Northwestern Senior High School × Miami-Dade County Public Schools × Nicole Wertheim College of Nursing & Health Sciences × Office of Engagement × Ora Strickland × The Education Effect
This post "FIU receives federal grant to launch school-based clinic at Miami Northwestern" was originally published on FIU News.