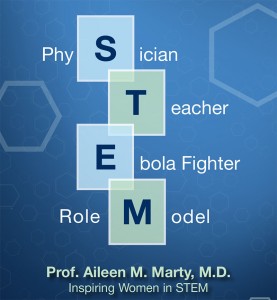 In its September issue, Insight into Diversity magazine – the oldest and largest diversity publication in higher education – "recognizes the accomplishments of women in science, technology, engineering, and mathematics fields" with its 100 Inspiring Women in STEM Award, and one of this year's recipients is Professor Aileen M. Marty, M.D., of the FIU Herbert Wertheim College of Medicine.
In recognizing Marty's achievements, magazine editors note her recent work fighting Ebola in West Africa, as well as her 25-year service in the Navy, training as a flight surgeon and then specializing in tropical medicine and infectious diseases. A graduate of the U.S. Naval War College, Marty also is an expert on chemical, biological and radiological weapons and is a member of the United Nations Monitoring, Verification, and Inspection Commission for weapons of mass destruction, a topic she discussed in her 2013 TEDxFIU talk.
The purpose of the award, the magazine says, is to "recognize exemplary women… who inspire and encourage the next generation of young women to pursue careers in STEM."



South Florida teen Cassandra Garcia is one of those young women. When Marty visited her alma mater, Our Lady of Lourdes Academy (OLLA), earlier this year to talk about her experiences as a doctor trying to get rid of Ebola in Nigeria, and later trying to keep the deadly virus out of Equatorial Guinea, Garcia was one of a room-full of girls listening attentively.
She later told a visiting newspaper reporter that Marty's talk had spoken directly to her plans for a career in medicine, particularly combating infectious diseases, something she hadn't previously considered. "I'm going to look into it now," Garcia said.
Tags: Aileen Marty × Diversity × Ebola × Herbert Wertheim College of Medicine × STEM
This post "College of Medicine professor named one of '100 Inspiring Women in STEM'" was originally published on FIU News.
Dr. Aileen Marty is also one of 15 nationally recognized experts appointed to the newly created Presidential Advisory Council on Combating Antibiotic-Resistant Bacteria. Read more about it here.