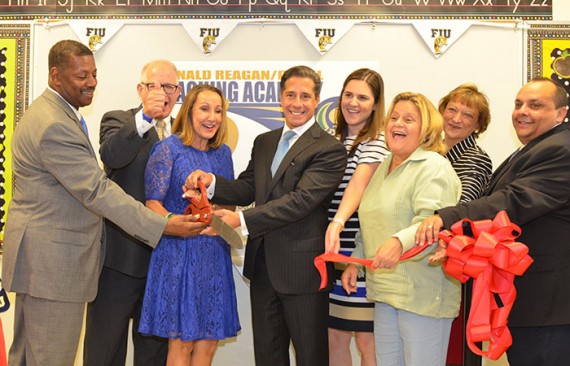 FIU's College of Education and Miami-Dade County Public Schools on Aug. 25 launched the first of its kind teaching academy at Ronald Reagan/Doral Senior High School.
So far, 22 high school freshmen have signed up for the academy, which is the first in Miami-Dade County Public Schools (MDCPS) to feature a partnership with a state university.
"I know you can all remember your best teachers and I know that you understand how transformational a great teacher can be," President Mark B. Rosenberg said to the students who attended the academy's first class. "Let me assure you that working together, we aspire to nothing less for you so that when you graduate from the academy and then you go to FIU and graduate, you will be ready to be not just a good teacher but a great teacher."
As they progress throughout their four years in high school, students will learn the basics of managing a classroom and how to teach children who come from diverse backgrounds.
Teaching Academy members will also have the opportunity to earn college credit through a dual enrollment program at FIU, and if they successfully complete the academy, earn guaranteed admission to the College of Education.
"This kind of program is an excellent idea because it's a path for students to follow. It's a way to get students interested in education as a career," said Maria Tsalikis, leader of the elementary education program at the College of Education and a liaison to the Reagan High teachers. "It's a way to harness their motivation and commit to a lifelong career."
Students cheered during the ceremonial ribbon cutting where Rosenberg, College of Education Dean Delia C. Garcia, MDCPS Superintendent Alberto Carvalho, MDCPS School Board Member Susie V. Castillo, Reagan Sr. High Principal Juan Carlos Silva, and U.S. Rep. Ileana Ros-Lehtinen welcomed them to the classroom.
For Penelope Botticelli, 14, the academy brings her at least one step closer to fulfilling a childhood dream of following in her grandmother's footsteps.
"My grandmother was a great teacher," said Botticelli, who as a 10-year-old paid a visit to her grandmother's law class in Colombia. "Her passion helped her connect with her students. She was their favorite teacher."
Several of her classmates fondly remembered other educators who helped make learning complex subjects easier by making lessons fun.
"It's very important for kids to be able to learn," said Vanessa Beyra, 14. "Education benefits all kids. It opens more doors for them."
MDCPS leaders also hope some of those doors open up for students at schools that serve South Florida.
"It's very important to see students in our school system that want to go into teaching have the ability and opportunity to see what teaching is like and experience it and go on to a local university and come back to MDCPS," said Castillo, the school board member who worked with the College of Education's dean to develop the academy.
"I think it's very important that our local teachers stay here because you understand our community and give back so much more," Castillo added.
Tags: College of Education × Delia C. Garcia × Mark B. Rosenberg × Miami-Dade County Public Schools × Office of Engagement × Office of the President
This post "FIU, MDCPS launch new teaching academy at Doral high school" was originally published on FIU News.