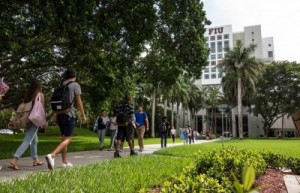 FIU was recently named among the top universities in the country in terms of engagement and contributions to its community.
According to recently-released rankings of national universities by Washington Monthly, FIU placed 17th out of 279 higher education institutions, up from 24th last year. Achieving a top 20 ranking in Washington Monthly by 2020 is one of the goals of the FIU Beyond Possible 2020 strategic plan.
Washington Monthly's rankings score universities according to the following categories:
Social mobility: recruiting and graduating low-income students
Research: producing cutting-edge scholarship and Ph.D. graduates
Service: encouraging students to give something back to their country
This marks a steady climb since 2009 when the university ranked 177th. Sub-categories where FIU ranked well included federal work-study funds allocated to service; graduation rate; community service participation and hours served; and service staff, courses and financial aid support.
"At FIU we obsess on impact. We have the obligation to leave our community better than we found it, one student, one initiative at a time," said FIU President Mark B. Rosenberg. "We value our community and want it to get better every day. Our faculty and staff believe in better and we practice it every day. We are willing to take responsibility for leading this improvement. The results speak for themselves but there is more to do!"
Tags: Community Engagement × Engagement × Office of Engagement × Washington Monthly
This post "FIU ranked 17th in Washington Monthly for engagement, contributions to community" was originally published on FIU News.