The White House has recognized FIU's Mastery Math Lab and the STEM Transformation Institute as Bright Spots in Hispanic Education, placing them among the top programs in the nation helping to close the achievement gap.
The Mastery Math Lab was developed by the College of Arts & Sciences to improve student success in College Algebra, a required course for many FIU students. With a reputation as the most failed course at the university, pass rates historically hovered around 30 percent. The lab opened in 2012 as part of a larger high-tech, high-touch initiative that included a new instructional model for faculty. The lab itself features more than 200 computers and is staffed by learning assistants, which are peer mentors that help students navigate the curriculum. Just three years after opening, pass rates for College Algebra have hit 65 percent.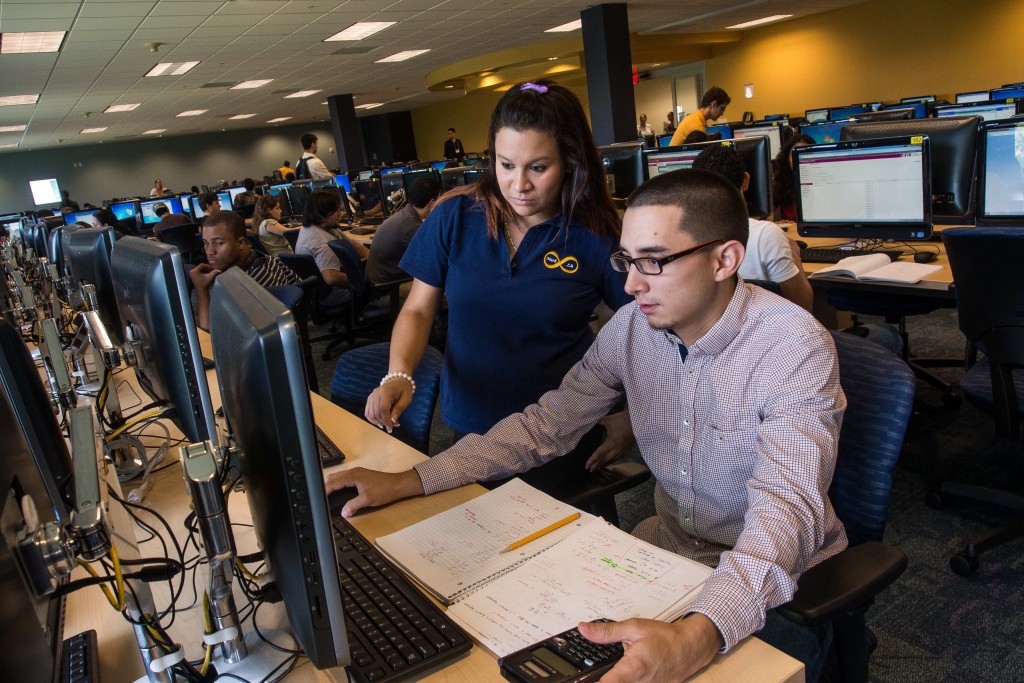 The Mastery Math model at FIU was developed as part of a five-year Title V grant from the U.S. Department of Education for Hispanic-serving institutions. Today, the success of the face-to-face Mastery Math has been replicated in the online version of the course, and the evidence-based methods are being incorporated into other undergraduate math courses at the university.
"FIU is providing a blueprint for educational reforms that truly impact student success," said Mike Heithaus, dean of the College of Arts & Sciences. "Our evidence-based methods are designed to be replicated elsewhere to help close achievement gaps nationwide."
Bright Spots in Hispanic Education — developed to mark the 25th anniversary of the White House Initiative on Educational Excellence for Hispanics — are evidence-based programs, models, organizations, or initiatives that invest in key education priorities for Hispanics. In total, 230 programs across the nation are being featured in a national online catalog designed to empower educational stakeholders throughout the United States. By highlighting these Bright Spots, White House officials hope other schools and programs will benefit and learn from the evidence-based approaches, ultimately resulting in implementation of similar initiatives or replication of these programs.
"There has been notable progress in Hispanic educational achievement, and it is due to the efforts of these Bright Spots in Hispanic Education, programs and organizations working throughout the country to help Hispanic students reach their full potential," said Alejandra Ceja, executive director of the White House Initiative on Educational Excellence for Hispanics.
FIU is ranked as a top institution in the United States for granting bachelor's and master's degrees to Hispanics, with more than 60 percent of the university's 55,000 students coming from Hispanic populations. The FIU STEM Transformation Institute, also included in the White House's catalog of Bright Spots in Hispanic Education, is dedicated to education initiatives within the fields of science, technology, engineering and math, the institute utilizes existing and develops new evidence-based educational methods.
Since its creation, the institute has helped drive improved student success across a variety of STEM courses, resulting in significant increases in pass rates for some of the most critical courses. Just as important, the institute has helped improve attitudes towards science, largely through a shift from lecture-style classes to active learning, where students engage in science activities.
In addition, the learning assistant program, which has proven vital for Mastery Math, was pioneered by the faculty in the STEM Transformation Institute. It was first implemented in Physics as a teacher preparation program during a time when enrollment numbers were steadily dropping for majors. Today, the peer-mentoring program is being implemented at a much greater scale. Along with physics and math, FIU has deployed learning assistants in chemistry, earth sciences and biological sciences.
FIU currently has the largest learning assistant program in the country, with 178 learning assistants supporting more than 6,700 enrollments in 110 sections of STEM courses in nine disciplines.
Ayleen Barbel Fattal contributed to this story.
Tags: College of Arts & Sciences × Mastery Math Lab × Office of Engagement × School of Integrated Science and Humanity (SISH) × STEM × STEM Transformation Institute × White House
This post "FIU honored by White House for Bright Spots in Hispanic Education" was originally published on FIU News.
Read more here about FIU's Mastery Math model being recognized by the White House as one of its 150 Commitment to Action for increasing educational outcomes and opportunities for Hispanic students.