Since early 2014, the Florida Small Business Development Center at Florida International University has helped more than 900 South Florida entrepreneurs. The SBDC's services are free and available to the community.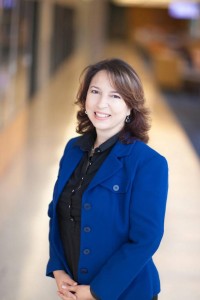 Jacqueline Bueno Sousa, the program's founding regional director, said SBDC at FIU looked at the landscape and needs in Miami-Dade County's entrepreneurial community so that the services it offered would be value added. It settled on focusing on scalable existing businesses as well as startups, and particularly ones with global ambitions. In fact, one program it is starting later this year will focus on helping young companies go global from day one as well as helping existing companies reach new markets. "We have a focus on helping our companies grow globally because we think that is a game changer in terms of the local economy," Sousa said.
SBDC specializes in offering entrepreneurs one-on-one counseling, and in many cases entrepreneurs get access to a team of SBDC consultants who specialize in different areas, such as finance, distribution, government contracting or marketing, Sousa said. The office, with 14 consultants, also has held a number of training programs and workshops in partnership with FIU's Pino Global Entrepreneurship Center and IronHack coding school.
SBDC at FIU (sbdc.fiu.edu) is part of a statewide network that includes offices in Broward, Palm Beach and Monroe counties and is funded by the U.S. Small Business Administration, the state of Florida and other public and private partners. SBDC at FIU is also supported by FIU's College of Business, where the office is based, and private funding.
The Miami Herald talked with Sousa about the SBDC at FIU's first 20 months and what's ahead.
Q. What is your one-liner for SBDC?
A. SBDC at FIU helps businesses grow and succeed.
Q. What services do you offer a small business?
A. We have a team of highly experienced business consultants who work one-on-one with small- and medium-size businesses to help them succeed. We have experts in finance, marketing, international business development, contracting, HR — all the major areas in which businesses experience growth challenges.
While there are other organizations that do similar work, we're different in some significant ways: our consultants are not volunteers; they are paid — except that we pay them, not the entrepreneur or business owner. We have access to fabulous data and research resources, so we can provide a great deal of depth when it comes to understanding a market or industry. Our team has strong international experience and is particularly well-suited to helping our local entrepreneurs and small businesses grow internationally.
We also collaborate extensively with many local organizations that share our mission of helping our entrepreneurs and small businesses grow. For example, we'll make our experts available to local incubators, promote events hosted by other organizations and refer clients to other service providers that complement the assistance we provide.
Q. Tell me about a couple of success stories in your first 20 months.
A. Gladly. This is the fun part of our job. First, I should tell you that we have very strict confidentiality agreements with our clients. But I'll name clients who have given us permission to share their stories.
There's RevPar Guru, which has developed a software that helps independent hotel owners constantly adjust their room rates — similar to what the airlines do. Founded by Jean Francois Mourier and Bruno Perez, the company has had great demand for its software, which is being used by hoteliers in 35 countries. They needed the capital to continue growing. One of our consultants began working closely with them, analyzing their finances and business structure. I'm happy to say they received a significant capital infusion and now are expanding.
Freebee, founded by the energetic duo of Jason Spiegel and Kris Kimball, is a client that you may have seen around Miami. Their distinct vehicles serve as mobile billboards, allowing them to provide free, short-distance rides. We helped them get the capital to develop new software and to add staff. They're looking to add up to 20 new vehicles this year.
Natural Sins produces and sells healthy fruit-chip snacks, based on a recipe created by the grandmother of one of the founders. One of our consultants helped them implement changes — including new sales and branding strategies plus a new packaging design. Whenever I see co-founder Andres Dominguez, he gushes about how much he's learned from his SBDC at FIU consultant.
Q. You've made much progress in a short time. What metrics of success are you most proud of and why?
A. Our center is made possible thanks to a partnership of two wonderful organizations: the Florida SBDC Network and FIU College of Business. Both believe in the importance of documenting and tracking our work. That suits us well because we're a very results-oriented team. In addition to maintaining a comprehensive customer database, the Florida SBDC Network State Office each year surveys all clients to measure our center's economic impact and performance. From jobs created and business starts to the amounts of capital and government contracts we helped businesses obtain.
We watch all the metrics. But I particularly watch – and am proud of – our client satisfaction rate (91 percent), because it's a testament to our superb consulting team. I also closely watch our ability to help businesses grow revenues. In 2014, our first year in operation, our clients generated sales of more than $180 million. Since opening, we've worked with more than 900 entrepreneurs and business owners.
Q. Although you also help startups, why are you focusing much of your resources on existing businesses, particularly with global ambitions?
A. We enjoy working with both startups and existing businesses. Businesses in each stage of development — whether startups, established small businesses or large companies — make a different economic contribution, taking into account number of jobs created, wage levels, innovation, business sustainability and more. As a network, we believe the mix of contributions is best optimized when we help existing small businesses grow into larger, established businesses.
As for helping businesses with global ambitions, here we also turn to the data: businesses generating revenue globally pay higher wages, have better survival rates and perform better overall than businesses that rely primarily on a local or domestic market. Here's an example, although a little dated: A 2010 study of Miami-Dade's cluster industries showed the average wage at that time of private companies involved in international commerce was $53,332, significantly more than the average wage for all private sector jobs ($41,696) and staggeringly more than the average wage of businesses that sold mainly to the local market ($37,858).
The best part: about 97 percent of U.S. companies doing business internationally are small- and medium-size businesses. Most of them are doing business in only one country outside the United States. The growth potential is incredible.
Q. Tell me more about your Grow Global initiative. Why did you launch that and what does it entail?
A. We'll be launching the Grow Global Initiative later this year. It will be a focused effort to get more of Miami-Dade's small- and medium-size businesses to grow internationally. We'll be campaigning to encourage them to engage in the global marketplace. We'll be doing more outreach to businesses that already are doing business globally, to help them explore new international markets. We'll also identify domestic businesses that have products and services that could be marketed internationally. We'll be developing training programs specifically designed to help small businesses grow globally.
This initiative embraces startups, as well as existing businesses. Because of technology, increasing numbers of businesses are born global, meaning they are doing business internationally from day one. That was once a rarity.
Q. Although your focus is existing businesses, you have helped more than 40 businesses launch. Tell me a couple of those stories.
A. Our goal is to dedicate about one-third of our consulting time to pre-ventures and startups; and about two-thirds to existing businesses that are at least 3 years old. We've worked with some fantastic startups.
One of our more recent success stories is Lulu's Nitrogen Ice Cream in Edgewater. New to business ownership, founder Luisa Santos worked closely with one of our consultants to better understand the financials of her business. This startup is a great example of how you can innovate even with something as traditional as ice cream. Luisa started the business after she began experimenting with using nitrogen to create a creamier ice cream. She now offers more than 50 flavors. Needless to say, this is one client that our consultants like to visit very regularly.
There's Bril Global Solutions. The owner, Liese Abili, is a native of Cameroon who came to Miami after working several years in China. He finds products made in China that he thinks will sell well in the United States and markets them here. We helped him develop his business plan and now continue providing marketing consulting.
Others include Sky Zone Vertical Ventures, a trampoline park in Cutler Bay that is part of a franchise expansion; Moonlighter, a maker space/tech café in Wynwood that allows local designers, entrepreneurs and the public to co-create, prototype and retail innovative products; and there are many other startups that we've been fortunate to assist.
Q. What are the biggest challenges small businesses that come to SBDC face?
A. More come because they want to find capital than for any other reason or because they need to better understand their company's finances. Second most common request is marketing assistance. Part of what we do is to help them identify their challenges. Sometimes a business may come because it wants help finding capital. Then we help them realize that first they need to address another problem, their growth strategy, for example. Or they may come for government-contracting assistance, and we show them that to better their odds of getting a government contract they need to have a business continuity plan.
Or, another common scenario is that a small business wants capital to grow, but the way they've been keeping their books is more oriented toward tax savings. We help them understand that accounting is one thing, finance is another.
Q. What does SBDC do to help prepare businesses overcome the challenges?
A. SBDC at FIU consultants work very closely with the entrepreneurs and business owners to identify their goals and the challenges in achieving those goals. We then provide customized, one-on-one assistance. I say one-on-one, but sometimes it may be more than one consultant working with the business.
Our consultants are not limited in the number of hours they can spend with a client. As long as a client is moving forward and demonstrating the willingness to work hard to achieve goals, we continue working with that client. They would only stop being our client if the business becomes too large for our services — and that's a problem we welcome.
In addition to the consulting, our center also works very closely with FIU's Pino Global Entrepreneurship Center to offer training programs to local entrepreneurs. For example, this year, in partnership with IronHack coding school, we offered the EnTechPreneur series. Aimed at entrepreneurs in the technology sector, the sessions covered topics such as understanding the software product lifecycle and building a tech team.
Q. How do you see the entrepreneurial ecosystem in South Florida developing?
A. This is difficult to answer because I don't have a broad enough perspective on what is happening here relative to what's happening in other cities. We know we have an incredible amount of startup activity, more than most other metro areas, which is exciting and exhilarating. But what about the quality of that activity? What will be the success rate of our startups versus startups elsewhere?
There's also the issue of startups that are a result of necessity (someone can't find a job and decides to start a business) versus someone who starts a company after identifying a real market opportunity. As you've reported, Kauffman Foundation research has shown that our region is below the national average in this area, meaning we have a greater percentage of startups created out of necessity.
In cities where there's a strong percentage of large or established companies, you often see people starting businesses after working in an industry for many years, spotting a market opportunity or an emerging trend, then deciding to take the risk of launching a business. You don't see as much of that here, in part because we don't have enough of the large or established companies that produce those individuals. While many of the old rules on starting a business no longer apply, it's still important to have a certain amount of experience and an intrinsic understanding of a market or customer. The Mark Zuckerbergs of the world are not the norm.
Q. If you could add one ingredient to the entrepreneurial ecosystem, what would it be?
A. Increase our number of large or established companies.
Q. What assistance are businesses not seeking — but should be?
A. Everything is changing so quickly. Businesses are blind-sided every day by new technologies, rapidly changing consumer behaviors, global competition. Businesses haven't been asking for this, but we'd like them to better understand how they can use technology to become more competitive. Also, it would be wonderful if more small-business owners came to us with a desire to be more forward-looking and simply ask: "What lies around the corner for my business?"
by Nancy Dahlberg
ndahlberg@miamiherald.com
Read more here, go to MiamiHerald.com.
This post "SBDC at FIU: Thinking globally to help local companies" was originally published on FIU News.