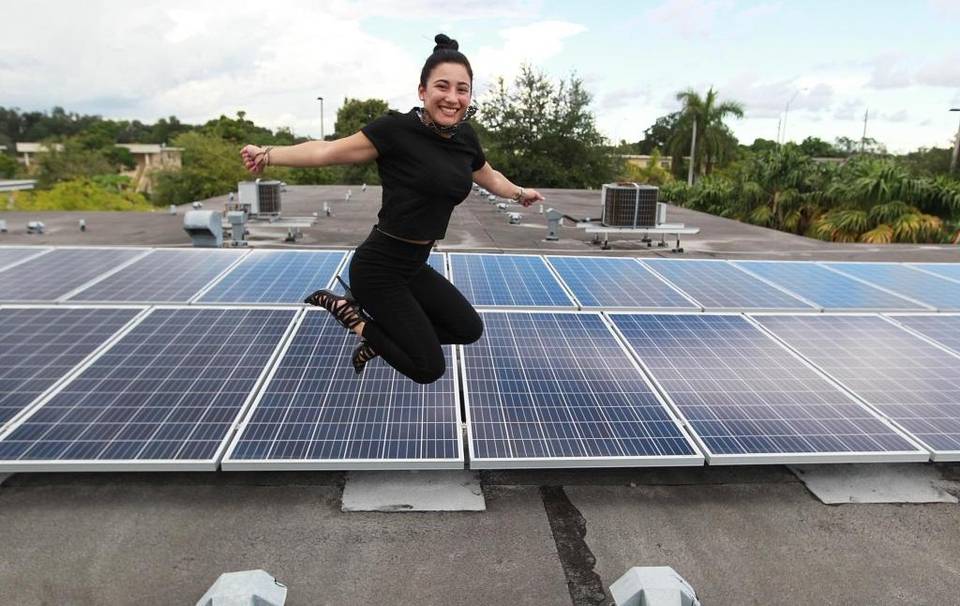 The chronically homeless residents living at a Camillus House shelter in Brownsville have more than a roof over their heads — they now have a roof tricked out with high-tech solar panels that put the old African-American hospital at the forefront of clean energy.
The panels, part of an $80,000 energy makeover, evolved from a class project by Chloe Castro, a Florida International University communication arts graduate.
Her assignment: design a project to translate philanthropy into everyday life, then persuade 27 classmates that hers was better than theirs.
Castro, whose brother founded the nonprofit IDEAS for Us to promote sustainable energy initiatives and helped run the FIU chapter, decided she wanted to do something for the environment. But making her case turned out to be tougher than she anticipated.
"They were like, 'Where's the money going? To the air? Well, we can't see that.' It wasn't tangible. So I said why don't we do something sustainable for a nonprofit and it ended up being Camillus House, the longest standing homeless shelter in Miami," she explained. "We said let's throw up solar panels and retrofit it and we were able to conceptualize, at that point, a real project."
After winning the class competition's $25,000 prize, Castro and her brother Chris, who is also the senior energy advisor for Orlando Mayor Buddy Dyer, got to work leveraging the grant into more benefits. Chris Castro contacted Advanced Green Technology and persuaded the solar contractor to provide the panels and kick in a $10,000 donation. The pair also obtained a $40,000 rebate from Florida Power & Light and persuaded Citizens Energy to retrofit the building at 4700 NW 32nd Ave. with LED lighting and new thermostats at no cost.
"It's beautiful. The lighting quality is better and their lighting consumption is 50 percent lower," Chris Castro said. "The equation is efficiency and then renewables."
Combined, the technology should cut electrical consumption at the facility by at least 20 percent and probably more, he said.
Read more on the Miami Herald website. Story by Jenny Staletovich.