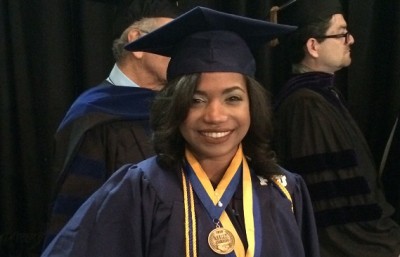 Today 23-year-old Jessica Pintado is an intern in a prestigious medical research program. But she almost gave up on her dream as an undergraduate at FIU.
"For a long time I wanted to do research, but I didn't feel like I had the skill set," said Pintado, a first generation university student who earned bachelor's degrees in religious studies and biology in spring 2015. "But my adviser encouraged me to pursue it."
Central to her success was FIU's Student Support Services (SSS) Program, which FIU will expand with a $1.1 million, five-year grant from the U.S. Department of Education as one of its TRIO Programs. The grant is designed to assist low-income, first-generation college students with academic development. The program served 174 students during the last academic year.
Pintado benefitted from twice-weekly tutoring sessions for chemistry and calculus, as well as encouragement from her adviser, Jeannette Cruz, to explore resources and apply for scholarships.
Cruz suggested Pintado apply to the Ronald E. McNair Postbaccalaureate Achievement Program, another TRIO program that provides support to underrepresented minority students as they enroll and participate in Ph.D. and M.D./Ph.D. programs.
Pintado became a McNair Fellow, and is now a scholar in the Post Baccaclaureate Research Program in the Graduate School of Biomedical Sciences at the Icahn School of Medicine at Mount Sinai in New York. As part of this program for post-graduates seeking to increase their research experience, she is conducting research on HIV. Her goal is to obtain a Ph.D. in biomedicine.
"We are very proud to be receiving this grant once again," said Dorret Sawyers, director of Multicultural Programs and Services, the department that oversees the SSS Program. "The grant provides tremendous opportunity for students who otherwise might have fallen through the cracks."
SSS, which is housed in the Division of Student Affairs, aims to increase college retention and graduation rates through support services that include monthly one-on-one sessions with advisers to monitor academic progress, financial aid counseling, online webinars and remote advising sessions.
FIU's SSS 2014-2015 cohort had a retention rate of 95 percent. Of those, 96 percent are in good academic standing (GPA above 2.0) and 58 percent hold a GPA greater than 3.0. A total of 770 FIU students have been served through the SSS Program, from grants awarded in 1997, 2001 and 2010. On the average, low-income students earn bachelor's degrees at a rate that is less than half of that of their high-income peers — 21 percent, as compared with 45 percent, according to the Council for Opportunity in Education.
Tags: Office of Multicultural Programs and Services × President's Council × Ronald E. McNair Post Baccalaureate Achievement Program × Student Affairs × Student Support Services
This post "$1.1 million federal grant supports FIU's first generation student initiatives" was originally published on FIU News.