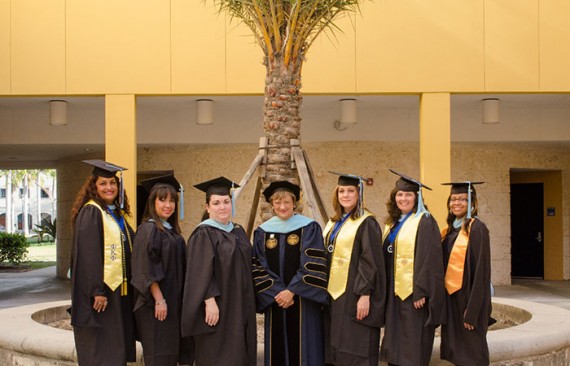 For the third consecutive year, the College of Education's Creating Latino Access to a Valuable Education (CLAVE) initiative was recognized by elected officials and higher education leaders from across the country as an Examples of Excelencia finalist.
Excelencia in Education, the non-profit that conceived and runs the Examples of Excelencia program, recognized CLAVE from among 265 programs from 30 states, Puerto Rico, and the District of Columbia, as a national finalist among America's top programs that increase academic opportunities and achievement for Latino students.
"Our CLAVE graduates immediately put to use the skills and knowledge they obtain from our graduate programs to help improve the performance of our local schools," said Delia C. Garcia, dean of the College of Education and founder of the CLAVE initiative. "In addition, creating access to a graduate education for Latino leaders is critical in order to ensure that our schools system continues to reflect the diverse nature of South Florida."
Created in 2009, CLAVE's goal is to increase the number of graduate educational opportunities for Hispanic students. In five years, the initiative provided tuition scholarships to four cohorts of Miami-Dade County Public Schools teachers and administrators.
One cohort of four students pursued a doctorate in Educational Administration and Supervision, and three cohorts totaling 34 students pursued a master's degree in Urban Education.
In addition, more than 50 travel awards have been granted to students and faculty in order to present manuscripts at numerous professional conferences.
"As one of this year's finalists, FIU's CLAVE initiative is at the forefront improving higher educational achievement for Latino students and we congratulate them for their current and continued efforts," said Sarita Brown, president of Excelencia in Education. "By increasing awareness of top programs like this, informing program strategies, and reinforcing investment in what works, Examples of Excelencia is creating new energy and inspiring a network of action-oriented leaders to discover and implement innovations that are effective with Latino and other post-traditional students."
The announcement event, held on Sept. 22, Celebración de Excelencia, coincided with the release of the 2015 edition of "What Works for Latino Student Success in Higher Education," a compendium of all 20 recognized programs including CLAVE and evidence of their success.
To download "What Works for Latino Student Success in Higher Education," visit www.edexcelencia.org.
Tags: CLAVE × College of Education × Delia C. Garcia
This post "FIU's CLAVE program recognized for increasing Latino student success" was originally published on FIU News.