One of the world's richest men – the CEO of the global firm after which FIU's school of construction is named – arrived on campus this week to something of a rock star welcome.
The celebrated Spanish industrialist spoke at MMC to a select group of students, administrators and guests eager to hear about his rise from a middle class family to number 259 on the Forbes list of billionaires. The former lawyer and civil engineer and one-time vice president of Spain's economic affairs detailed how hard work and a willingness to take risks have paid off. And interlaced between his promotion of "education, innovation and infrastructure" as the foundations for commercial success: a deep and abiding sense of humanity.
"It was very inspirational," said College of Engineering & Computing Interim Dean Ranu Jung about the address by Juan-Miguel Villar Mir. "One thing he talked about was work, work, work, no matter what you do, honesty and integrity, taking care of your health and, most importantly," she added, "serving others."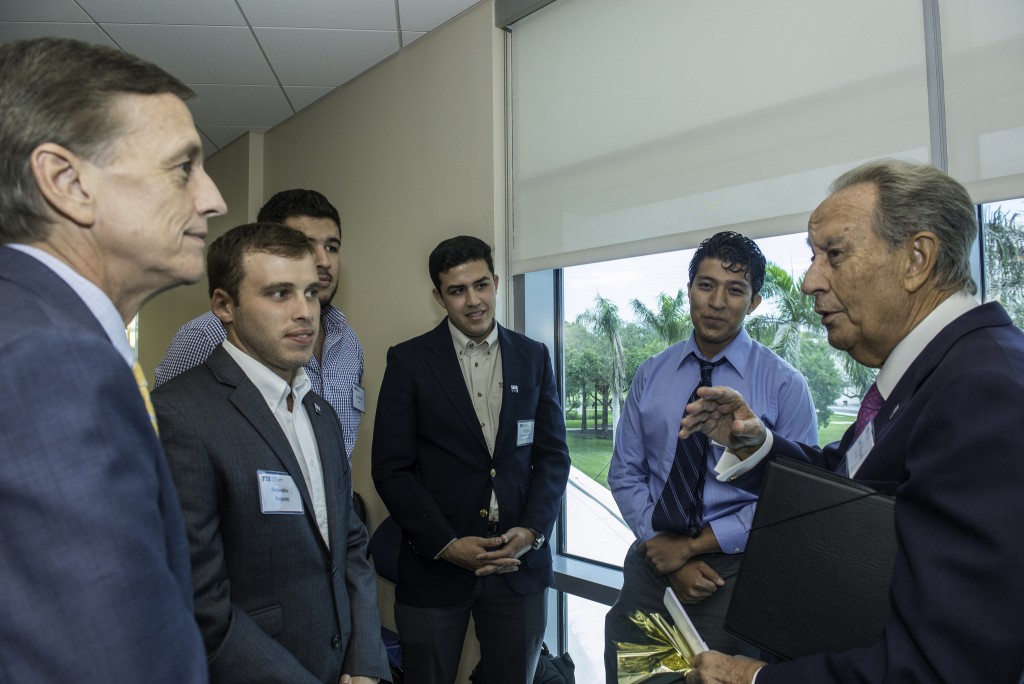 The 84-year-old also highlighted the value of a methodical approach to business while respecting "the dignity of all persons," a message that motivated graduate construction management student Shivkumar Patil.
"It gave me a proper vision on how to set your goals," Patil said. "It gave me a broad perspective on how great leaders think."
Villar Mir has grown an empire by buying up failing operations. In 1987, he paid less than $1 for the debt-laden, Madrid-based builder Obrascon. He turned the company around, merged it with another and within four years had it listed on the Spanish stock exchange. That was just the beginning for Villar Mir, who has since purchased one business per year, on average, to add to a conglomerate that today is the largest independent producer of hydroelectric power in Spain, the world's leading manufacturer of silicon metal and a major fertilizer producer and real estate developer. The construction company, meanwhile, has morphed into Obrascon Huarte Lain, or OHL for short, and builds railways, ports, airports and more in 30 countries.
"Here is somebody who has been a world leader in this space, who has been able to take companies that are not working and making the impossible into the possible," Jung said. "It's exactly what FIU's president talks about, and he has been doing it in the global field."
In 2008, Villar Mir and OHL came looking for a South Florida firm to add to the company's growing international construction portfolio. While they did not find one in need of rescuing, they did come across the successful Arellano Construction. Negotiations resulted in the creation of the subsidiary OHL Arellano.
The founder of the original Miami-based company, Augustin Arellano Sr., who is a member of the FIU Foundation Board of Directors, eventually introduced Villar Mir to FIU's school of construction. With its diverse student body and a strong focus on academic excellence, the school left a good impression on the entrepreneur, and a transformative gift soon followed.
The renamed OHL School of Construction has since been able to make important facility improvements and other upgrades that remain critical to educating the next generation of construction professionals for South Florida and beyond.
"My pride is today bigger and bigger in having created here the OHL School of Construction and in doing so, our contribution to drive the growth and well being of many countries in the world," Villar Mir said in his campus remarks.
Irtishad Ahmad, director of the school, said its association with a recognized name in the industry sends a powerful message that "We also want to be a global leader in education and research." Those two commitments are evident in the school's high-tech building information modeling lab, opened last year and supported in large part by a gift from alumnus Chad Moss and his firm, and its emphasis on hands-on learning in the field.
The latter effort received a high-profile boost at the announcement in 2013 of international internships available to FIU students at the OHL Madrid headquarters. Every summer, two lucky construction management majors have the chance to visit job sites, meet with industry professionals and take on specific duties related to projects around the world.
Felipe Martinez Hernandez '15 and Alejandro Falgons '14 agreed the experience helped them stand out to prospective employers when looking for jobs after graduation. The two now work for Kaufman Lynn Construction in South Florida.
"It really is a big deal," Falgons said of the internship program. "It really did push us to a new level, and our horizons have opened up. We owe our careers to OHL."
Those sentiments likely would have gratified Villar Mir, who before taking a question from the audience and posing for photos ended his talk with a Power Point slide in which he shared "Two key ideas to consider in all aspects of our lives." It read: 1) serve others 2) bring happiness to others.
Tags: College of Engineering × Irtishad Ahmad × OHL School of Construction Management × Ranu Jung
This post "Billionaire benefactor shares secrets of success at OHL School of Construction gathering" was originally published on FIU News.