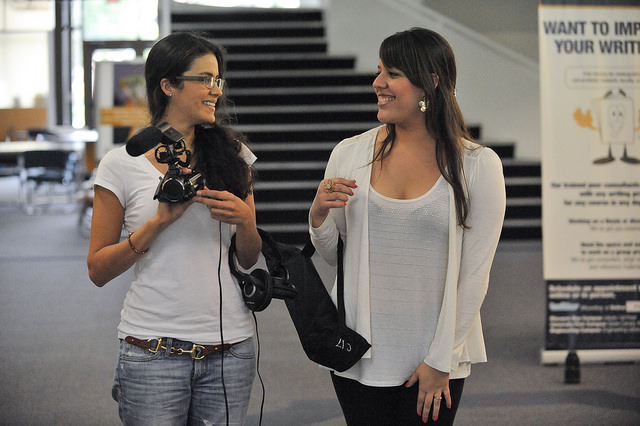 South Florida News Service (SFNS), a program in FIU's School of Journalism and Mass Communication, will expand into a digital-first, bilingual independent news organization with a $150,000 grant from The Hearst Foundation.
The SFNS, provides an opportunity for students to publish stories with partnering news organizations and learn firsthand what it means to be reporters in the field. Since its inception in January 2009, the SFNS has published over 400 stories and 100 videos in The Miami Herald, Sun-Sentinel and the Palm Beach Post, covering topics such as education, politics and the arts. Many of these stories have garnered front page or section front-page prominence, with some being the most viewed online story for that publication in a given week.
The Hearst Foundation grant will allow the SFNS to become an independent media organization, producing original content across multiple platforms, while also continuing its partnerships with other news organizations.
"This generous gift recognizes the excellent work done by the School of Journalism and Mass Communication through the South Florida News Service since 2009. Thanks to the Hearst Foundation, we will be able to become a true multimedia news service. This expansion will also allow more SJMC students to be a part of our award-winning program, as we train them to be the future communicators and media innovators," said Raul Reis, dean of the School of Journalism and Mass Communication.
For more information, please visit http://sfnsonline.com/ or email Meira Langsam at langsamm@fiu.edu.
Tags: philanthropy × School of Journalism and Mass Communication × South Florida News Service
This post "South Florida News Service to expand and go bilingual" was originally published on FIU News.