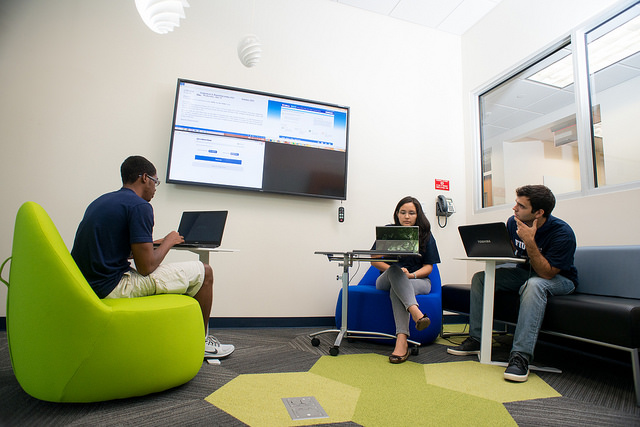 Jeff Brown hears new startup ideas all the time. He has even had would-be entrepreneurs approach him with their idea scrawled on a napkin.
What does Brown – a self-described serial entrepreneur and angel investor – tell them?
"I'm not going to fund a napkin and I'm not going to do the work for you," he said. "If your idea is a dog, I'll tell you.''
To be extraordinary in the startup world, Brown, FIU's new Entrepreneur in Residence, believes one needs a rare combination of passion, talent and hard core work ethic.
He'll be looking for all those elements as he mentors students in his new role at FIU's School of Journalism and Mass Communication. He also plans to keep an eye out for "extraordinary" talent and ideas at an upcoming startup event.
Startup Weekend Miami at FIU is designed to enable developers, designers and entrepreneurs to create, pitch and launch their startup ideas over an intense, 54-hour weekend.
Fueled by unlimited coffee and snacks, participants will have access to some of the best startup investors, coaches and mentors in South Florida.
"Where else can you go from zero to startup in 54 hours?" said Brown, who has launched numerous tech and media startups since 1988. "At Startup Weekend Miami you'll meet other doers, makers and coders who dream as big as you do. And you'll learn how to build smart and build lean and tap into the network that can support you.''
The event, a first for FIU, is scheduled for Nov. 20-22 at Tech Station – the university's $3 million innovation laboratory.
It features a who's who of the South Florida startup scene, including Adam Boalt, founder of LiveAnswer and RushMyPassport.com, and more than 20 angel investors, entrepreneurs and technology innovators.
"This event has a lot of potential for students who may not see an entrepreneurial path,'' said Steve Luis, director of technology at the FIU School of Computing & Information Sciences. "The key is passion. The tech and startup world can be a tough business.''
Luis is collaborating with Brown on Startup Weekend Miami, along with Alex de Carvalho, a social media strategist and former Innovator in Residence at FIU. Both SJMC and FIU's College of Engineering & Computing are major sponsors, as is Brown's company Fourth Estate Public Benefit Corp.
Beginning with Friday night pitches and continuing through brainstorming, business plan development and basic prototype creation, startup weekends culminate in Sunday night demos and presentations.
Startup Weekend Miami is part of an international community of startup events in more than 150 countries. The event will be preceded by an Innovation & Idea Bootcamp on Tuesday at FIU's Biscayne Bay Campus.
"Startup Weekend Miami will bring together some of the biggest stars of the tech and startup community in one incredible tech space at FIU,'' said Saif Ishoof, vice president for engagement. "We want Miami to know FIU is in the innovation space and we are serious.''
Startup Weekend Miami begins at 6:30 p.m. on Friday, Nov. 20 and concludes Sunday, Nov. 22 at 9 p.m. The event is open to the public. Tickets for FIU students are $25 and can be purchased online using promotional code "FIUSTUDENT."
Tags: College of Engineering & Computing × Office of Engagement × School of Computing and Information Sciences × School of Journalism and Mass Communication × Tech Station
This post "Launch a new venture in 54 hours at Startup Weekend Miami" was originally published on FIU News.