Doctoral candidate Michelle Pierre is working to create a biosensor that can pre-diagnose diabetes, and to develop a form of neonatal testing that can detect diabetes in premature babies using only a small sample of blood.
As a single mother, however, juggling graduate school and research while raising two daughters is not easy; but taking part in the Bridge to the Doctorate program at FIU made it possible for Pierre to do both.
The Bridge to the Doctorate (BD) program, a fellowship program funded by the National Science Foundation, helps minorities pursue graduate degrees in STEM (science, technology, engineering and math) fields. It offers a network of support and mentorship to students, covers full tuition and fees and provides a $30,000 annual stipend for the first two years to offset living costs while performing research.
"As a single mom, it is almost impossible to pursue a graduate degree and work at the same time," Pierre said. "The funding provided by BD allows me to provide financially for my daughters, while also freeing time up for me to focus on coursework and research. I would not be in a Ph.D. without the BD program."
The program's goal is to change the culture of graduate education in STEM, where, according to University Graduate School Associate Dean Sonja Montas-Hunter, only 5 percent of doctorates are awarded to minority students. The reason for this is lack of encouragement to pursue STEM at the undergraduate level.
"When students come into universities as freshmen, math and science are usually the two courses that they shy away from, because they do not feel adequately prepared in those areas," she said. "And for underrepresented students, it's an even bigger obstacle."
BD places an emphasis on support networks and counseling from staff and faculty to guide students through their graduate education. Collaboration not only between students and professors, but also among students in the program, is a necessity. While students work on state-of-the-art research projects with faculty mentors, they also meet with each other regularly to discuss their research and bounce ideas off one another.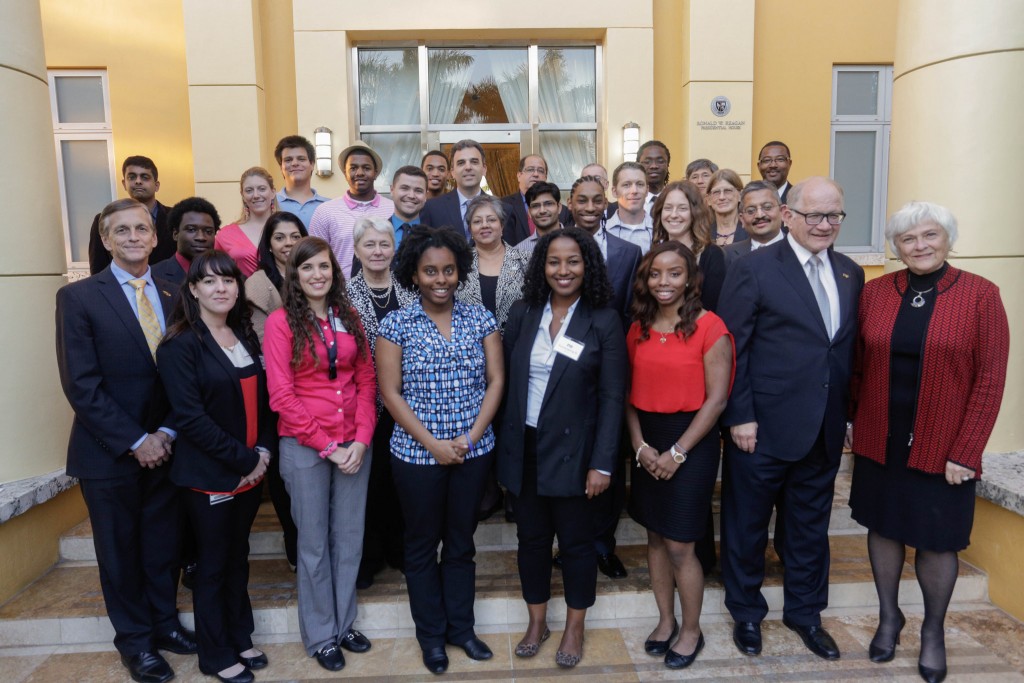 Each cohort at FIU consists of 17 students, and the current cohort has 11 different majors, so the collaboration among students in the program offers them a chance to see how other fields of STEM research might intersect with their own. BD students are also encouraged to get involved in the community through a K-12 outreach program, as well as campus undergraduate and graduate life.
"I think what's unique about this program is the community building," Montas said. "Literature says that community building and a strong support network is a good indication of graduate student success."
Other benefits of the BD program include access to competitive funding for up to five years after the first two years of study are completed, professional development workshops, travel funding for professional meetings and more.
To apply for BD, students must have participated in a Louis Stokes Alliance for Minority Participation (LSAMP) program, a pipeline program for BD, during their undergraduate studies. According to BD co-director and Chair of Electrical and Computer Engineering Shekhar Bhansali, the major pitfall for many students applying to BD is that they procrastinate as undergrads, and don't leave themselves enough time to take part in the LSAMP program. As a result, they lose the opportunity to have their graduate research and studies funded by BD.
Students who may want to considering pursuing a doctorate would do well to reach out to mentors in their undergraduate years, and current undergraduate students at FIU can start to get involved in the pipeline programs now, as the university is a member of the Florida-Georgia LSAMP alliance.
"You have to have that foresight to see what the possibilities are, and start working at them during the early years," Bhansali said.
For more information on how to apply for the Bridge to the Doctorate program, click here.
Tags: Bridge to the Doctorate × Electrical and Computer Engineering × STEM × University Graduate School
This post "Program helps minorities pursue doctorates in STEM" was originally published on FIU News.