In anticipation of NASA's launch of the Orbital ATK Cygnus spacecraft on Thursday, Dec. 3, we sat down with electrical engineering alumnus Marco Midon '97, MS '00 to discuss how he built a successful career as a NASA communications engineer.

Marco Midon discovered his love for telecommunications when he was young and fascinated by radios.
As a little kid, he was convinced there were people running around inside radios playing music and talking. But when he found out sound waves are transmitted to radios over the air, his fascination transformed into the driving force behind his career path.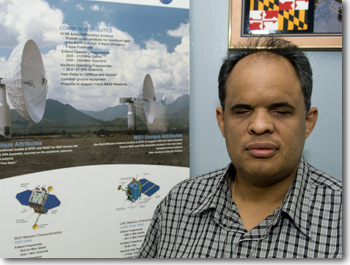 "I wanted to do the ultimate radio communication, and what's that? Well, that's communicating with the moon or Mars or Jupiter," Midon said. "And that's NASA."
Today, Midon serves as deputy lead for a team of communications engineers at NASA's Goddard Space Flight Center in Greenbelt, Md., working on the new Geostationary Operational Environment Satellite R-series (GOES-R) Ground Segment Project. This initiative aims to improve upon imagery and atmospheric measurements of the Western Hemisphere taken from space, and to improve tracking of weather phenomena, such as hurricanes and tornadoes.
Midon's team is in charge of designing and building the ground station that communicates, receives and records data transmitted between the GOES-R satellites and NASA's ground control.
By the way, Midon is blind. And he has been his entire life.
He and his twin brother Raul, a guitarist and singer-songwriter who's worked with the likes of Shakira and Julio Iglesias, were born prematurely and were blinded after spending time in an incubator without proper eye protection.
But that didn't stop Midon from fulfilling his dreams of becoming an engineer. If anything, it served as a catalyst for his choice of career.
"You grow up blind and most of your life is filled with problems," Midon said. "Engineering is about solving problems."
He got his start at NASA in 1996 as an undergrad at FIU when he interned at Goddard through the American Association for the Advancement of Science's Entry Point Program.
"I went there and I figured out how to solve their problems. I didn't wait for somebody to tell me what to do," said Midon, advising a group of engineering students during a presentation at FIU to try to show as much initiative as possible during their internships.
After graduation, he began a co-op at NASA while earning his master's degree at FIU, and he was hired full-time upon his second graduation in 2000.
It wasn't easy for him to prove himself at NASA; early in his career, he hit many roadblocks from those who doubted his aptitude as an engineer. He sometimes even had to bring his work home, do it by himself and bring it back finished the next day just to prove his skill.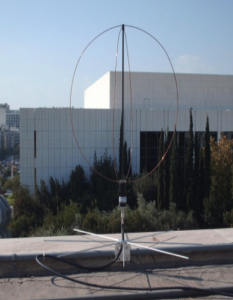 But the motto that has guided Midon throughout his career can serve as good advice for any engineering student: Don't just tell people what you can do. Prove your abilities by letting your work speak for itself.
"There's no way to argue with success," he said.
Throughout his career, he's been involved in communications projects for some of NASA's biggest operations this century, including designing and building an 18-meter antenna for the Solar Dynamics Observatory, which transmits a terabyte of imagery and data on the sun's interior each day.
In a mission that earned him the nickname Marco "Mission Impossible" Midon from his coworkers, he designed a ground station to receive and record sensitive data from a Russian Soyuz spacecraft—the "impossible" part was coming up with a solution for the Russians' radio frequency problem and having it ready for transport to the mission site in Athens, Greece, in only three days.
"It's tough, but you know what? It's still a good job," Midon told the students. "You're not going to get rich like Donald Trump, but it's a really good job."
Tags: Alumni × Alumni Association × College of Engineering & Computing × Department of Electrical and Computer Engineering × FIU Engineering Center × NASA
This post "Blind alumnus excels as NASA engineer" was originally published on FIU News.