FIU legend Rocco Angelo sure can bring down the house. The Chaplin School of Hospitality and Tourism Management recently threw the professor a surprise party that drew industry luminaries and scores of alumni from as far away as New York, California and Amsterdam.
With Frank Sinatra and Julie Andrews—his favorites—blaring in the background, and wine, appetizers and even a ballroom at the luxe Biltmore Hotel in Coral Gables donated for the occasion, the evening turned into something of a love fest. In casual conversation and prepared remarks, a crescendo of praise rose in honor of the dynamic 84-year-old who landed at FIU in 1973 and has never left.
"He's an amazing human being," said Jay Litt, a consultant to the hospitality industry and the first alumnus of FIU's then School of Hotel, Food and Travel Services. Litt earned his degree shortly before Angelo arrived on campus, the two just missing each other in the classroom. But as he has now done with students and graduates for the better part of four decades, Anghttps://give.fiu.edu/wp-admin/post-new.phpelo quickly got to know the young man and offered guidance. "I've loved him ever since," Litt said. "We've been friends for the last 42 years."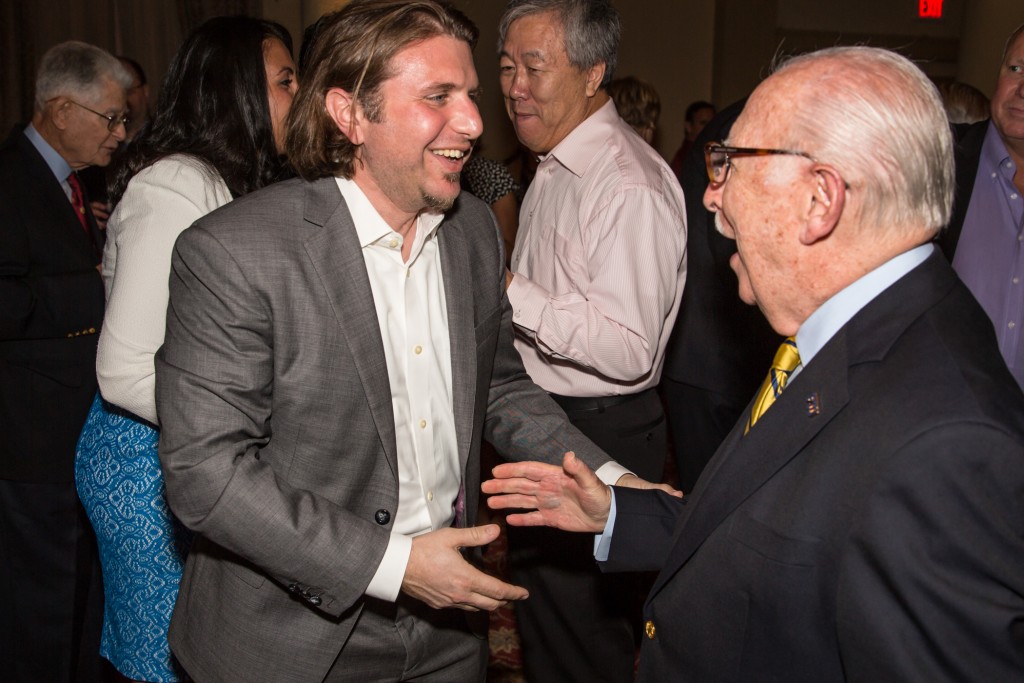 A former classmate of Angelo's at Cornell University's School of Hotel Administration, the venture capitalist Leland Pillsbury happily roasted his friend from the podium while in private offered the sincerest compliment. "I'm here because of the impact he's had on young people," Pillsbury said. "A great many of them owe a significant portion of their success to Rocco, so I'm here to thank him for that."
On that point, 1986 alumnus Brian Nordahl, senior vice president for a Dallas-based hotel investment firm, wholeheartedly agreed. "I can only say he has been always there for me, always gracious, really the embodiment of hospitality, just such a great example. And the fact that he's still doing this after all these years is just absolutely remarkable."
Those who work with Angelo were no less effusive in their praise.
"I love Rocco. He inspires me. He's such a good soul. He's kind, he's gentle, he's professional, he's brilliant," said Judith Williams, an instructor at the Chaplin School. She emphasized the sheer joy the man brings with him wherever he goes. "We often do a little jig together in the corner," she said of the avowed dancer. "It's a hug and a kiss and a little jig."
Added Mike Hampton, dean of the school, "He's touched every student's life that's come through here, practically. He's such an inspiration to so many people."
The native New Yorker came to FIU after having taught classes for ten years at Cornell and following a successful career in industry. His experience and connections allowed him to help countless students by providing invaluable introductions and spot-on professional advice.
At FIU he taught classes on customer service, inventory control and other subjects, served as a counselor and associate dean and, after formally retiring in in 1997, has stayed on as an ambassador for the school and a leader of its growing legion of alumni.
From a reluctant start to a lasting legacy
In front of more than 200 well wishers, Angelo confided that he turned down the opportunity to join FIU in time for its opening in 1972 despite an invitation from the hospitality school's dean at the time, who was an old friend. Having started a consulting firm, Angelo worked out of New York but traveled frequently on business to the Caribbean with stops in Miami. Persuaded to teach for one semester as he continued to run his company, he met a hospitality student whose story would have him rethink his own trajectory.
The young man explained that he had never expected to pursue a university degree but that someone had seen potential in him and encouraged him to attend community college and then give FIU a try.
"'Well, it worked,'" he told Angelo at the end of the course. "'I can't believe I'm the first one in my family to graduate from college.' And he wanted to thank me," Angelo recounted. "I thought, wow, to have that affect on another human being. I was hooked forever."
At the recent event, the Chaplin School launched the Rocco M. Angelo Legacy in Leadership Endowment, a fund to support students in several increasingly key areas of study, including real estate, predictive analytics and financial management. Angelo, always a champion of young people, encouraged his high-powered friends in the room to throw their support to an institution he continues to cherish and where he plans to stay for years to come.
"It has been a glorious ride," he said. "There was a dynamic and an energy at FIU which has never abated. It's a great place to be."
Tags: Chaplin School of Hospitality and Tourism Management × Mike Hampton × Rocco Angelo
This post "Chaplin School honors world's most beloved professor" was originally published on FIU News.