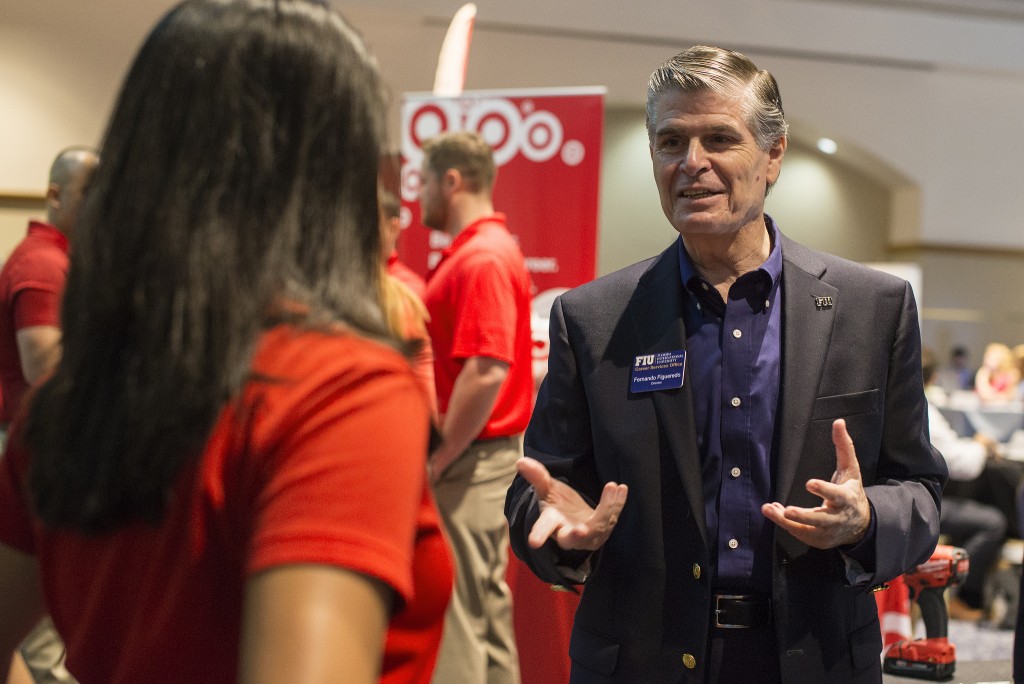 Nearly 18 months after joining FIU as director of Career Services, Fernando Figueredo and his team are celebrating record numbers of employers at Career Fairs and several new partners for internships – including at least four with local municipalities. With lofty goals set out in BeyondPossible 20/20, the university's new strategic plan, Figueredo is charged with engaging more students and connecting them with even more internship opportunities.
FIU News sat down with Figueredo to discuss the challenges and other changes students can expect from Career Services in the coming months.
Q: BeyondPossible 20/20 calls for 6,000 students to be participating in internships by 2020. That's an increase of more than 25 percent. How do you plan to accomplish that goal?
A: We have a very talented and committed team so our focus on more career development initiatives, more internships, and getting more students ready for the workforce, fell right in line with the Board Of Governor measurements.
When I came in, the structure of the department and the constant turnover made it difficult to have anyone dedicated to actually go out and expand our reach into the business community – to go out into chambers and industrial groups and find ways to expand our internship programs and employer recruitment programs. We had a talented Employer Relations team that was dedicated to those functions, but because of the issues I just mentioned, they were concentrating more on on-campus recruitment initiatives – reaching out to employers to come on campus and recruit here. I wanted to expand that focus by creating a closer relationship with the greater Miami Chamber of Commerce, which has 3,500 members, and the Beacon Council with 300 corporate members.
With the help of my leadership team, we identified and received approval for one additional assistant director and a coordinator position dedicated to that effort. Both will also be reaching out to multinationals in Miami to obtain international internships. But I didn't want to stop with just the two additions to the Employer Relations team since we also needed to expand our efforts to professionally develop and prepare our students for the workforce. So we were also successful in getting approval for an additional assistant director and coordinator for the Career Development team. This added focus has resulted in a 35 percent increase in employers coming to our on-campus recruitment initiatives and a 25 percent increase in students participating in theses initiatives over the past two years.
What we also need is for the deans to become much more directly involved in raising the number of internships, or at least documenting the number of internships, that are going through their programs. Unless we do that, it's going to be very difficult for us to have a full picture of internships. That's also part of the reason for embedding someone from our team into the academic units – to talk to department directors and help them document the number of students doing internships.
Q: How do you plan to create closer ties with the academic units?
A: Having had some experience working in the School of Journalism and Mass Communication as chair of the advertising/public relations faculty, I had set up a number of internship programs. When I came in to Career Services, I felt we should have someone dedicated to internships and working closer with the academic units. So my thought was, why don't we expand the career development team so that we can have more of our team members embedded in the actual academic units? Part of the reason for that is that I felt that in order to really capture the students who are doing internships and also expand the number of internships, unless we got closer to the academic units, it was going to be difficult to get that done.
Our first step in moving in this direction has been with the Stephen J. Green School of International and Public Affairs. We were successful in getting approval for an assistant director of Career Development Services – who is actually embedded in the Green School but reports into Career Services. The plan is to expand to the College of Arts & Sciences, and eventually to the College of Education, Stempel, CARTA and so on.
Q: Why is there such a focus on internships in college now?
A: For students, it gives them the opportunity to work and see if they really like doing work in the industry they have chosen, and to obtain an experiential learning opportunity while they're doing the internship. Once they graduate, the best way to find employment and the best way to prepare students for a job is through an internship. That's why internships have become so critical.
Research shows that if you do an internship, you have a 65 to 70 percent likelihood of finding a job, and with two internships, your chances go up to 90 percent. No internship, however, and your chances go down to about 30 percent. With regard to salary – with one internship, you're going be somewhere between 10-15 percent higher salary than with no internship. It's very unlikely that on your own you will you get a job, if you have no experience. And employers tell us that.
Q: What is your vision for Career Services?
A: We are very focused on growing internships, trying to get job placements, increasing salaries for our students, which right now, we're number one in the state in both of those – in number of jobs students are getting coming out of college and highest average salary. So it's tough when you're number one and everyone's shooting for you. But I know we will continue to go up in these rankings.
I would love to see us expand a little more into the area of international internships. Down the road, I could see one person dedicated to international internships. Most students and faculty think Study Abroad is just for academics and cultural experience – there is no internship component. The student that goes and does an internship begins to learn about the job, the industry, and what they're doing. So it opens the student's eyes to the industry itself, but an international internship takes the student much further from the professional perspective.
Study Abroad opens students' eyes to a whole new world – the importance of a global environment, the importance of a global workforce, and what's happening in other parts of the world. You begin to see that the world functions in a global environment. You begin to learn and respect other cultures. Combine the personal growth from Study Abroad and the professional growth from an internship and you have a student who is much more prepared for the global workforce than one that has not done that.
Tags: Beacon Council × Career Services × Greater Miami Chamber of Commerce × Student Affairs
This post "Career Services expands opportunities for students" was originally published on FIU News.