Robots did double duty on a recent afternoon at the FIU Engineering Center. Assembling and racing the shoebox-sized autonomous vehicles—bots on wheels with no remotes—simultaneously gave electrical and computer engineering majors hands-on experience in their chosen field and sparked STEM interest among local youngsters.
It was loud, fun and totaling energizing as some 40 teams vied for prizes, each using a standard-issue robotics kit on which they had worked for over a month.
"You learn more when you are doing what you like," said Wilmer Arellano, the professor behind the competition. "If you want to be an engineer, you want to be designing and building."
Agreed Pedro Beltran, one of Arellano's students, "We're not in the classroom just staring at the screen. We're actually working. It's very immersive."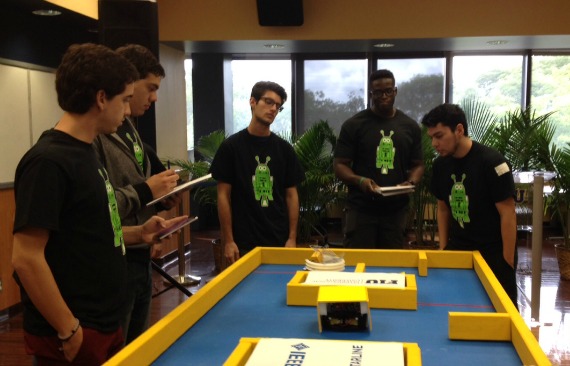 While each gizmo sported its own look—some featured spikes, two resembled R2D2—the genius lay in the programming. Teams of four or five members each had to devise how their robot would navigate a set track while avoiding collision with a moving obstacle. Throwing a twist into the proceedings: Robots had to execute several seconds of DUI maneuvers, the type of jerking and swerving movements typically exhibited by a drunk driver. That forced students to do research and made the programming even more difficult, according to Arellano, and it served as a warning about the dangers of actually driving under the influence. Members of FIU's Counseling and Psychological Services and Career Services evaluated that portion of the contest and sponsored cash prizes for the overall top performers, based on time and required elements.
The passion for hands-on experimentation was evident not only among the FIU freshmen who had to participate but among the middle and high schoolers who voluntarily accepted the challenge as part of elective courses and afterschool programs at their schools.
Seventh-grader Luna Pedrosa expressed amazement at how much the exercise taught her about programming code and robotics. "We just started with nothing this year," she explained or her and fellow classmates' lack of previous experience, "and now we started learning about void loop and going forward and turning left and how much the speed should be."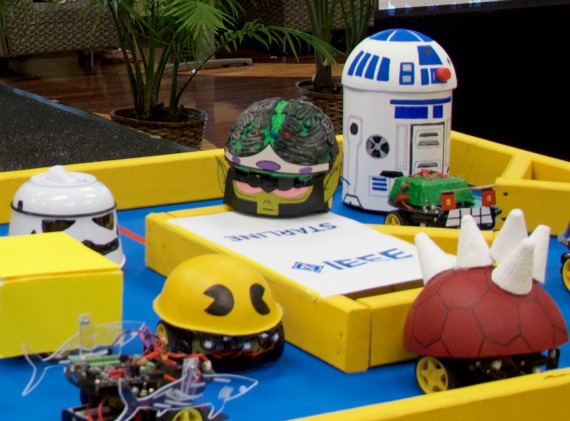 Pedrosa's teacher, Kristy Reinhartz of David Lawrence Jr. K-8 Center, said that completing the project has pushed several of the girls, in particular, to consider computer programming as a viable course of study and career path for the future.
"It's really just giving the kids a chance to have a hands-on opportunity and do things that they never thought they could do before," Reinhartz explained. And the comprehensive nature of the activity fit perfectly into her multidisciplinary STEM class.
"A lot of math was involved with this because when they were doing the coding they had to figure out using the circumference of the wheel, how many rotations would it require to go the required distance in the course and calculating angles with their sensors. So it really ties in all of the [STEM] areas just in one project," she said. "This is what learning should be."
Tags: Career Services × College of Engineering & Computing × Counseling and Psychological Services × Electrical and Computer Engineering × STEM × Student Affairs
This post "Bot race boosts future engineers" was originally published on FIU News.