An FIU professor's research has landed on a list of Discover magazine's top 100 science stories of 2015. A groundbreaking nanotechnology procedure directed by Sakhrat Khizroev has earned spot no. 48 on a comprehensive listing that covers fields from space exploration to medicine, technology, paleontology and environment. The selections were made from hundreds of thousands of peer-reviewed articles published in scientific journals in 2015.
In a study with potentially enormous implications for medical treatment of neurodegenerative diseases, Khizroev and his team used nanoparticles to wirelessly connect the brain of a living mouse to a computer. The achievement is highlighted in the publication's January/February 2016 issue under the heading of "The Remote-Controlled Brain."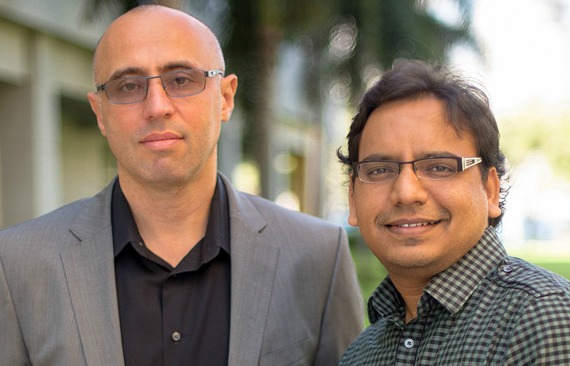 In a paper published earlier this year, the researchers described how they injected "smart" nanoparticles into a mouse and then pulled the particles into its brain with a magnet applied near the head. With that accomplished, the researchers could make possible a new innovation: "coupling" an exterior magnetic field, which they generated in the lab, and the brain's internal electric field. That allowed the researchers to establish wireless communication between the brain and a computer.
The researchers then sent commands to the brain's neurons to "pulse," which resulted in deep brain stimulation, a type of medical treatment that has traditionally required invasive surgery.
The work could lead to therapies for Parkinson's, Alzheimer's and other neurodegenerative diseases as well as neurological disorders such as autism.
Trained as a physicist and computer engineer, Khizroev holds joint appointments in the College of Engineering & Computing and the Herbert Wertheim College of Medicine. Approaching the human brain much as he does a complex electric circuit, Khizroev brings a unique perspective to its study and how, moving forward, scientists might conduct important collaborative research on an organ about which, he says, we know relatively little.
Khizroev's lab comprises graduate students in physics, chemistry, biology, electrical engineering and medicine, a dynamic interdisciplinary mix that he says represents the future of neuroscience.
"Understanding the brain, the human central processing unit, holds the key to unlocking the mind-boggling possibilities of reverse-engineering the brain as well as paves a way to enabling the ultimate precision medicine to enable treatment of even the deadliest diseases," he says. "Understanding the brain is one of the most challenging sciences at a very early stage of development. We are just touching the surface and learning how to ask the right questions."
The innovative technology, funded with research grants from the National Science Foundation and Neuroscience Centers of Florida Foundation, has been patented by FIU.
Tags: College of Engineering & Computing × Herbert Wertheim College of Medicine × Research × Sakhrat
This post "'Remote-controlled brain' a top story of 2015" was originally published on FIU News.