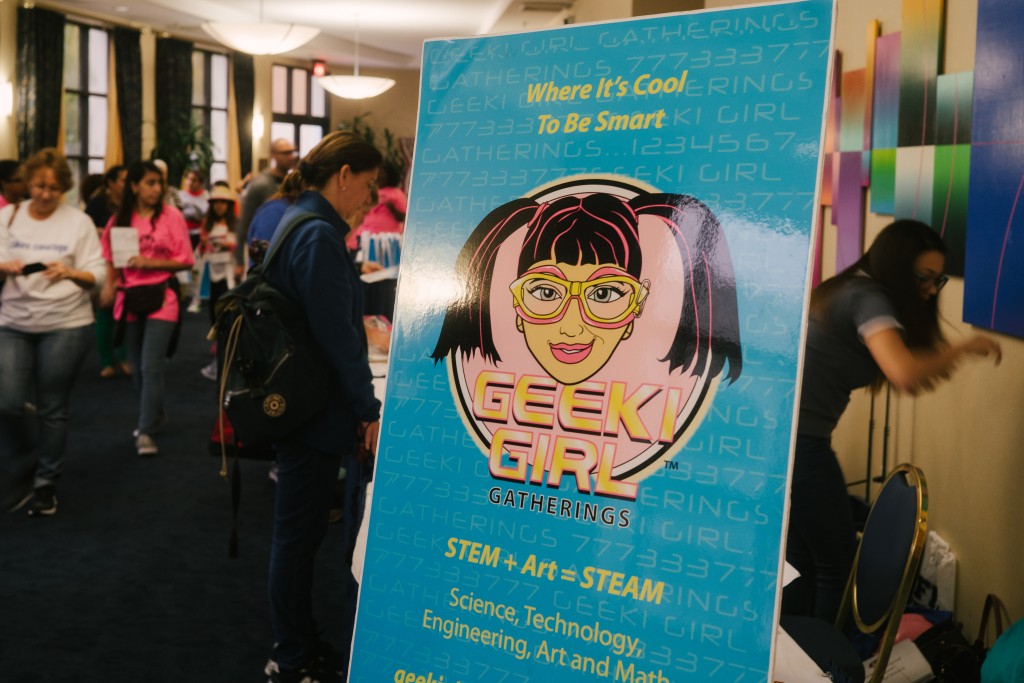 FIU and Geeki Girls Gatherings collaborated for a second year to present the GeekiWood conference Dec. 5.
The conference is a unique event where producers, educators, technicians and scientists come together to blend the magic of film and television with real science to empower middle school girls, giving them a greater appreciation for science, technology, engineering, arts and math.
"We were thrilled to provide girls from more than 50 different schools with the opportunity to learn more about science and engineering at the second annual GeekiWood conference," said Suzanna M. Rose the newly-appointed associate provost for the Office to Advance Women, Equity and Diversity at FIU. "Providing young girls with hands-on experience in interactive workshops about DNA, forensic science, coding and robotics, gives them the opportunity to consider careers in STEM. We want FIU to be a destination for girls to study science."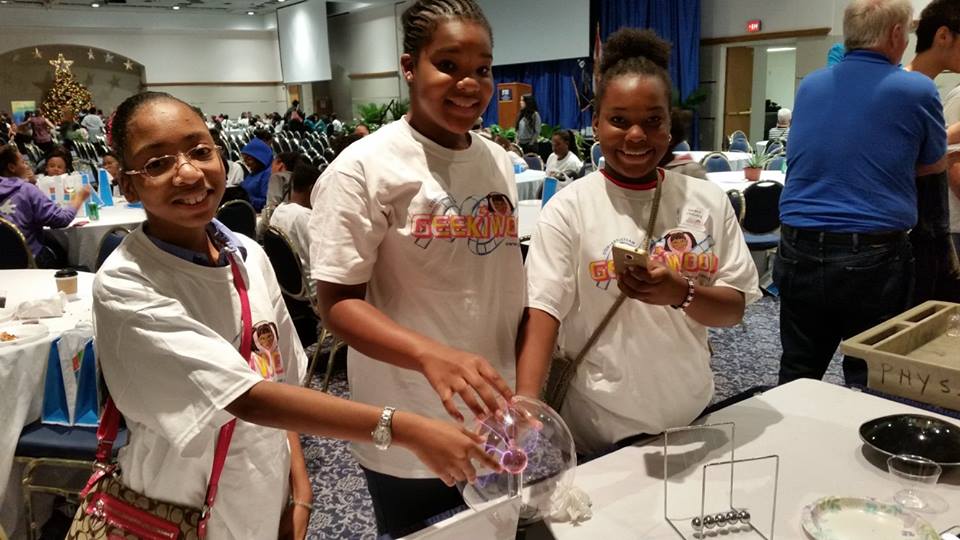 A student expo featured FIU student organizations and researchers showcasing their STEM-related work. Demonstrations consisted of how to turn a liquid into a solid with the tap of a finger, building an electromagnetic field, building robots and more.
More than 350 attended the conference this year and learned about the science behind TV shows including "CSI." The students participated in trace evidence workshops and a fingerprint identification presentation. Participants also learned to make high-quality movies using Windows Movie Maker and to build their own robots.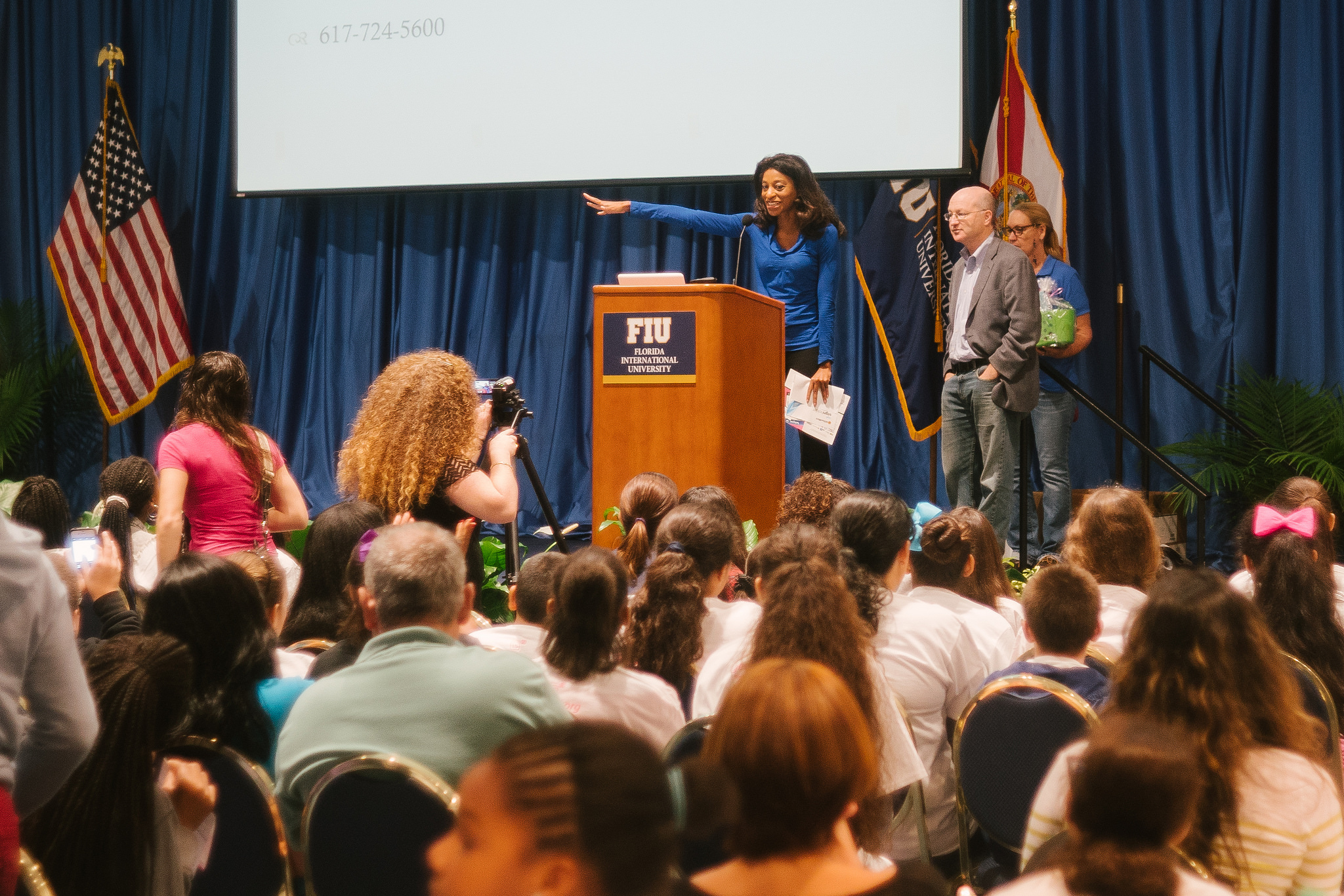 For 16 young girls from Miami-Dade County Public Schools, the opportunity to participate in GeekiWood 2015 was made possible by donation from a member of the Miami Alumnae Chapter of Delta Sigma Theta Sorority, Inc. — a sorority of predominantly black, college-educated women.
"Through our Delta Academy, we provide unique experiences for girls from North Dade and South Dade in grades 6 through 9," said Lekeshia Bush, Delta Academy co-chair for the Miami Alumnae Chapter. "We look for opportunities to expose them to non-traditional careers they otherwise would not know about."
Bush is a pharmacist. She was fortunate to have known someone in this profession who inspired her to go into a field though she was among the minority — only 2.3 percent of pharmacists are African American. Bush is determined to give back.
"I remember that spark when I knew I wanted to be a pharmacist," Bush said. "I'm trying to instill that same spark back. Middle school is that key age where you are first able to act, to go from being interested to actually pursuing that interest. That's why our work is so important."
Delta Academy provides an opportunity for local chapters of Delta Sigma Theta Sorority, Inc. to enrich and enhance the education girls and teens receive in public schools across the nation with a focus in math, science and technology. The Miami chapter meets at Booker T. Washington Senior High School to outline the unique experiences they can provide for the girls in the community. GeekiWood was one of many they have planned.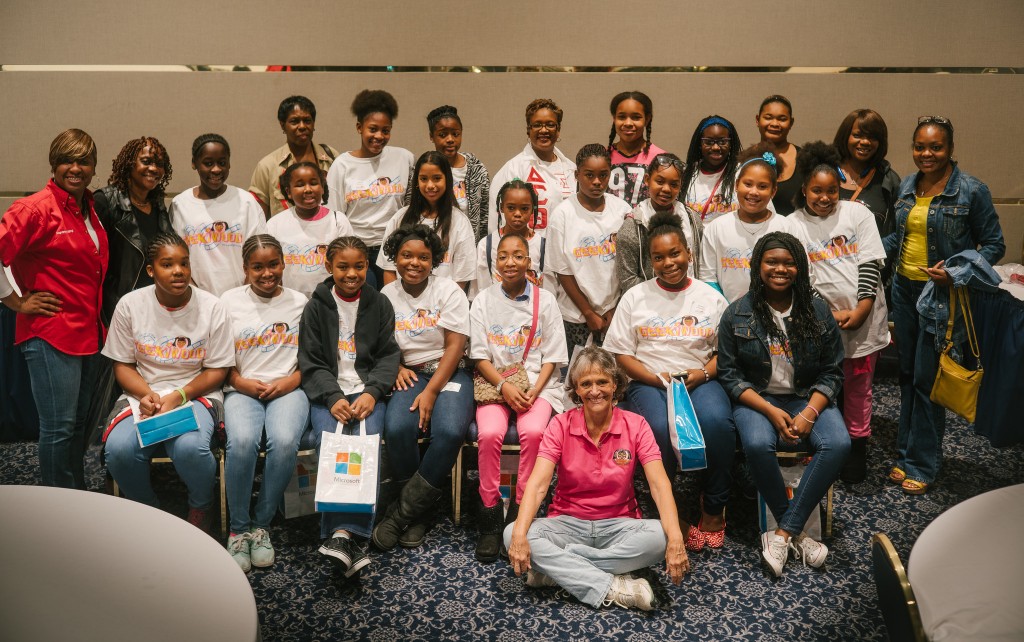 Click here for more photos of the 2015 GeekiWood conference.
Geeki Girls, Inc. is a non-profit organization. The 2015 GeekiWood Conference was organized with the support of the Miami-Dade County Department of Cultural Affairs and the Cultural Affairs Council, the Miami-Dade County Mayor and Board of County Commissioners in collaboration with FIU.
Tags: Center for Women's and Gender Studies × College of Arts & Sciences × College of Engineering & Computing × Engagement × International Forensic Research Institute × School of Integrated Science and Humanity (SISH) × STEM × Student Affairs
This post "GeekiWood showcases non-traditional STEM careers at FIU" was originally published on FIU News.