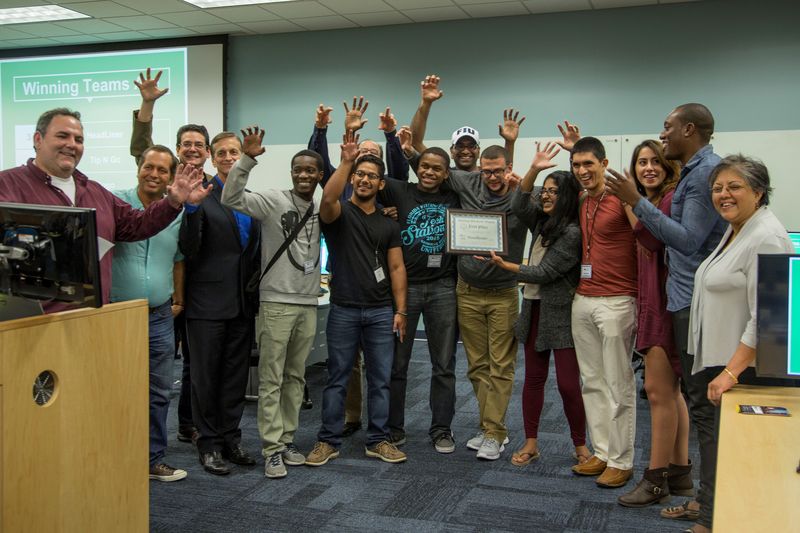 A team of FIU students that wants to change the way fans, musicians and venues connect has launched its idea on the world scene, competing for a chance to win recognition – and support – from top leaders in the tech world like Google, YouTube and Hootsuite.
Headliner – an online platform designed to enable users to crowdfund for the bands of their choice – took a $500 first prize at the university's first-ever Startup Weekend event last month and is now part of a global competition involving thousands of would-be entrepreneurs.
"The Global Startup Battle is the biggest startup competition in the world,'' said Jeff Brown, FIU's Entrepreneur in Residence at the School of Journalism and Mass Communication. "This is an amazing opportunity for our student entrepreneurs – who did an incredible job during Startup Weekend Miami – to get even further exposure and momentum."
The Headliner team – comprised of students in computer science, finance, marketing and public relations – posted a 90-second video on the GSB site, outlining their plans and the concept of the app, which they say will "disrupt" the music industry by allowing fans to connect directly with artists and venues.
"Headliner will match the crowd and the artist with a nearby venue,'' said Gregory Jean-Baptiste, a computer science major who came up with the idea after a summer in San Francisco where he attended live performances planned and funded by fans. "The venue gets the crowd, the artist gets to connect with their fans and the fans get the time of their life. Everybody wins.''
Teams in the global startup challenge garner votes by sharing their video via social media and encouraging family, friends and co-workers to vote. In addition to online voting, industry judges review and score the submissions.
All of the prizes – including branded swag, free workspace, web hosting and consulting services from major industry players like Google, We Work, YouTube and Hootsuite – are designed to help startups get off the ground.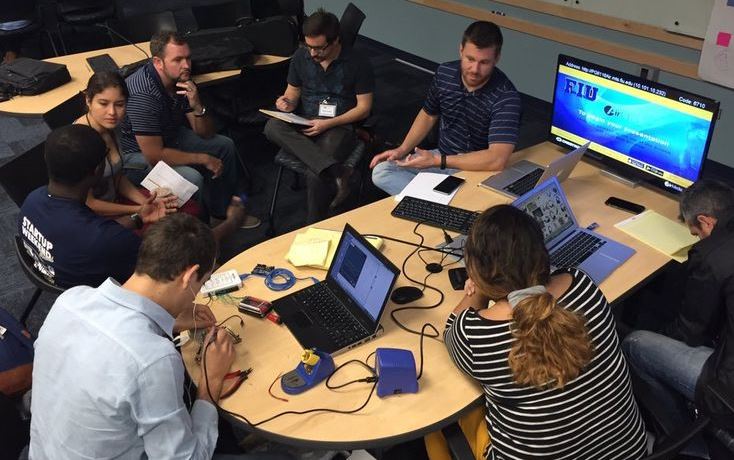 Even if Headliner doesn't nab the global championship, the team will have plenty of help from FIU. Brown and others at the university have committed to helping FIU students who participated in Startup Weekend Miami – and who continue to work toward a launch.
"The quality of teams that competed during Startup Weekend is the best I've ever seen,'' Brown said. "On average, only 12 percent of teams go on to create a viable business. From this event, I believe nine of the teams will likely launch. We want to support them on their journey.''
During Startup Weekend@FIU, 88 participants competed in 16 teams, working for three days to create, pitch and launch their startup ideas. More than 200 people – developers, designers, coders, investors and entrepreneurs – attended the three-day event, held at the university's $3 million innovation hub, Tech Station.
After a trip to New York with other students from the Chaplin School of Hospitality and Tourism Management, Leira Fombrun and Marina Boulanger came up with the idea for an app that would allow users to tip for service – without having to carry cash.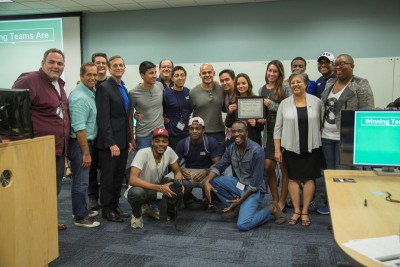 "Upon arrival to our hotel, we were welcomed by a bellman who offered to take our bags to our room,'' said Fombrun, president of FIU's Student Hotel Club. "After he finished placing the bags in the room, Marina and I tried to find some cash to tip the bellman but found none. At that moment, we thought to ourselves, there should really be an alternative to tipping if you don't have any cash."
Thus, the idea for Tip N' Go was born, eventually taking second place at Startup Weekend. The team is now working to get the idea patented, as well as identify investors and developers.
Third place at Startup Weekend went to a social platform for soccer enthusiasts called XOGO.
Alumnus Juan Gomez said he came up with the idea when he tried to use existing platforms like Meetup and SportsBuddy to find fellow soccer players quickly and easily.
"I wanted to play soccer but could not find a solution that would provide me the immediacy I was looking for,'' he said. "I feel very positive this will revolutionize soccer participation, making soccer more popular than it already is.''
FIU Vice President for Engagement Saif Y. Ishoof, who helped organize Startup Weekend, said all of the teams embodied the spirit of successful startups – innovation and hard work.
"The passion and commitment we witnessed was transformational,'' he said. "As the university races forward to make our "BeyondPossible 2020" goals a reality, we intend to continuously capture, harness and expand the culture of innovation in every part of our FIU."
Tags: Chaplin School of Hospitality and Tourism Management × College of Engineering & Computing × Office of Engagement × Office of Research and Economic Development × School of Computing and Information Sciences × School of Journalism and Mass Communication × Tech Station
This post "Winner of Startup Weekend@FIU moves on to global challenge" was originally published on FIU News.