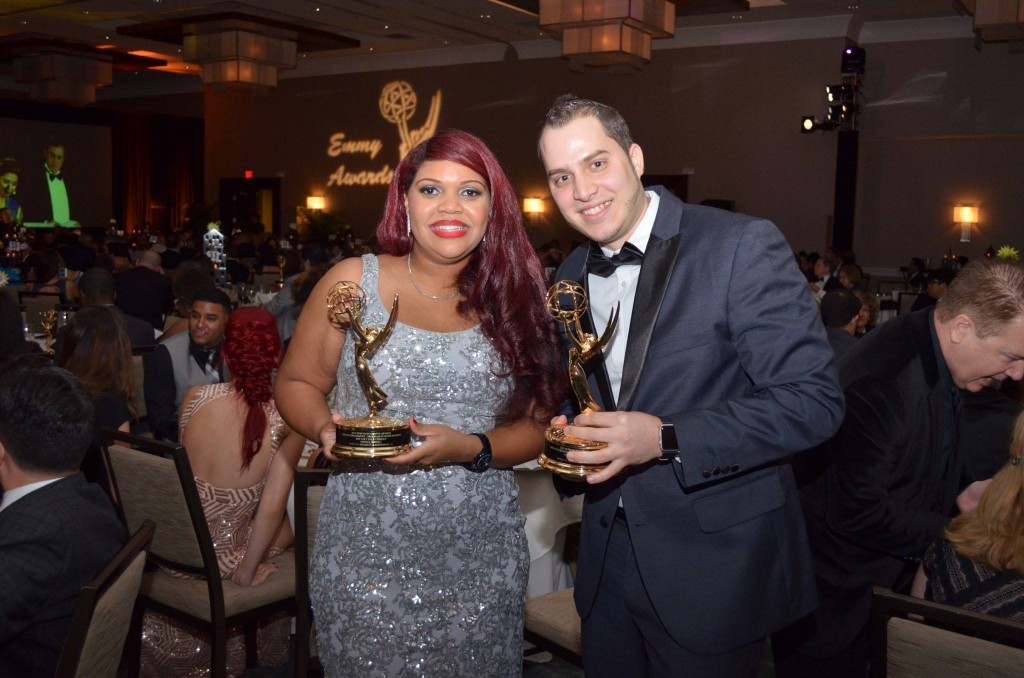 Serena Jimenez won an Emmy at the 2015 Suncoast Emmy Awards Dec. 5, only 16 months after graduating from FIU.
Jimenez, an alumna of the School of Journalism and Mass Communication, took home the prestigious statuette for her work as a series producer in an "Art Loft" segment aired on WPBT-TV (Ch. 2), featuring glass sculptor Dale Chihuly.
Videographer Yoandy Vidal received the award as well for his work in the episode, which competed in the arts and entertainment program feature/segment category.
"I was shocked by a nomination. I just wanted to put on a sparkly dress and go. That's it," Jimenez said. She thought: "'I'm just going to enjoy being there. I'm not going in with any expectation. I'm just going to have fun and enjoy the evening."
She presumed the award would have been given to another WPBT team, which had done work on Art Basel and traveled to Switzerland to shoot parts of that segment.
"They said 'Art Loft.' And in my head I'm like, 'OK, we aired [the Art Basel special episode] on Art Loft. It was them.' And then they said, 'Art Loft Dale Chihuly.' What? What the heck?" Jimenez said.
Just moments before, Vidal, the segment's videographer, told Jimenez she would be the one to do all the talking if they were to win the award.
"I'm like, 'First of all, don't jinx this,'" Jimenez said. "'Second, dude, you can't pull a Prince on me and just lean over and say thank you and walk away.'"
However, Jimenez said she didn't even get the chance to thank her husband and her children when she went up to accept the award.
"I'm told I said something cool. I don't remember. I just got up there and there was a light on my face. All I know is that I want do-over at some point in life 'cause I know no names came out," she said.
Jimenez majored in journalism and graduated in the summer of 2014. She got her start as an intern at WPBT-TV after a producer from the station visited her Writing for TV class.
She became a producer for the station's KidVision KVP program during her final semester. She was later promoted to "Art Loft" series producer just a few months after graduation.
By Pattrik Simmons
Tags: Alumni × emmy × serena jimenez × SJMC
This post "Alumna wins Emmy 16 months after graduation" was originally published on FIU News.