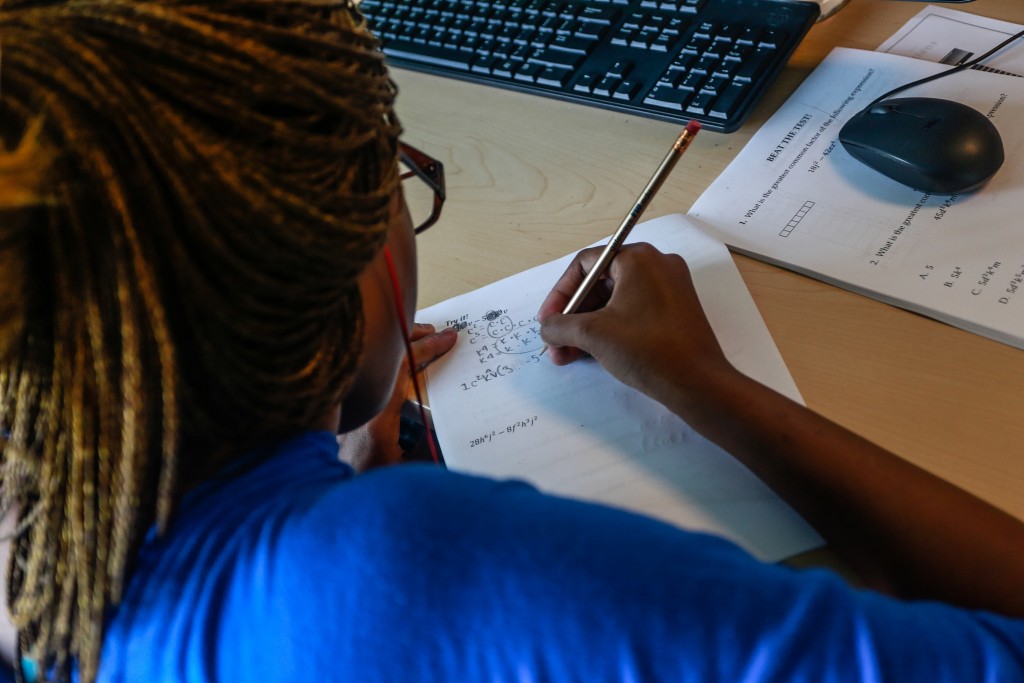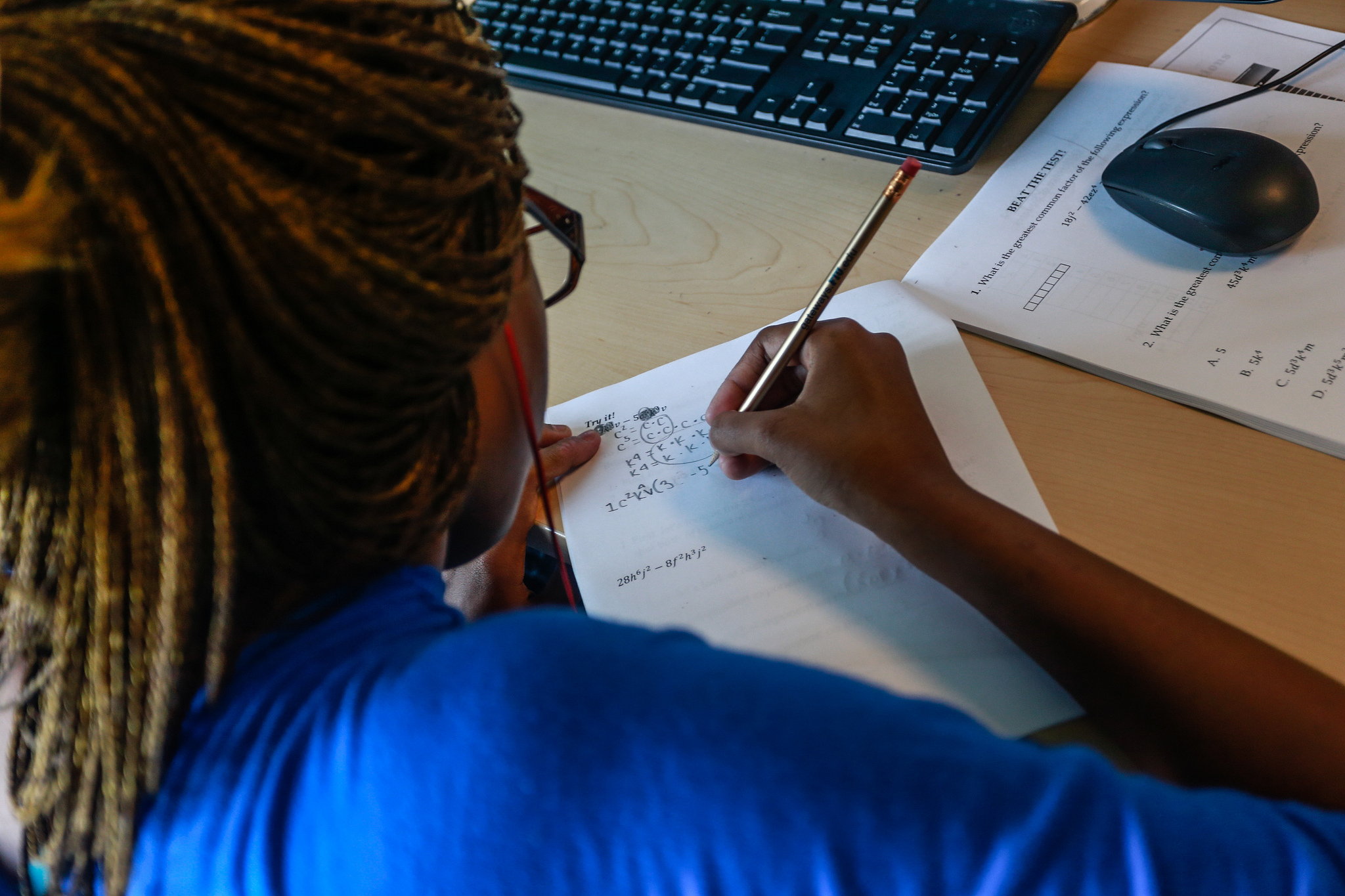 High school students hoping to one day earn a scholarship to FIU no longer have to wait. Thanks to a relatively new startup called Raise.me, they can start earning scholarship money as early as their freshman year in high school.
Hialeah-Miami Lakes (HML) Senior High student Christopher Perdomo discovered the program in September as he began his senior year and quickly sought to take advantage of the scholarship opportunities the website provides based on participants' academic performance and extracurricular activities.
After logging in dual enrollment and Advanced Placement classes he had taken the past three years, as well as his involvement in the men's basketball and volleyball teams, Model UN, the school's social studies honors society and other extracurricular activities, Perdomo found he had already earned approximately $4,000 in scholarships – roughly $1,000 per academic year – on Raise.me.
Perdomo, who wants to study finance, is still undecided about where he will attend college this fall, but he is strongly considering FIU. If he attends, he will be among the first group of students to attend the university using scholarship money raised through Raise.me.
"It shows that your hard work in high school pays off," Perdomo says. "Every little bit of money counts when it comes to college."
Raquel Cruz, HML's college assistant program advisor, is excited to see how freshmen and sophomores at her school are responding to Raise.me's initiatives. She has also seen more of her students visiting FIU (students can earn $350 in scholarships for taking an official FIU campus tour) and finding out more about the universities they are interested in at an early age.
"Raise.me gives them an even better reason to get good grades and improve their attendance," Cruz says. "It motivates them to keep going, because they see the instant reward."
There are approximately 100 higher education institutions in the United States utilizing the platform. FIU soft-launched its Raise.me platform in March 2015 and is currently the only public institution in Florida using it.
"Through Raise.me, we are putting the power to earn scholarship money in the hands of the students," Director of Undergraduate Admissions Jody Glassman says. "When high school students have skin in the game, they take that opportunity and they work for it."
Participating universities create a Raise.me page with a list of micro-scholarships. High school students interested in attending FIU follow the university's page and begin earning and tracking scholarship money by completing individual achievements in and out of the classroom.
Some of those micro-scholarships available for prospective FIU students include the following:
$4 for every hour of community service completed (50 hours minimum)
$50 for each extracurricular activity per school year (at least 2 hours per week of participation, up to $400 maximum)
$55 for each "A" grade earned
$250 for each Advanced Placement or International Baccalaureate course taken
The scholarship money students earn represents the minimum amount of grant aid or scholarship money they will receive from FIU if the student applies, is admitted and enrolls at the university.
For example, if a student receives a $6,000 financial aid package from FIU and earned $2,000 in micro-scholarships through Raise.me, the $2,000 is included in the financial aid package – not added to it.
Students can earn up to $2,500 in scholarships per academic year, renewable for up to four years. A student will only receive that scholarship money if they enroll at FIU and the scholarship is only renewed if the student meets the university's renewal requirements.
Raise.me has skyrocketed in popularity with high school students across the country. More than 10,000 students currently follow FIU's profile page on Raise.me, many of them from schools in Florida. But FIU is also receiving a growing number of followers from key out-of-state markets, including New York, California and Texas.
"It grew very quickly just through word of mouth without a lot of marketing," says Jaclyn Jonusas, assistant director in the Office of Admissions.
The Office of Admissions estimates that approximately 25 percent of high school students who follow FIU and raise money through Raise.me from the class of 2016 will ultimately enroll at FIU and begin attending this fall.
"We are hoping to make a connection between these students and the university at an earlier stage," Jonusas says. "Ultimately, it will improve the chances of them applying to FIU when the time comes."
Although Raise.me does not target any demographic in particular, nearly half of all high school students signed up on the platform nationwide come from low-income families.
In collaboration with the Office of Engagement through its Education Effect initiatives and with the Office of Student Access & Success through its access support programs, the Office of Enrollment Management and Services is trying to leverage the partnership with Raise.me to reach out to underrepresented student populations in South Florida as early as ninth grade.
"The point we want to make to students is that college education is affordable and attainable," Glassman says.
Tags: Admissions × Education Effect × Office of Engagement × Office of Student Access and Success × Scholarships × Undergraduate Admissions
This post "High schoolers earn FIU scholarships using Raise.me" was originally published on FIU News.