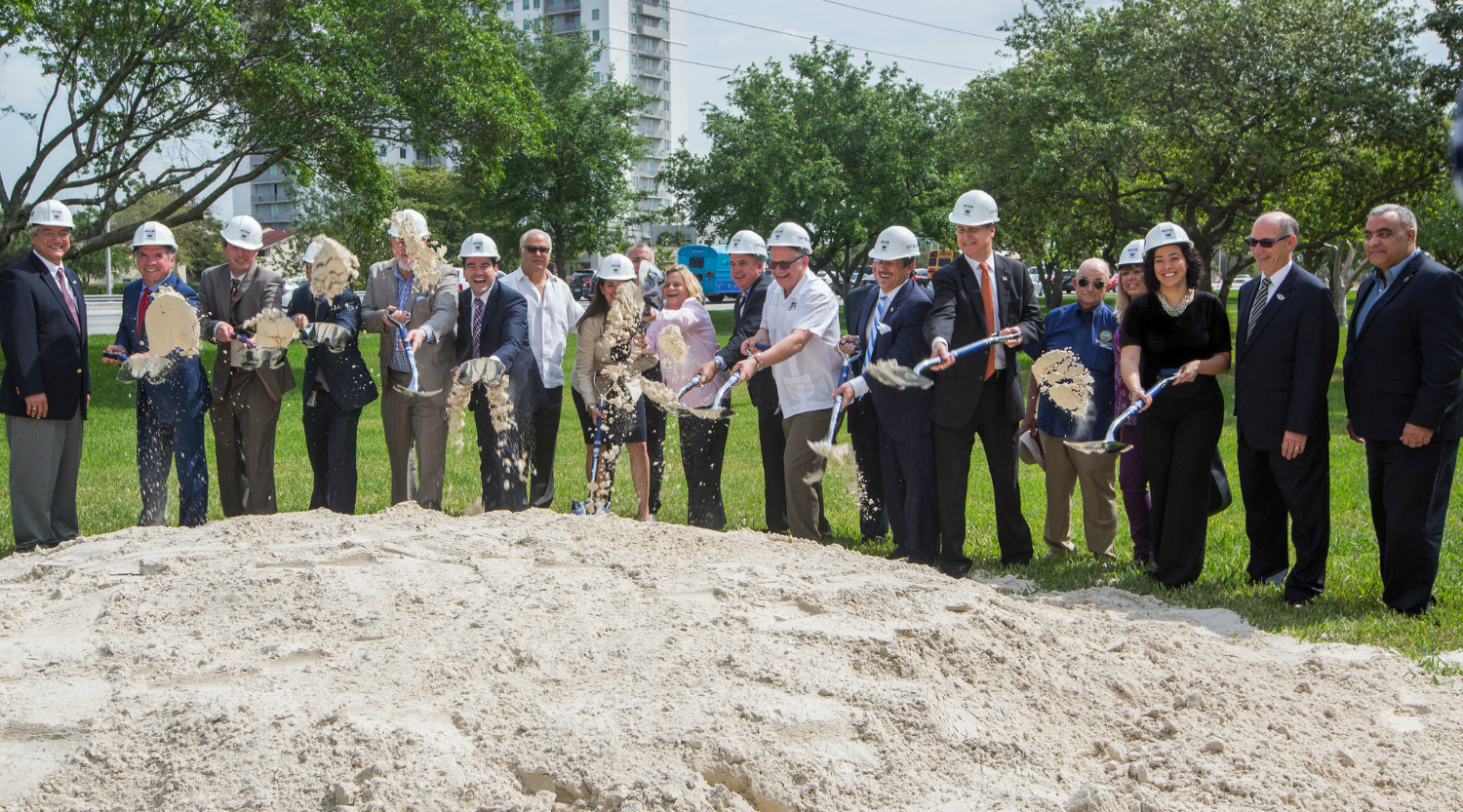 Further enhancing an already solid relationship, FIU broke ground March 29 on a bridge that will connect the Modesto A. Maidique Campus to its northerly neighbor, the City of Sweetwater.
Part of a larger transportation initiative, the idea is to create a safer path for the students and local residents who cross between Sweetwater and FIU each day. Though the exact number of pedestrians crossing SW 8th Street at 109th Avenue is unknown, it is estimated that more than 4,000 FIU students currently live in Sweetwater, in addition to the Sweetwater youth who aspire to attend college one day.
"There are thousands of young people who deserve the hope, deserve the opportunity that our university can provide," Rosenberg said. "So it made no sense to allow this fence of Tamiami Trail to impeded the relationship that we have, that we needed to have, that we wanted to have, that is so much in our DNA."
The bridge also represents the partnership that FIU and the City of Sweetwater have forged through projects and student engagement in the community, including research and service initiatives in the Honors College; health care services provided to the community by the Herbert Wertheim College of Medicine; the Frost Art Museum's partnership with Sweetwater Elementary to enhance art education; and more.
"This bridge literally connects FIU with the rest of the community," said Congresswoman Ileana Ros-Lehtinen, who attended the groundbreaking ceremony. "Some schools like to be ivory towers and be set apart. FIU, that's never been their mission. They've been a community-centered school, and this bridge is a symbolism of how connected FIU wants to be with our community."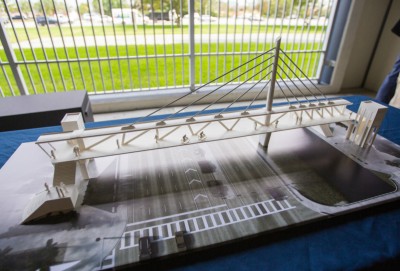 Construction of the bridge, which is scheduled to be completed by the summer of 2018, is funded by an $11.4 million U.S. Department of Transportation grant (also known as a TIGER grant). The grant will also fund improvements to the entrance of MMC and the 109th Avenue area in Sweetwater, and a Smart Parking Software System in partnership with IBM that would alert smart phone users as to available spaces in a new FIU garage.
"Our entire congressional delegation and USDOT believed in FIU as a solutions center and supported this TIGER grant," said Rosenberg, "in particular, the leadership of Congresswoman Wasserman Schultz and Congressman Mario Diaz-Balart, who led their colleagues in building support for our efforts."
The bridge is part of a $124 million UniversityCity Prosperity project at FIU, which aims to develop an economically stable downtown in Sweetwater and alleviate traffic congestion in the area. This initiative started with the construction of the privately owned 109 Tower, a student-oriented housing building in Sweetwater, and also includes plans for an enhanced bus service on campus that will connect east and west Miami-Dade County.
Sweetwater Mayor Orlando Lopez considers the bridge to be "symbolic" of the city's tie to FIU.
"You've got all of these students who are leaving the campus and moving into the city of Sweetwater, and so Sweetwater is now an integral part of the university," Lopez said. "The more FIU's involved in the city, the more the city of Sweetwater is involved in the community of FIU."
Additional reporting contributed by Alexandra Pecharich
Tags: bridge × Construction × FIGG Bridge Engineers × MCM × pedestrian bridge × Sweetwater × TIGER grant × UniversityCity × UniversityCity Prosperity Project bridge
This post "FIU, Sweetwater break ground for bridge to the future" was originally published on FIU News.