A wise man recently said that F-I-U stands for the Future Is Us. Nowhere was that more evident than at the 2016 edition of eMerge Americas. The powerhouse conference on Miami Beach brings together entrepreneurs, researchers, investors and everyone else with an interest in tech innovation.
And it served as the perfect showcase for promising university projects.
"We have incredibly innovative students, incredibly innovative faculty, and we want them to be as close as possible to the innovation ecosystem that's going to drive the 21st century economy," FIU President Mark B. Rosenberg said Monday from inside the university's exhibition booth.
In that space, FIU scientists, engineers, students and administrators welcomed visitors eager to hear about work taking place in campus laboratories: a prosthetic hand that restores sensation to amputees, wireless brain stimulation, wearable and implantable sensors to record and transmit data about a person's vital statistics, a virtual reality program to improve construction safety and even the Aquarius reef base stationed off the Florida Keys.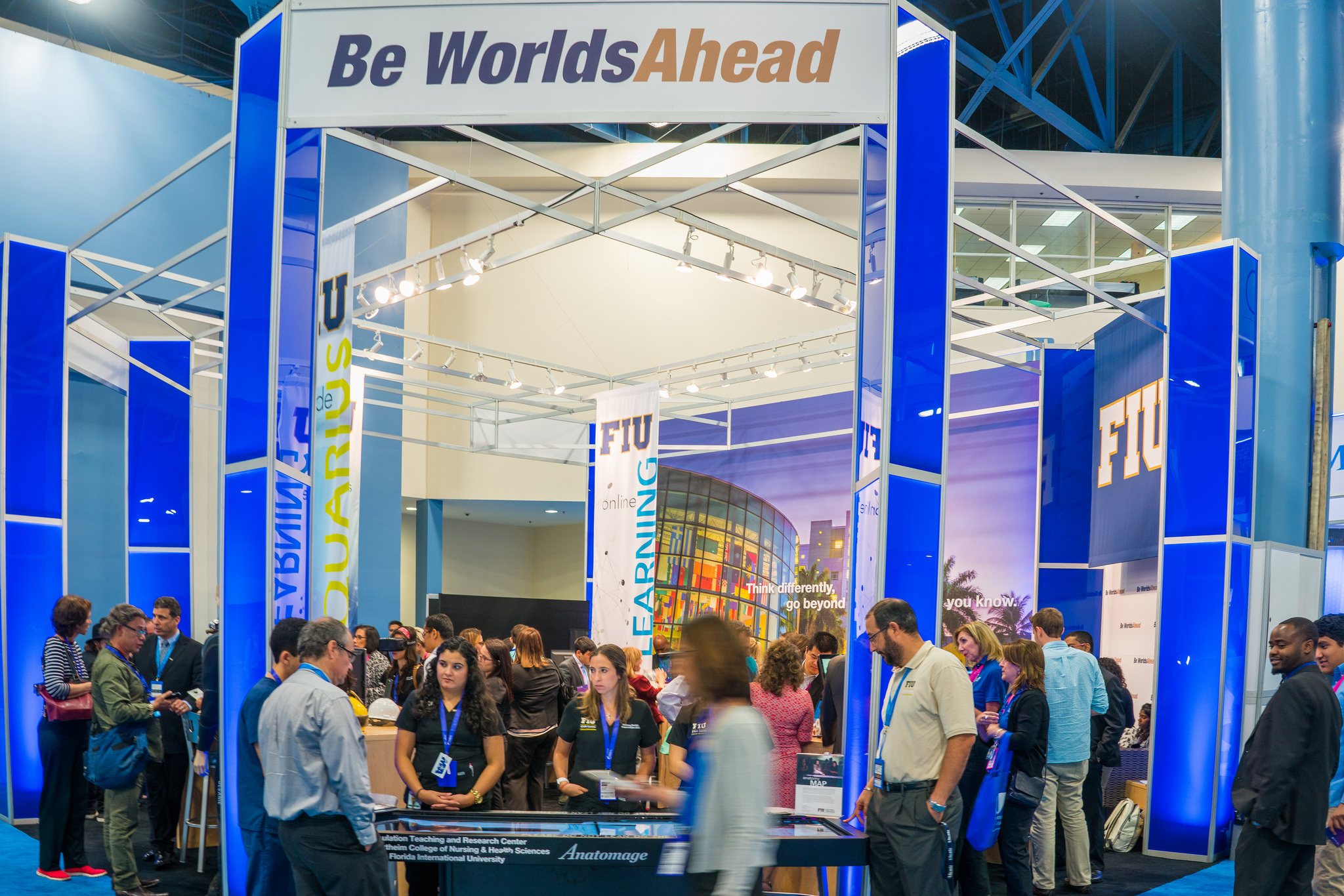 FIU also displayed state-of-the-art teaching technology, from the "learning glass" used by FIU Online to engage students around the world to an "anatomy table" used in the Nicole Wertheim College of Nursing & Health Sciences to display the internal workings of the human body in a breath-taking, highly interactive way. Also represented: the College of Business, with its Small Business Development Center, which works directly with startup and established companies, and an analytics think tank, which helps clients solve problems by analyzing and visualizing data. FIU speakers at the conference included Rosenberg, Interim Dean of the College of Engineering & Computing Ranu Jung and Associate Professor and Chair Monica Tremblay of the College of Business.
Legendary South Florida entrepreneur and tech visionary Manny Medina, the driving force behind the conference—which featured addresses by the likes of futurist Ray Kurzweil and entrepreneur Tony Hawk in addition to scores of exhibitors—applauded FIU's commitment to participating in a meaningful way. He noted that FIU was among the first institutions he called upon when he launched the event three years ago. This year more than 1,000 people attended.
"Without you being on board, without you giving your credibility, it would never have happened," he said of FIU. "Universities is where it all starts. I've always believed that if we're going to have a successful ecosystem, as is happening, it has to be a true partnership between education, enterprise and government."
Ron Diaz, an entrepreneur working in the fields of education and entertainment in Peru, came out of FIU's exhibit space with plenty of ideas. Impressed with the technology as well as the students who presented it, he called the experience "fantastic."
"We're trying to find ways to develop middle management and how can we empower the young talent that exists there," he said of his company's goals. "Well you guys are already doing it."
One of those who took the lead in showing off FIU's successes was sophomore biomedical engineering student Rebecca Kwasinski. She demonstrated the invention of her mentor Anuradha Godavarty, a professor in the Department of Biomedical Engineering in the College of Engineering & Computing: a portable optical scanner that images wounds.
"It's amazing," she said of her role. "I never imagined that I'd be doing something like this a year ago. I love doing research, and I think that it has a great benefit for the industry and the future."
Tags: Biomedical Engineering × College of Arts Sciences & Education × College of Business × College of Engineering & Computing × eMerge Americas × Mark B. Rosenberg
This post "FIU eMerges as a leader in innovation" was originally published on FIU News.