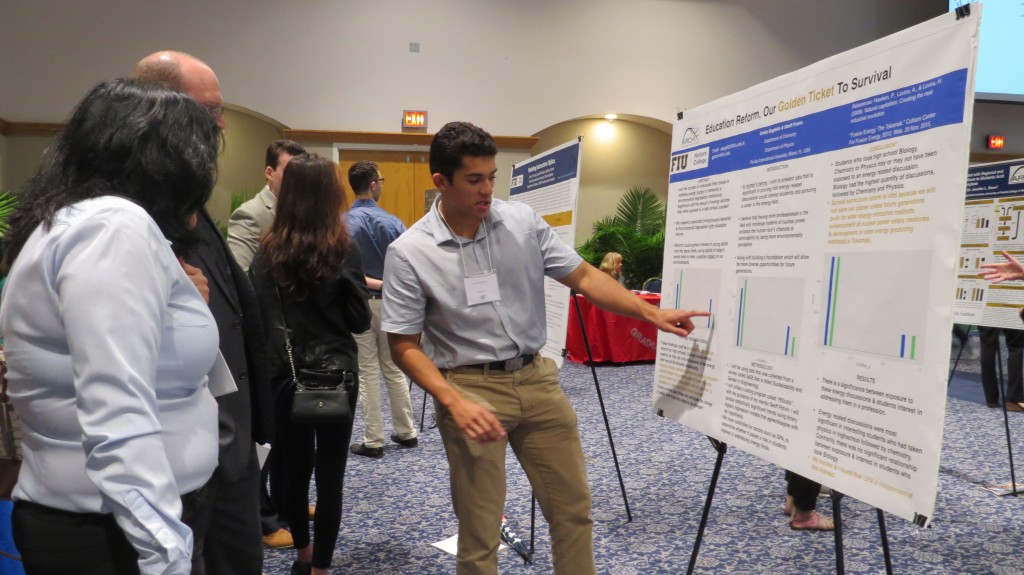 Everyone has their own definition of mentor: a trusted counselor, a professor, a confidant. For most students, a mentor provides the push to take a particular class or to conduct research and serves as a constant source of support.
In late March, more than 150 undergraduate students presented their research at the university-wide 2016 Conference for Undergraduate Research at FIU (CURFIU).
Both poster and panel sessions were presented as well as discussions on research in engineering, art, human psychology, economics and medicine. Presenters, mentors and spectators were able to interact with recruiters and representatives from Cornell University, Florida State University, Columbia University School of Engineering and many others.
Throughout the fall and early spring semesters, students worked alongside professors conducting research in every possible major, all amounting to a poster session and a 15-minute oral presentation at the 2016 CURFIU.
Undergraduate student Joaquin Van Thienen researched and analyzed The Tunnel by Ernesto Sabato — a dark, psychological piece of Argentine literature. Prior to beginning his research, he sought help from the faculty in FIU's psychology and English departments. Van Thienen was able to forge an effective working relationship with Robert Saba from the Department of English and Kristin Nichols-Lopez from the Department of Psychology that extended beyond the academics.
"Together, Saba and Nichols-Lopez helped me narrow my hypothesis and keep my study on track. My relationship with both mentors has enriched my undergraduate experience both professionally and academically," Van Thienen said.
In the past few months Van Thienen has presented his psychological analysis of The Tunnel at the Florida Undergraduate Research Conference (FURC) in Tampa, Florida Collegiate Honors Council (FCHC) in Gainesville and now at FIU's Conference for Undergraduate Research.
Venus Betancourt, an undergraduate research assistant at the HANDS Lab at FIU, presented her work on measuring language development of Hispanic children living in bilingual households under the direction of Assistant Professor of Psychology Eliza Nelson.
"My experience working with Dr. Nelson in the HANDS Lab and training on a variety of protocols in order to conduct research efficiently and effectively is an asset translatable across all research disciplines," Betancourt said. "Dr. Nelson has been an invaluable part of my interest and growth in the field of research, helping me improve my ability to analyze, disseminate and discuss scientific data."
For applied mathematics senior David Harper, his relationship with mentor and friend Laura De Carli, a professor in the Department of Mathematics & Statistics, served as the catalyst not only to conduct his research but also to publish it. Harper's work concentrated on generalizing results obtained connecting a field of mathematics known as complex analysis with the field of partial differential equations.
CURFIU has also propelled Harper and his mentor to apply to expand their work and its dissemination.
"Professor De Carli has been ideal. She shares her constructive criticism of my papers, which has been incredibly helpful in directing me," said Harper. "We have begun to discuss plans to attend a conference in Atlanta for the American Mathematical Society."
A major expansion of the FIU Honors College's undergraduate research conference, CURFIU, now in its second year, welcomes all students from every major to present and discuss their research findings.
CURFIU not only highlighted the hard work and effort that students dedicated for over two semester, but it also served to showcase the quintessential aspect of mentorship and the relationship forged by students and their mentors. Next year's conference will be held March 29-30, 2017.
Written by Daniela Hernandez
Tags: Conference for Undergraduate Research at FIU (CURFIU) × Honors College × Research
This post "Strong partnership between students and mentors sparks cutting-edge research" was originally published on FIU News.