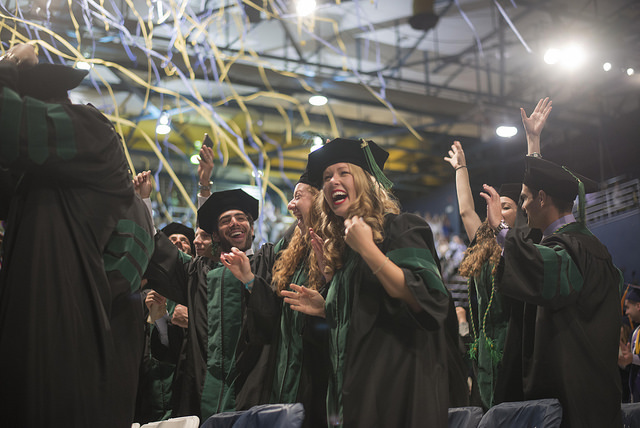 On Saturday, May 7, the Herbert Wertheim College of Medicine gave out 108 medical degrees and a medal to a patient who, despite having no medical training, is helping to teach medicine.
Manolina Sosa is a Green Family Foundation NeighborhoodHELP pioneer. Hers was one of the first households recruited for the program that's at the heart of the school's innovative curriculum. As part of the program, students in their first year are assigned an underserved household in Miami-Dade County, which they visit for the next four years in teams that include doctors as well as medical, nursing, public health and law students.
"I love the program," Sosa said. "This month they asked me if I wanted to quit, and I said no!"
Sosa says NeighborhoodHELP not only reminds her of the old-time doctors who made household visits in her native Dominican Republic, she says it offers her something extra.
"You go to the doctor, the doctor gives you medication, you go home. But the doctor doesn't know where you live or if you have problems at home," Sosa said. "I think going to visit the patient, you see if they need help and you see problems they might have."
What Sosa admits she didn't see or realize until now is that while she was getting help from NeighborhoodHELP, she was also helping to train a new generation of physicians.
"We recognize that household members like Mrs. Sosa are an extension of our faculty, and we are grateful to them for letting us into their homes and communities to teach our students first-hand the social determinants of health," says Dr. John A. Rock, , founding dean and senior vice president for health affairs.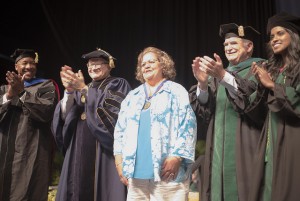 Sosa's first student, Dr. Ariel Moses, graduated in 2013. Her second student, Dr. Manju Korattiyil, graduated on Saturday and was the one who escorted Sosa to the stage during the Class of 2016's convocation ceremony where FIU President Mark B. Rosenberg and Rock presented Sosa with the Inaugural GFF NeighborhoodHELP Community Service Teaching Medallion.
"In order to educate students who are culturally sensitive to South Florida's diverse demographics, we sought out the help of community residents and families," said Assistant Professor Luther Brewster, community director for NeighborhoodHELP. "We couldn't have done it without people like Mrs. Sosa."
Sosa started out as a member of the NeighborhoodHELP Advisory Team, providing input on how to best establish relationships and community needs, then she opened up her home to students.
The first video used to train students on how to make home visits was taped in her home. She also recruited other households and was instrumental in getting her children involved in the program. Her son was a surveyor for NeighborhoodHELP's benchmark assessment surveys and her daughter, Natasha Lopez, first worked with the program's outreach team as a program specialist and now serves as an administrative specialist for the division headed by Brewster.
So what's next for Sosa and NeighborhoodHELP?
"I'm waiting for my next student now," she said.
Tags: College of Medicine × NeighborhoodHELP
This post "Patient receives NeighborhoodHELP Community Teaching Award" was originally published on FIU News.